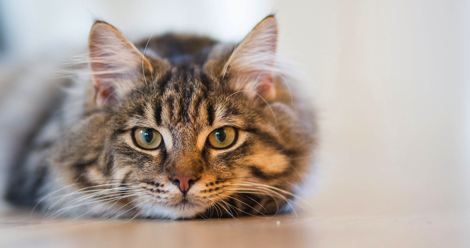 Crafting
4 Claw-some Cat Craft Books I'm Paws-itive You Need Right Meow
This content contains affiliate links. When you buy through these links, we may earn an affiliate commission.
I've been a cat person and a craft person for as long as I can remember. Recently it occurred to me that I could combine these two passions and make kitty-themed things for myself, my family and friends, and even for my cat, Oopsilon. As it happens, the publishing industry seems to agree: cats and crafts are a great pair. What better way to spend your Caturday off than making cat crafts? If you're a friend of felines, you'll want to check out these four great cat craft books for all skill levels right meow—I'm not kitten!
This simple cat craft book is great for kids and adults alike. Hendry outlines useful materials in the introduction and provides easy-to-follow instructions for creating everything from a spider cat toy to an alley-cat bookend. Each set of directions includes a list of materials and tools and features drawings to illustrate the written craft plans. The book provides plenty of freedom to alter crafts to your liking and provides templates where necessary.
A gorgeous collection of how-tos on structures your cat will love, Cat Castles is not only fun and whimsical, but also a great opportunity to recycle those boxes in which the books you ordered online came. Whether you live in an apartment or a mansion, you'll find something size appropriate for your kitty with clear directions using a wide range of skills. Plus, it's a practical guarantee your cat will love your new architecture hobby—have you ever seen a cat ignore a cardboard box?
Before you make a sound of disgust, flip through one of the cat craft books, Crafting with Cat Hair, and marvel at the adorable ideas Tsutaya has. After collecting the fur your cat has cast off, give it a second life as a finger puppet, a super-cute badge, and more. Tsutaya shares how to wash the fur before using it as a material and each project is illustrated with beautiful photographs. Find useful tips and tricks throughout this book along with craft designs for both you and your cat to enjoy.
For knitters who like delicate work, Knit Your Own Cat provides the instructions for creating miniatures of your best friend. Perfect for a desk buddy, these designs range from cats curled up (seriously adorable) to kitties on the prowl. Choose from several different breeds and take advantage of a brief but excellent section of hints and methods at the back of the book. Bring your baby along with you everywhere with patterns adjusted to match their appearance with help from one of the classic cat craft books, Knit Your Own Cat.
Now, if you'll excuse me, I have to make a trip to Michael's.