These Cat Bookends Are The Purrfect Addition To Your Shelves
The perfect thing for your bookshelves, besides books, is a set of cat bookends to hold those great books in place. Cat bookends, like so many other great animal bookends, can range from antique to super modern and everywhere in between.
Find below a purrfect selection of cat bookends to make your book shelves. Unlike real cats, cat bookends don't tend to knock books over or chew them up in the name of being cute.
While some of the vintage and antique bookends linked to here might be in limited quantities, note that often, there are identical or similar style bookends with a quick search of Etsy or even your own local antique store. Sometimes you luck out if you visit an in-person shop and find something even more fitting for your shelf style. These bookends represent a wide range of prices, from inexpensive to pricey, but there's something for every budget.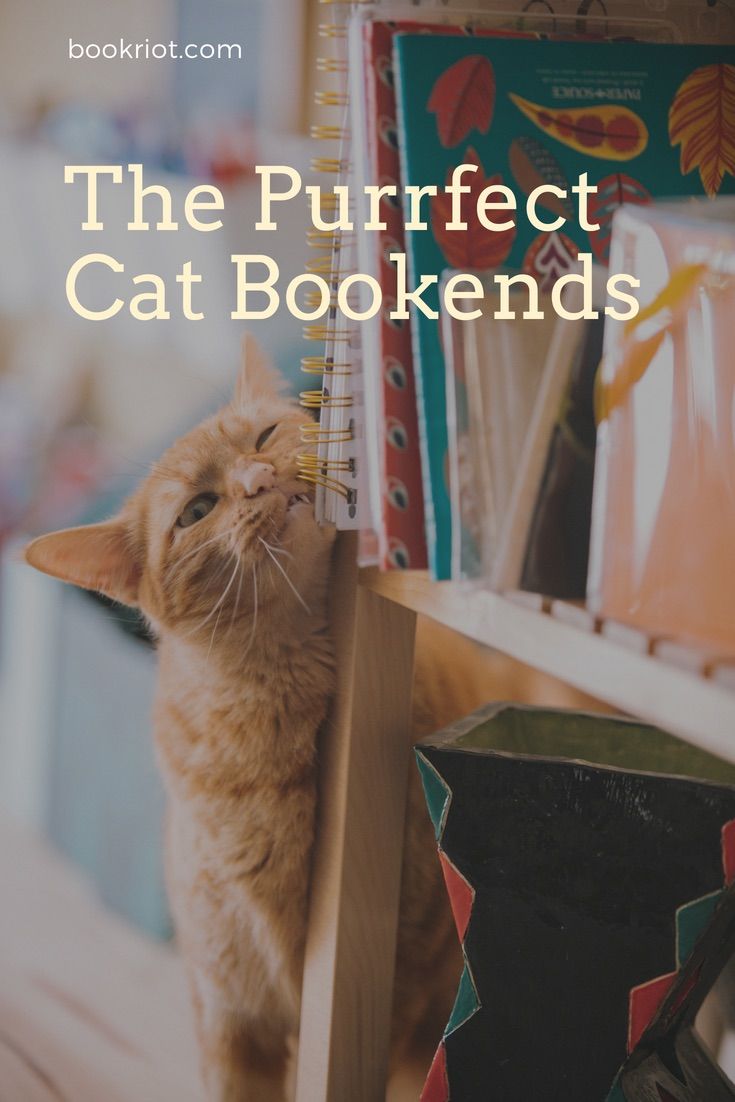 Vintage and Antique Cat Bookends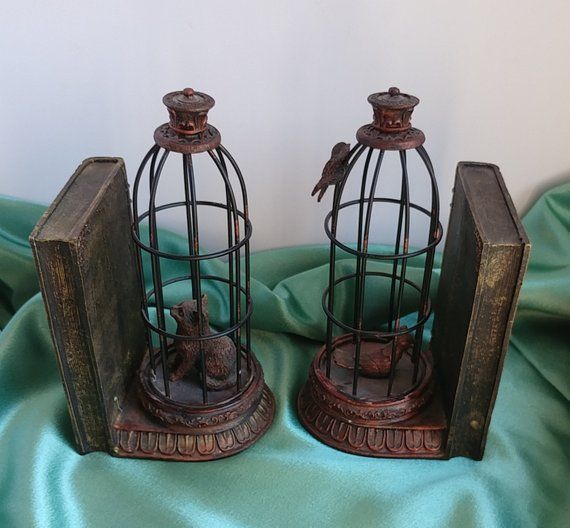 Get yourself a set of bookends that feature a cat and a birdcage. $72.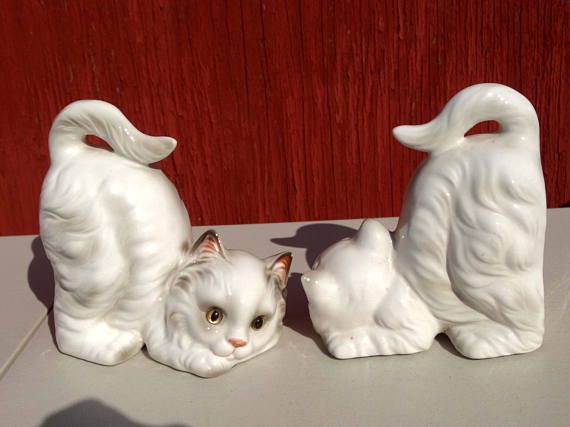 Lefton brand white cat bookends, featuring bright yellow eyes and a classic arched back. $65.
How fun are these mid-century modern lime green bookends? So unique and fun. $60.
These sleepy kitties made out of distressed reclaimed wood are so homey. $24, with a choice of colors.
If you're looking for a really big pair of cat bookends, look no further. These Siamese cats are made out of glazed ceramic and stand nice and tall. $165.
It's a little difficult to tell, but this bookend is two pieces, with a front and back half of a cat. It's also huge and very, very heavy, as it's a cast iron bookend. $120.
Grab a set of mid-century brass cat bookends. A little face washing action going on, too. $43.
Not only are they adorable black cats, but there's a space in the back of these bookends for holding pens, too. $27.
Sweet white ceramic cat bookends. $24.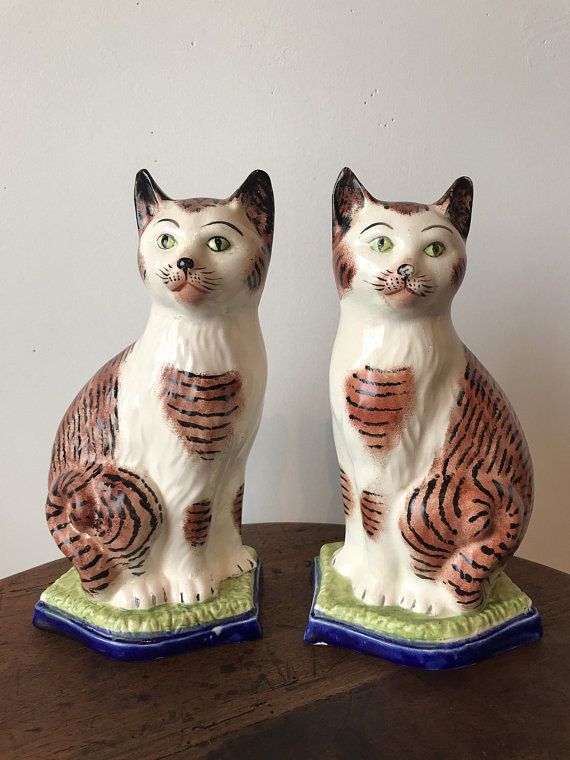 Tabby lover? This set of Staffordshire bookends will be right up your alley. $350. If you don't want to drop that much money on a set of Staffordshire bookends, here's another set of cats that come in at $68.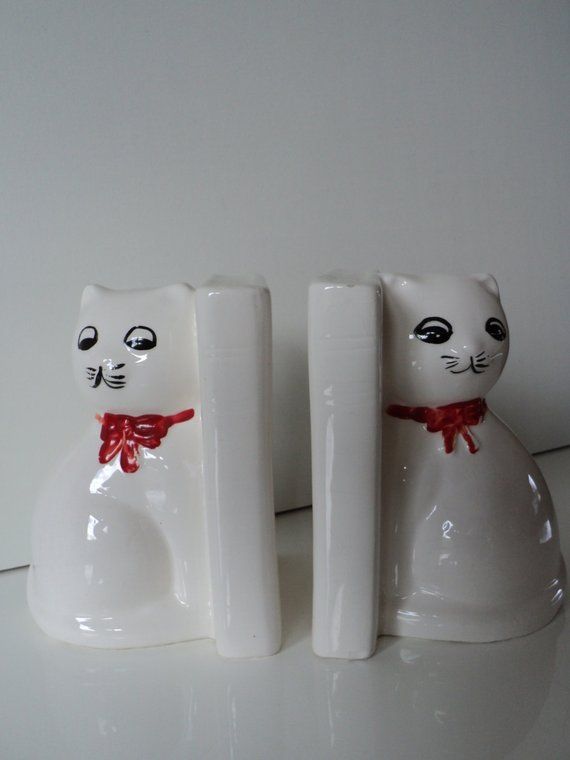 The best thing about vintage and antique finds is that often, they're the perfect blend of cute and creepy, like the ceramic white cats above. $33.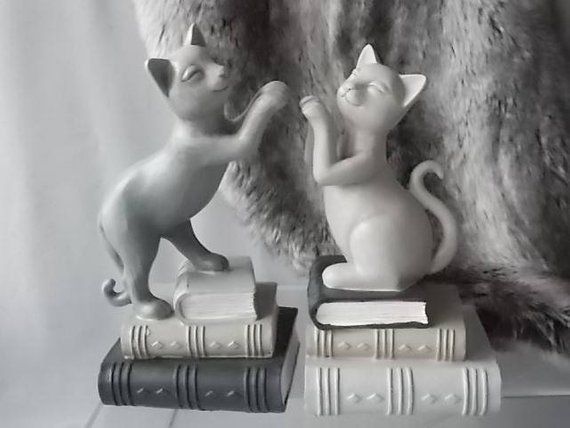 These chalkware kitties are playful AND bookish. $29.
Prefer big cats to house cats? You might like these cheetah bookends. $40.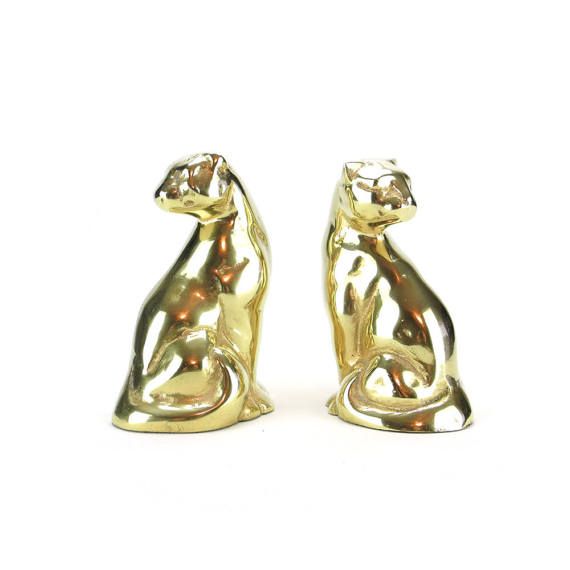 Maybe panther bookends are more your style? These are all brass. $86.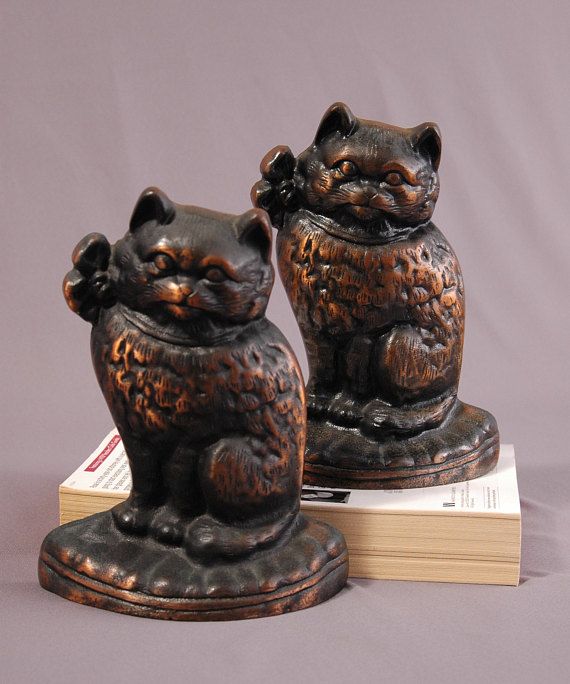 Cast iron regal cats for your bookshelves. $65.
I'm kind of obsessed with this guy. $46.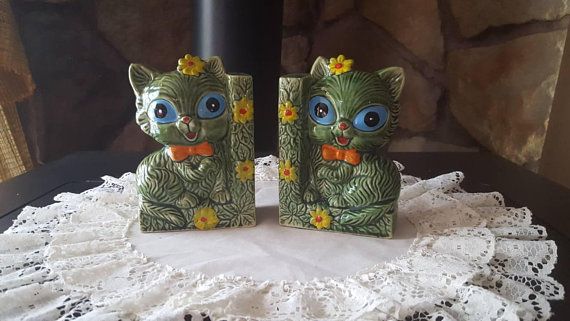 These may be the most bizarre cat bookends I've ever seen, so naturally, they belonged in this round-up. $24.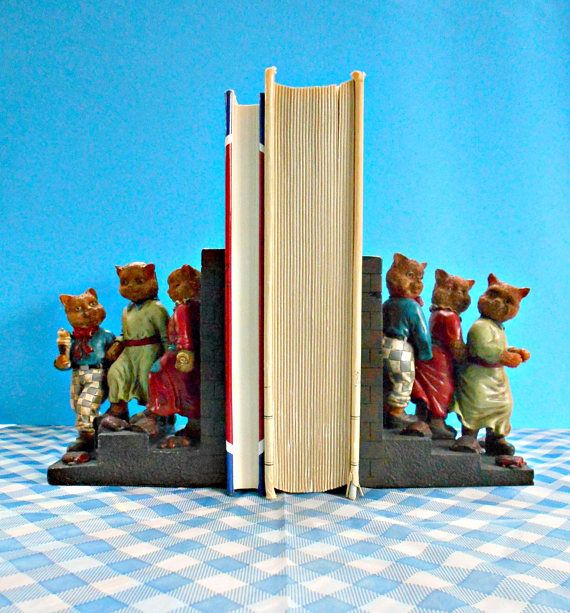 Take the whole scene in, then take the whole scene in again. It's based on "Three Little Kittens Who Lost Their Mittens." $82.
Modern Cat Bookends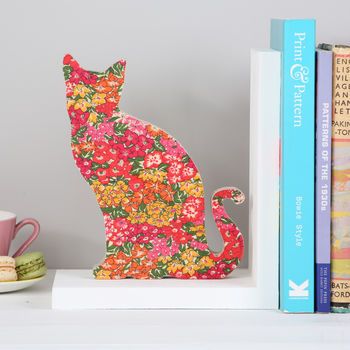 A bright liberty print cat bookend set. This ship from the UK, and they're priced at $45.
Choose among a variety of cat poses with this set of oak bookends. $50 and up.
What witch can succeed without her feline familiar? Perfect any time of the year and any season. $65.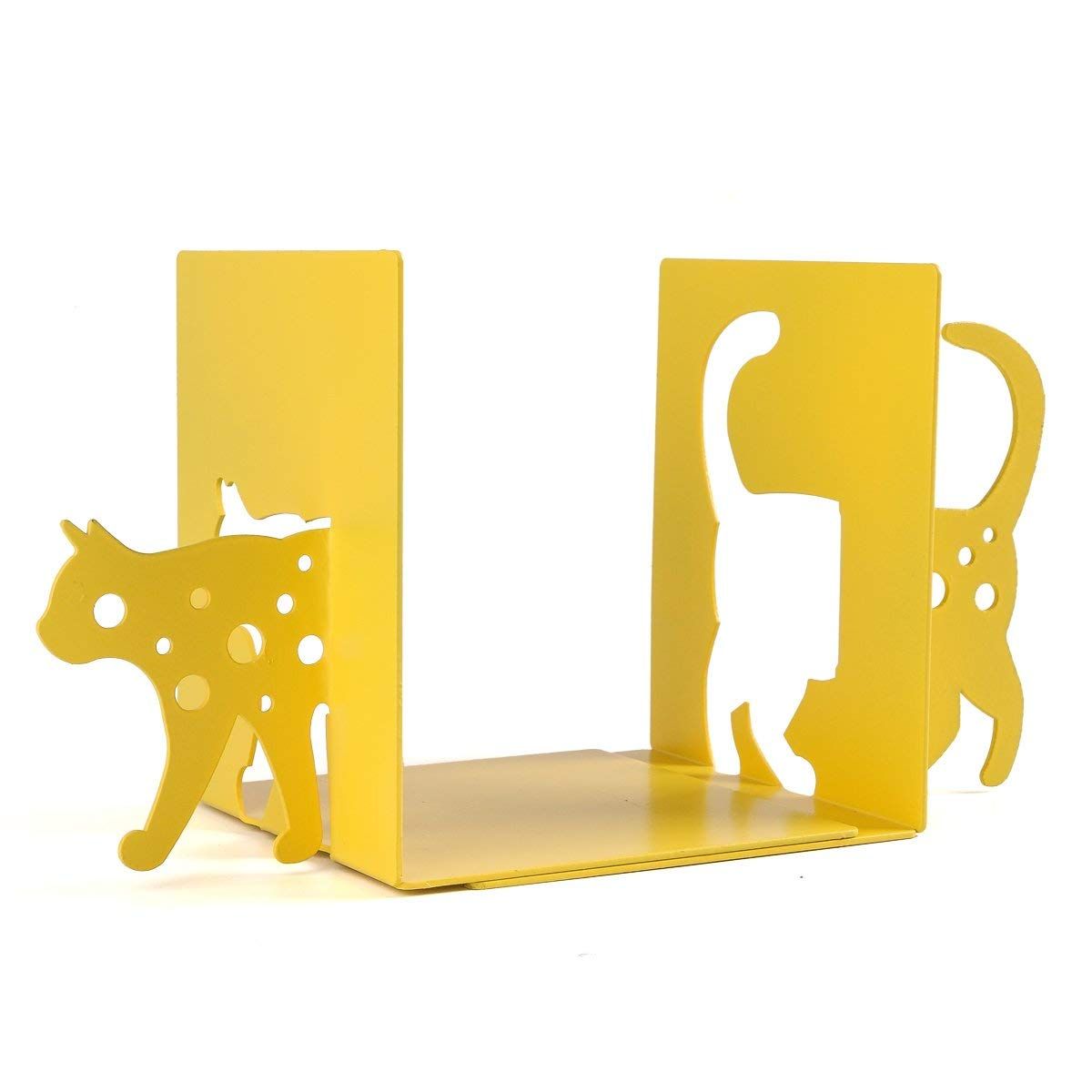 I love the cut out style of these bookends. $17.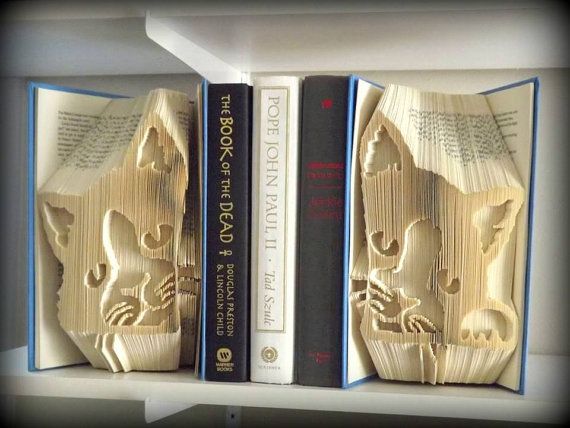 Do it yourself with this instant pattern download to create folded cat bookends. $5.25.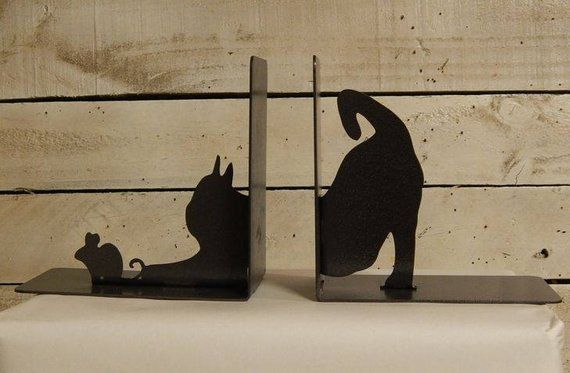 Not only is this a stretching cat, it's a stretching cat who didn't need to work too hard to get her prey. $73 and available in a number of colors.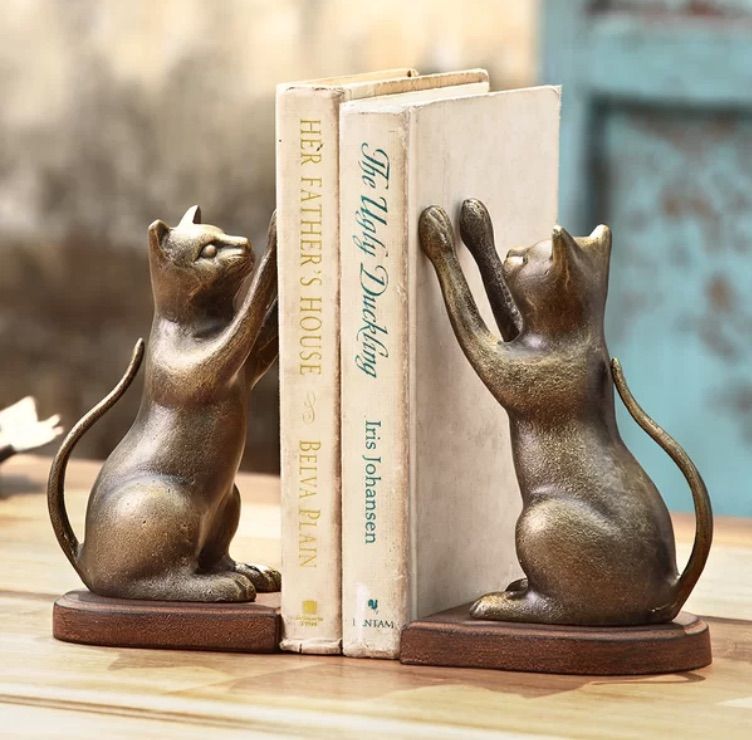 These are called "inquisitive cats." $84.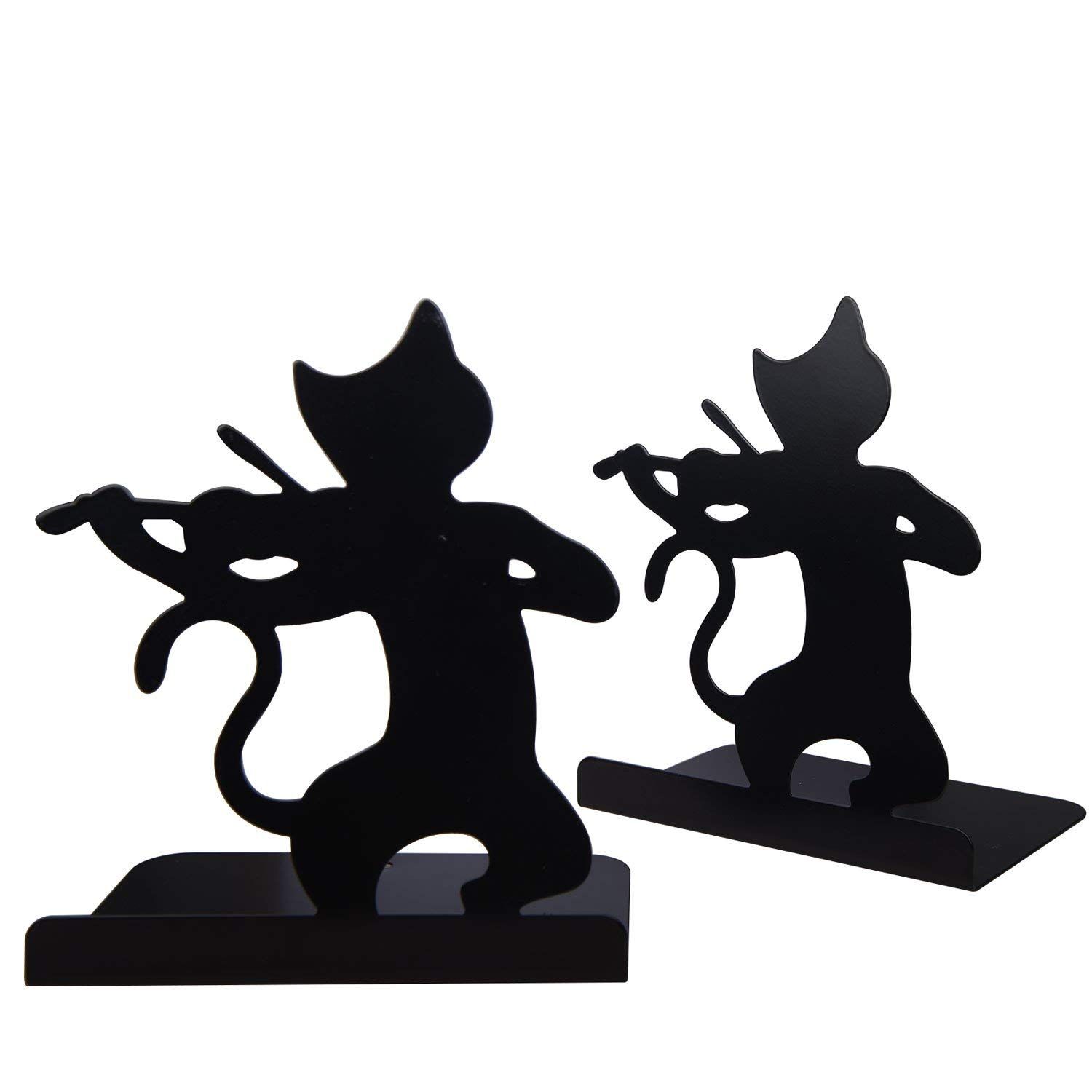 How about a cat with a fiddle? $8.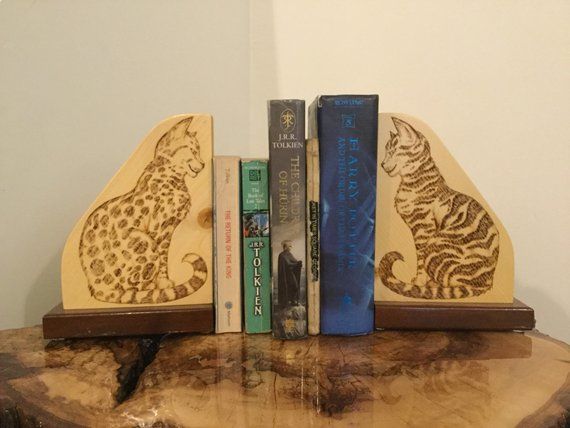 These wood burned bookends are so different. $45.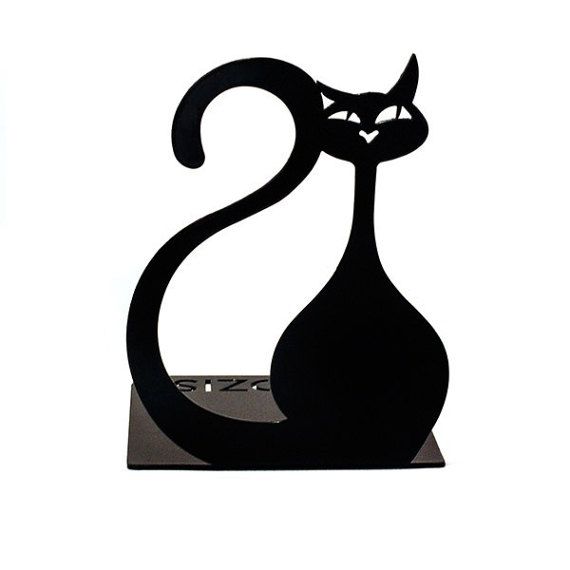 These are sold individually and shipped from Ukraine, but take a moment to appreciate just how cunning this black cat looks. She's purrfect. $39.
White metal cat bookends. $40.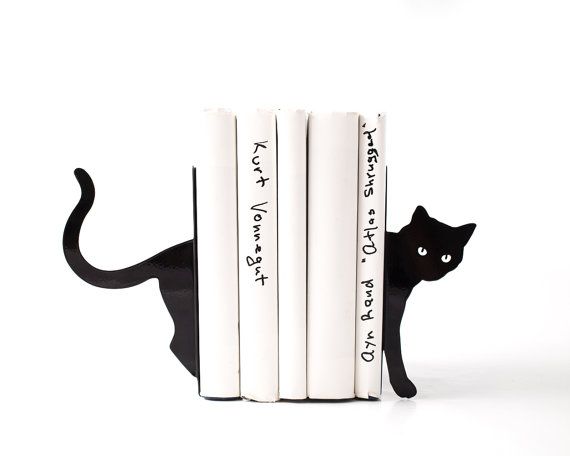 If I were adding more bookends to my overflowing shelves, it would be this set. $64.
Please to enjoy these chubby kitties. $55.
Wood bookends to remind you that you live in a cat-filled house. $27.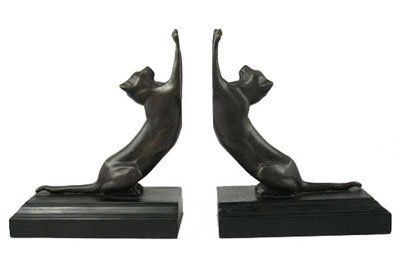 Art deco style stretching cats. Likely, you can find this brand somewhere that the shipping isn't the same as the cost of the item. $35.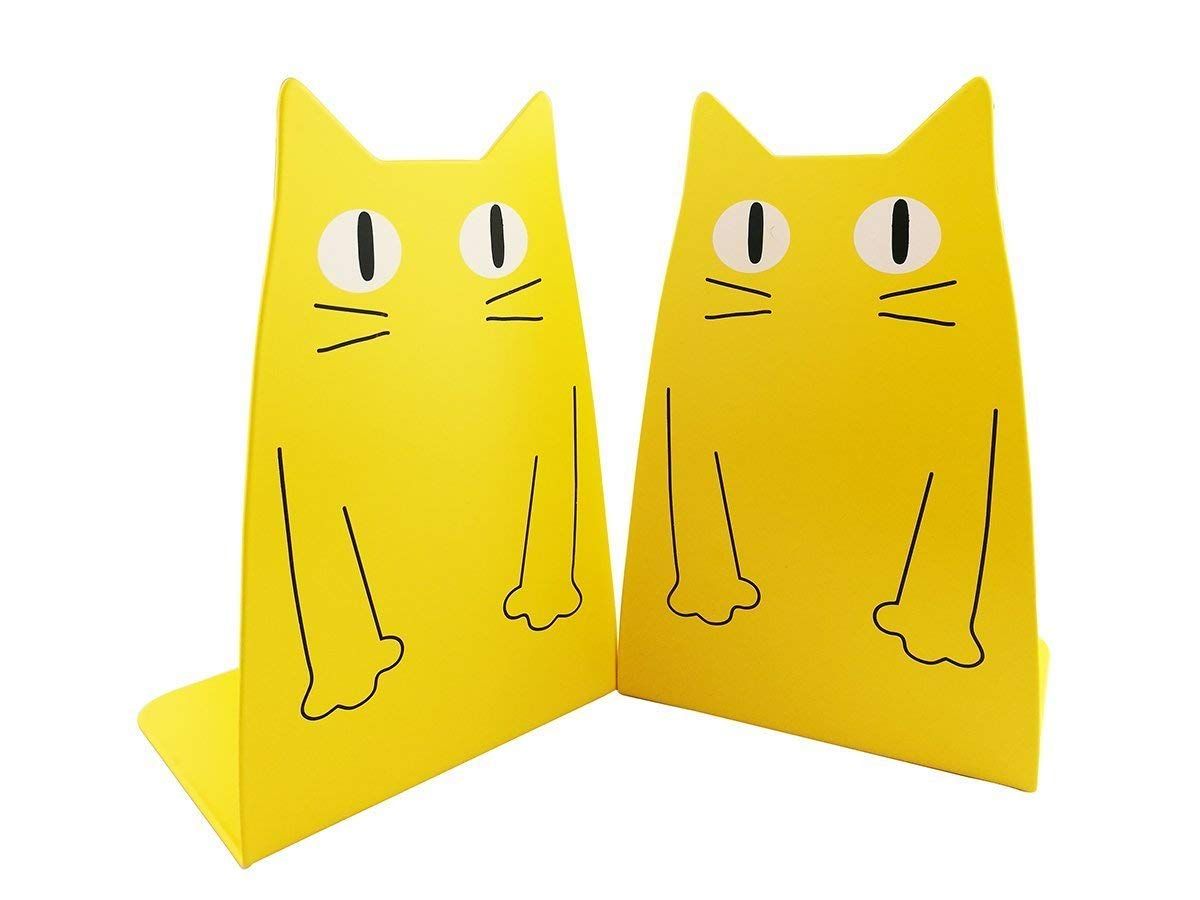 There's always room for yellow cat bookends. $14.
These cats are doing yoga. $30.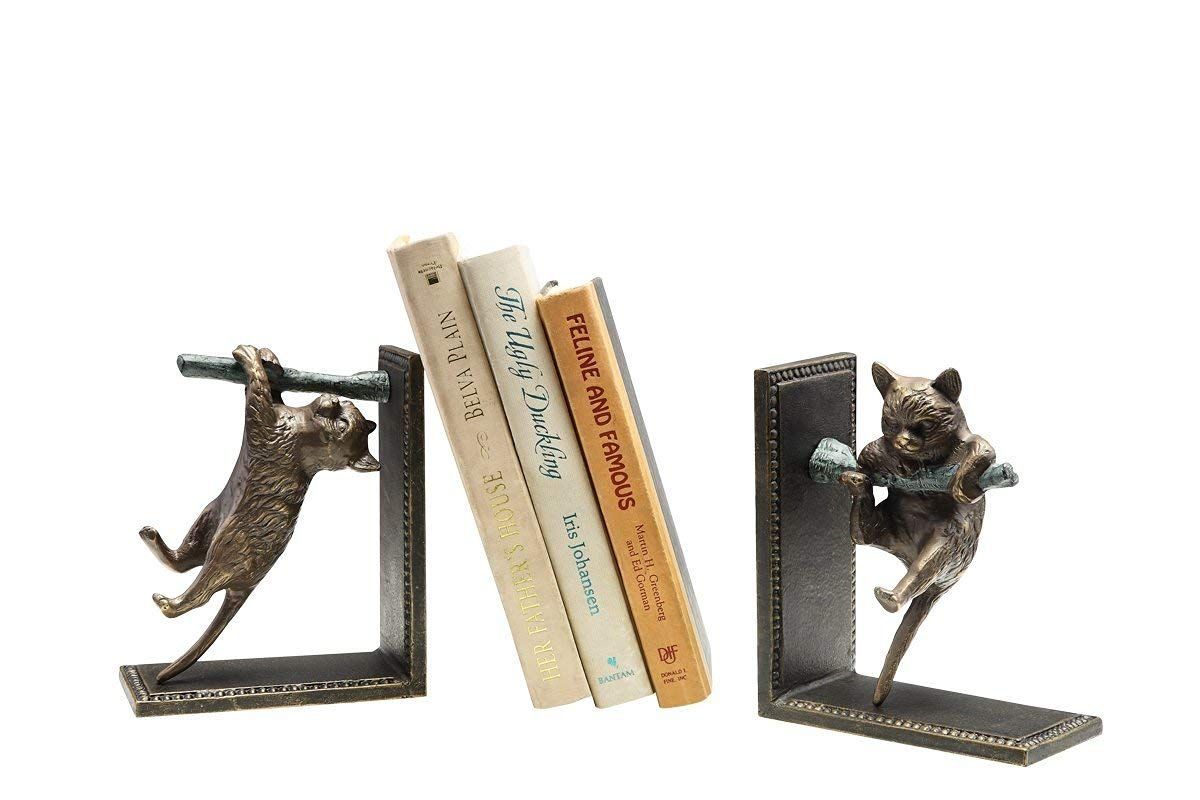 Cats + trees = so cute. $66.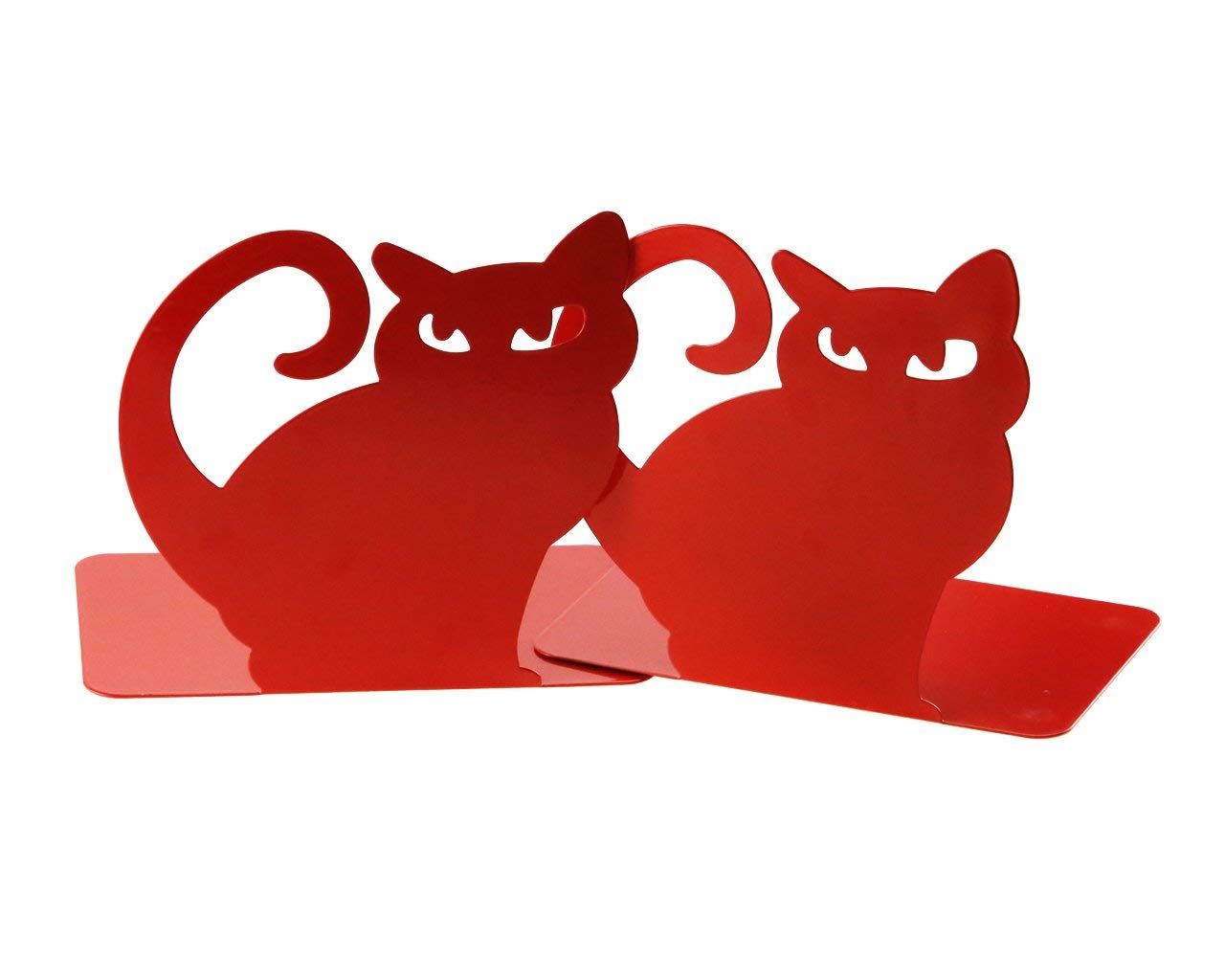 Red Persian cats, $14.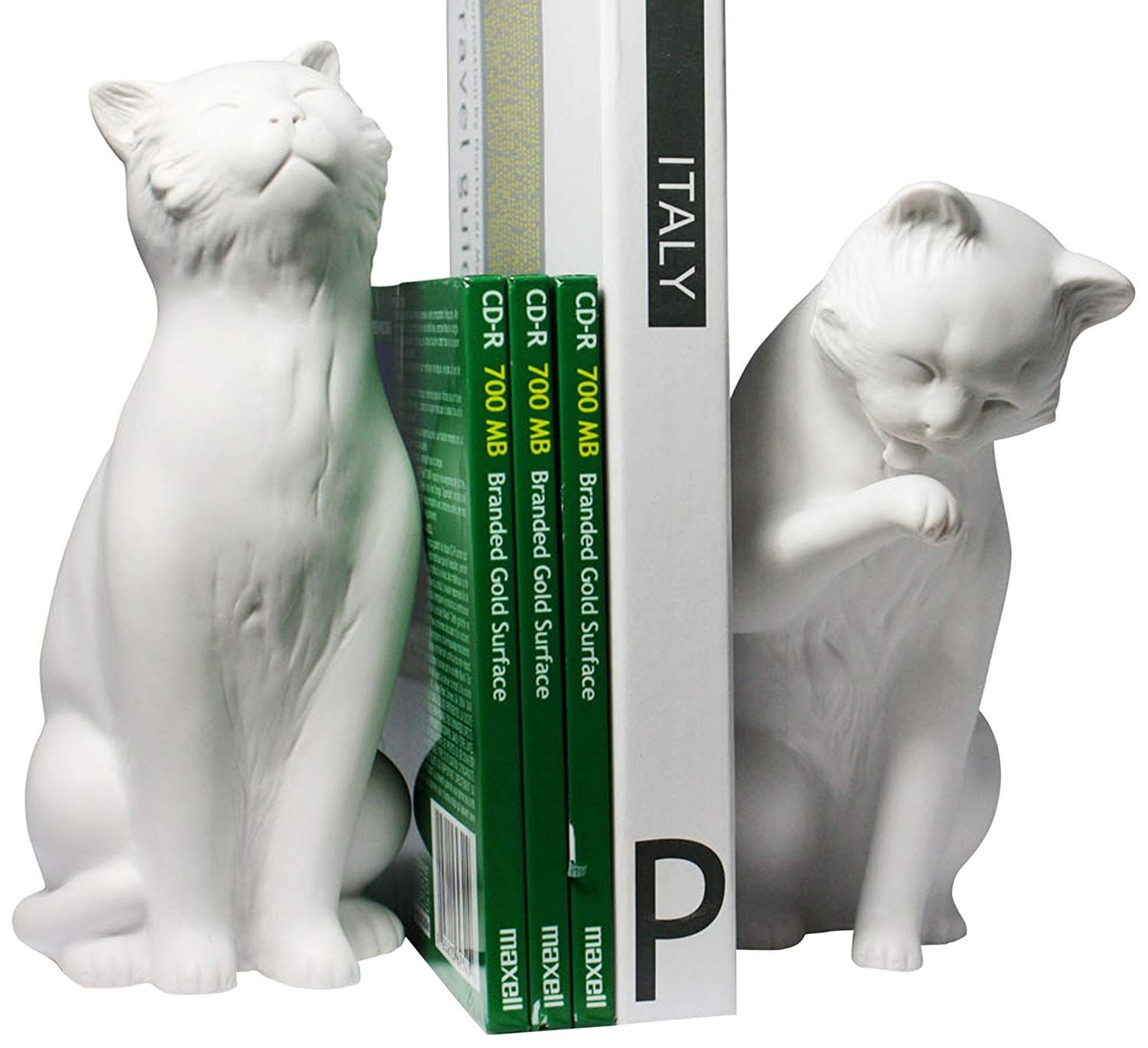 White cats enjoying their two favorite things: licking and being better than you. $26.
Want more awesome bookends? First, you might want to check out these awesome bookish gifts for cat lovers, then check out these great owl bookends, fun whale bookends, and delightful dragon bookends.