Lists
Casting Downton Abbey From Literature, Part II–Downstairs
Several weeks ago I shared a possible cast of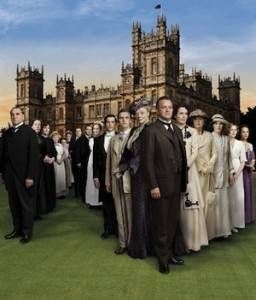 Abbey's "upstairs" denizens; this week, we turn to the popular BBC-produced series' servants (they aren't "lower class;" some of them have more class than the nobles).
I've noticed over the years is that when modern people start playing dress up in historical costumes and personae, almost all of them want to be aristocrats. Wouldn't you? The clothes are better. Downton Abbey has been criticized for allowing the downstairs But while there are no doubt plenty of things Downton Abbey gets wrong (see this recent piece about language slips), one of the things it gets right
Downstairs
Carson the Butler–Stevens from The Remains of the Day by Kazuo Ishiguro
The Majordomo of Downton, Carson has many qualities to recommend him as a beau, not least of which is his attention to decanting wine. Fortunately, he's not as emotionally constipated as Ishiguro's Stevens, but that may be because Carson's real tendresse is for Lady Mary.
Mrs. Hughes the Head Housekeeper–Miss Kenton from The Remains of the Day by Kazuo Ishiguro

Yes, Mrs. Hughes's understudy comes from the same book as Carson's, but really, both sets travel best in pairs. Like Miss Kenton, Mrs. Hughes nourishes an outside love, but unlike Miss Kenton, chooses not to act on that relationship.
O'Brien the Lady's Maid–Mrs. Danvers from Rebecca by Daphne du Maurier
Actually, O'Brien isn't classy enough to run the rigidly tight ship Mrs. Danvers does for Maxim de Winter, but she's certainly deceitful enough to throw her mistress under the bus (read: allow her to slip on a bar of soap), then pretend she's remorseful about it.
Anna the Head Housemaid–Jane Eyre from Jane Eyre by Charlotte Bronte

With her strong self possession and orphan's attention to detail, Anna is an easy doppelgaenger for Jane Eyre. If she polished her accent a bit, she might even be qualified to apply for governess positions one day–although she seems to be heading for life as a hotelier's wife.
Bates the Valet–Jeeves, from the Jeeves & Wooster novels by P.G. Wodehouse
We've already seen more strong feeling from Bates, the war-wounded valet to the Earl of Grantham, than Jeeves would allow over his lifetime, yet these two gentlemen's gentlemen share a commitment to duty and a sense of humor, to boot.
William the Footman–The Fish Footman from Alice in Wonderland by Lewis Carroll
Due to the class-based nature of so much British literature, it isn't easy to find a footman who is a main character–and although Pip of Great Expectations might be of the right stratum, Carroll's Fish Footman's bulging eyes and large lips look a lot like the Downton character's.
Branson the Chauffeur–The Artful Dodger from Oliver Twist by Charles Dickens
Sure, the Dodger exists in a pre-horseless-carriage era, but he'll learn to drive! He's a thieving orphan–but in his own way so is Irish patriot Branson, whose commitment to Republican causes trumps his ability to see that Lady Sybil isn't ready to become a typical Irish wife.
Thomas the Evil Footman–Iago from "Othello" by William Shakespeare
In the BBC Red Nose Day sketch parody of Downton Abbey, the comic playing Thomas gleefully exclaims "OH I'm SO evil!" This character's exultation in his own nastiness can only be matched by Shakespeare's arch-villain Iago, who destroys several lives in the course of bringing down his nemesis Othello. If only Iago's fate were also Thomas's. Is that mean?
Mrs. Patmore the Cook–Mrs. Hudson of The Adventures of Sherlock Holmes by Arthur Conan Doyle
Mrs. Hudson's harried housekeeping may not take place solely in the kitchen, but her frazzled demeanor surely influenced the Downton writers as they created blousy Mrs. Patmore, the cook whose constant state of overexcitement might presage the discovery of a Holmesian plot, especially one involving poison in the soup.
Daisy the Cook's Girl–The Poor Little Match Girl from Hans Christian Andersen
Daisy falls at the very bottom of the Downton Abbey food chain–and no one ever lets her forget it. Thus, Andersen's pathetic waif is the perfect representation of Daisy's psychic state. Even when she's being appreciated by the unfortunate William, Daisy feels her lot could be better. Will she perish of hunger, or prosper in the new world order? Hmmm…