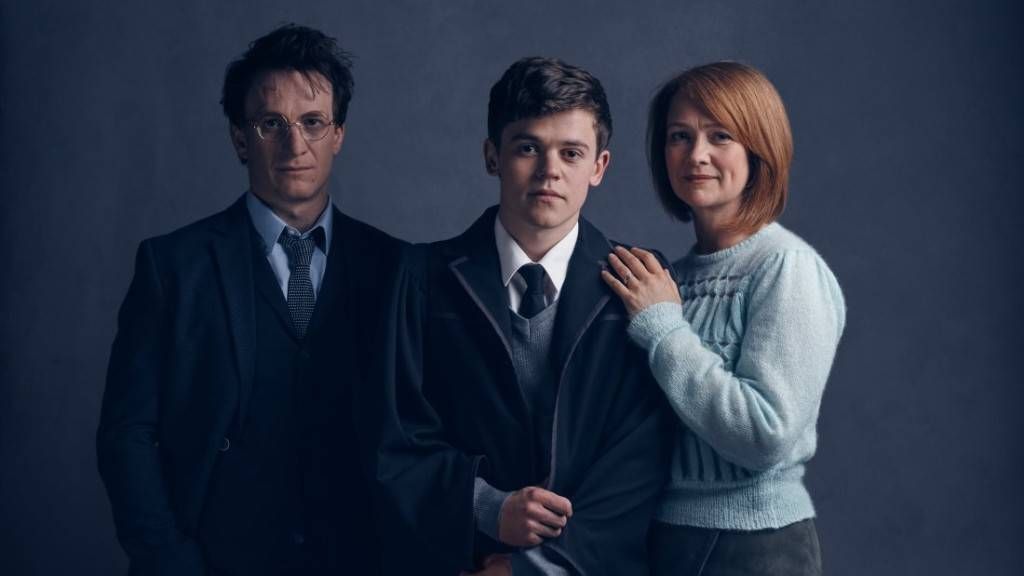 News
The Trio is Back: Cast Photos from the New Harry Potter Play
Harry Potter fans (and most of the internet by now, to be honest) are probably already tuned in to the news that the first photos of the new Cursed Child cast are up on Pottermore. Finally, we see the entire trio back in costume, as well as some of their offspring!
That's right: we have cast photos for The Cursed Child! And, true to the eternal wealth of passion for the Harry Potter universe, people have feelings about it.
Along with these exciting photos comes confirmation of more cast members. On Tuesday, we got our first official look at adult Ginny Weasley, whose costume nicely combines a trendy haircut with an outfit that has just a hint of Molly Weasley to it. We also got to see The Man Who Lived looking rather dapper in a ministry suit. Finally, we see their youngest child, Albus Severus, looking very like his father in his hand-me-down robes, bringing back memories of young Harry drowning in Dudley's old clothes.
Today brought with it the first photos of grown up Ron Weasley and the much anticipated (and somewhat controversial) casting of Hermione Granger as a woman of color. We also got our first glimpse of their daughter, Rose. It's super awesome, and perfectly fitting for Hermione, that the family is known as the Granger-Weasleys.
While it will likely be strange to many to see new actors cast in the iconic roles that many of us (especially the "Harry Potter generation) grew up with, it's exciting to see the Harry Potter universe growing and expanding into new mediums. Each cast member already has a wealth of stage experience in their resume, ensuring that our beloved characters are in good hands.
Seeing the Cursed Child cast in their costumes is just another reminder that this new addition to the universe will be very different from the films or books. The universe is expanding beyond the original seven books into uncharted on-stage territory, and that should be exciting news.
The great thing about art, especially something as widespread and beloved as Harry Potter, is how open it is to interpretation. Things like fan-art, fan-fiction, even fan-made plays (I'm thinking A Very Potter Musical) are proof that there is no end to the interpretations and interesting ideas that can emerge from a single original source like that of Harry Potter.
In spite of all the newness with aged-up characters, the costume designs (especially Ginny Weasley's very Weasley-ish jumper-and-skirt combo) are nevertheless familiar, promising fidelity to the world JK Rowling introduced to us in the books. Even if the wizard's robes look a little different, it totally makes sense that fashion would've changed since the trio was in school
Seeing the excellent casting choices for grown up Harry, Ron, Hermione, and Ginny in a play that's JK Rowling approved is just the beginning of this exciting journey towards a new Harry Potter piece of art out there. I, for one, am quite jealous of people who will be able to travel to London to see this play performed. The rest of us will just have to make do with pictures like this one and the published script–at least for now (hint hint, JK Rowling and company).