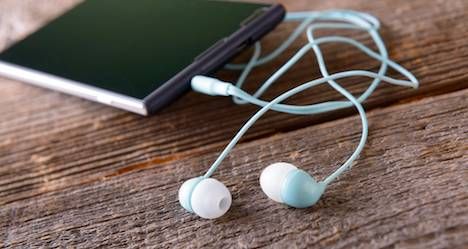 Audiobooks
Captivating Historical Fiction Audiobooks for the Whole Family
This content contains affiliate links. When you buy through these links, we may earn an affiliate commission.
Many devoted readers have a particular genre or style that they find themselves gravitating toward when it comes to choosing their next book. For me, that genre is historical fiction. I love completely immersing myself in another time and place, and I particularly love experiencing this via audiobook. A great audio reader can really transport you, making that road trip or that sink full of dishes much more palatable. For families, audiobooks can be a great way to get through a boring car ride, or a traffic jam, or even a quiet afternoon at home. Finding a book that is the right fit for different ages, however, can be challenging. I've come up with a list of some of my favorite historical fiction audiobooks, arranged by intended audience, from youngest to oldest.
Whether practiced or completely new to experiencing audiobooks, this list is sure to have something for everyone in your family.
Little House in the Big Woods by Laura Ingalls Wilder
No matter how well you think you know this classic book, you haven't fully experienced it until you've heard it performed by Actress Cherry Jones. In her rich, warm voice, Jones reads the story of little Laura and her family as they navigate a pretty action-packed life in Wisconsin, starting in the 1870s. The narrative is enriched by a real fiddle player re-enacting Pa's frequent musical breaks. Great for kids as young as 5 and up.
When it comes to audiobook readers, Katherine Kellgren is pretty much a superstar. With her crisp English accent, Kellgren brings to life this hilarious story about a prim-15 year old named Penelope Lumley who is sent to a mysterious estate called Ashton Place to be the new governess. The children, however, seem a bit… off. Turns out they were recently found in the woods surrounding the estate, where they seem to have been literally raised by wolves. Outrageously funny and so well-performed by Kellgren (wait until you hear her half-English half howling rendition of the kids' attempts to speak), The Incorrigible Children of Ashton Place will have your children in stitches and will entertain the adults with a ton of literary allusions and puns. Great for kids as young as 6 and up.
The Watsons go to Birmingham–1963 by Christopher Paul Curtis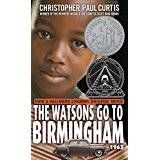 This funny, emotional novel was an instant classic upon its publication in the 1990s. With a sometimes odd, but undeniably affecting mix of humor and tragedy, Curtis tells the story of the "weird Watsons," a close-knit family from Michigan who travel to Alabama to visit their Grandma. It is 1963, and the family arrives just in time to experience the church bombing that killed four little girls in Birmingham. Unhurt, but emotionally devastated, the young narrator struggles to recover from the trauma of what he saw with the help of his mischievous but loving older brother. The audiobook is wonderfully narrated by LeVar Burton, yes that LeVar Burton! Ideal for kids aged 10 and up.
Echo by Pam Munoz Ryan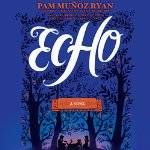 An enchanted harmonica is at the center of this incredibly ambitious book by Pam Munoz Ryan. Three different stories take place at pivotal and painful times during history : Friedrich, a disfigured outcast, lives in Germany during the rise of Nazi germany; Mike and his little brother live in an orphanage during the Great Depression in America; and Ivy lives with her family of itinerant farmers in California during World War II. Slowly, but surely, we see how their fate is connected to the harmonica, as it is passed around from person to person. Three different narrators skillfully perform the different stories, which are artfully arranged with brief musical interludes. Great for kids aged 10 and up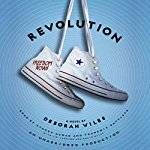 Revolution is the middle child, so to speak, of Deborah Wiles wonderful 1960s trilogy. The first one is called Countdown and takes place in the early 1960s, during the Cuban Missile Crisis and is also worth checking out. Revolution takes place during the freedom summer of 1964 in Mississippi. The action takes place in twelve year old Sunny's town, where a flood of civil rights activists have shown up to help register black voters and establish schools. Their presence is met with anger, suspicion and eventually violence. Wiles skillfully combines excerpts from contemporary newspapers and leaflets, as well as commercials and music of the time to really bring the 1960s to life. The audio is particularly affecting, as we hear well-done recreations of commercials and snippets of songs. This is a fascinating, enjoyable and emotionally intense story, that will stick with everyone who listens to it. Great for kids aged 11 and up. (Note: the third book in Wiles' trilogy, titled Tribe 1969, is forthcoming.
The Watch that Ends the Night by Alan Wolf
At some point in everyone's childhood, they get obsessed with the Titanic, right? The luxury, the tragedy, the ice. There's so much to be fascinated by, and the countless books and very famous movie are a testament to its enduring power over us, yes? Well, I didn't know what to expect when I listened to The Watch That Ends the Night, but, wow, was I blown away. This is the story of the Titanic as told through 24 diverse voices: the captain, the lookout, a millionaire, a socialite, passengers from many different cultures and classes, rats unfortunate enough to live on the ship, and even the iceberg itself. A full cast narrates with an intensity that will keep you riveted to your seat. As you might expect, there is a lot of death (in detail) in this story, so it is best for kids aged 12 and up, give or take a few years, of course.
Outrun the Moon by Stacey Lee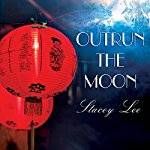 Stacey Lee is quickly becoming one of my favorite authors. With her second novel, Outrun the Moon, Lee tells the story of the 1906 San Francisco Earthquake from the point of view of Mercy Wong, a plucky, ambitious 15 year old from Chinatown. Determined to become a successful businesswoman, during a time when racism against Chinese people was commonplace, Mercy is a whip smart and funny main character that you will instantly root for. She sweet talks her way into an exclusive boarding school for young ladies determined to get an education and is just starting to make friends when the earthquake happens. Full of wonderful details of Chinese culture and life at the turn of the century, Lee's story manages to be both heartbreaking and hopeful. Narrator Emily Woo Zeller does a stellar job conveying the strong-willed Mercy. Best for age 12 and up.
Some Kind of Courage by Dan Gemeinhart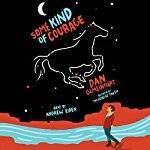 Warning: This book will absolutely break your heart and toy with your emotions. But it is so worth it. I listened to this book on my daily commute to work and spent a good three days crying and occasionally yelling at my speakers– but in the best possible way! Twelve-year old Joseph Johnson is all alone in the world, having lost the members of his family to separate tragedies. The only living thing he has a true connection with is his beloved horse, Sarah. But when the drunken man he has been living with sells her without telling Joseph, he is galvanized into action–taking his family's money and his father's gun, and setting off on a journey to find Sarah. It is the 1890s in Washington state and Joseph's authentic voice, brought amazingly to life by Narrator Andrew Eiden, will hold your entire family riveted. Ideal for ages 12 and up.
What are your favorite historical fiction audiobooks?