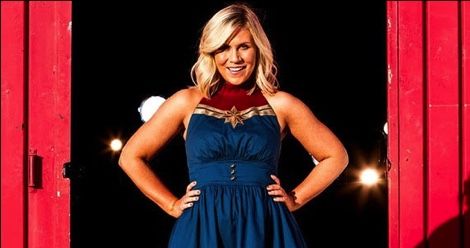 This content contains affiliate links. When you buy through these links, we may earn an affiliate commission.
I think we're all pretty clear at this point that the release of Captain Marvel is going to be a Cultural Event close to, if not on par with, the release of Black Panther. Which means, of course, we're going to need looks appropriate for the occasion. It also means we're going to need books to read while we're waiting for the movie to start, because being at the movies doesn't mean we stop being readers, now does it, and if you're as excited as I am, you're going to see something to occupy your mind for those last few minutes lest your head explode of excitement.
Of course, if you're bringing a book, you need something to carry it in. Which should match your fandom attire. And you're going to need some makeup to go with that…
And then there's the fact Carol Danvers may be our current Captain, but Monica Rambeau, Maria Rambeau's daughter, also wore that mantle and, in fact, wore it first; she's also borne several other superhero names including: Spectrum and Photon and she who kicks the butt also gets a Look.
The Carol
We'll cover the Carol look first since she's center stage in the initial film outing (in the backstory rewrite, Monica is Carol's best friend Maria Rambeau's young daughter). Books first, of course. There are a myriad options but I'm going to start you off with two: the now iconic Captain Marvel, Vol. 1: Higher, Further, Faster, More by Kelly Sue DeConnick and David Lopez (Marvel), from which the movie draws some of its source material and a great deal of its attitude and Captain Marvel: Liberation Run by Tess Sharpe (Titan, 02/25/2019), in which Carol stops a space ship from crashing in to Earth only to discover its pilot, a young Inhuman woman, has risked her life to find help for her people who, having left their home world to escape the rigid caste system, find themselves enslaved and being traded as a commodity. Horrified by this information, Carol recruits Ant-Man, Mantis, and Amadeus Cho to assist her and Rhi in the liberation of Rhi's people.
What will you be carrying one (or both. Probably both) of these books in? That depends. Are you a tote person or a purse person? Either way, I have you covered. PumpernickelWarez has this fantastic tote: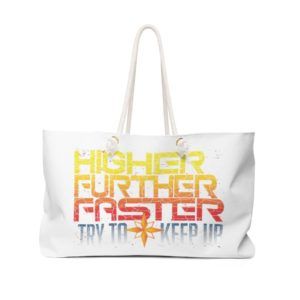 Or, if you prefer a crossbody model, Loungefly can oblige:
These bags can go with any article of clothing (I've never been one to worry if the holder of my stuff matches what I'm wearing on a given day provided it…well, holds my stuff without killing my neck and shoulder/s) but this, my dearest friends, is a Very Special Occasion and Very Special Occasions call for clothing that screams, "I AM HERE FOR THIS."
This dress, unfortunately, isn't going to be available by March 8th, and, once it is out, will only be available at the Disney Parks Dress Shop. I know. That said, I absolutely adore it and, therefore, couldn't not include it because, surely, we will all be seeing Captain Marvel more than once, we will all be having home viewing parties, and there will be sequels.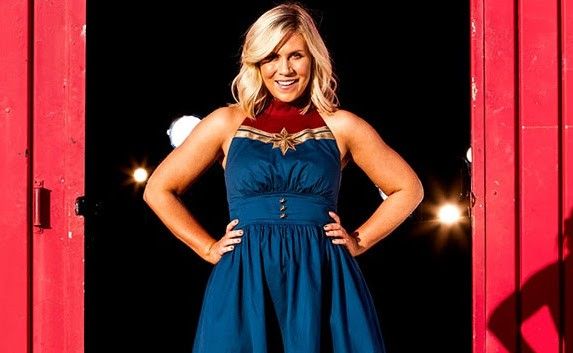 More casual members of the fandom can, as has been the case in recent years, look to Hot Topic for t-shirt and hoodie needs:
And if you really want to capture that fighter pilot/space badass look, there's this Luca Designs motorcycle jacket which, depending on your preferences, can be made in either faux leather or sheepskin.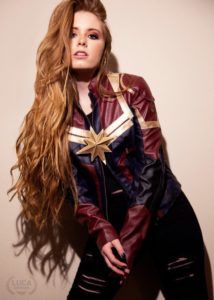 If you enjoy wearing makeup, well…that's a whole world of coordinating options.
Captain Marvel star Brie Larson had that fantastic gold Hala star on the back of her top (top. Because she wore pants!) at a Singapore fan event, and you can do her and our hero homage with Urban Decays metallic Midnight Cowboy Heavy Metal Glitter eyeliner, Midnight Blast Metallic Moon dust eyeshadow and Sephora Brand Golden Party Cream Lip Stain and Rouge Gel Lip Liner in Nude Beach. Colour Pop has your reds and blues covered with: Two Piece pressed powder shadow, Blew Ya Mind BFF Mascara, Lucky Star Ultra Satin Lip, and Frenchie Pencil Lippie Pencil.
Darling, you look lovely and, more importantly, powerful enough to punch Thanos hard enough to undo the snap. And, more importantly, you match your books perfectly.
The Monica
Monica Rambeau is the oft overlooked first female Captain Marvel (remember Carol was Ms. Marvel until 2012), making her debut in The Amazing Spider-Man #18 (1982). She was a member of the Avengers, even leading the team for a time, until she lost her powers helping them rescue Namor's wife from a sea monster. Monica eventually regained said powers (of course) and went on to kick butt under a number of names including Spectrum and Photon, the later of which was her mother Maria's pilot call sign in the Air Force (as featured in Captain Marvel).
Monica has never really had a book of her own but she's been featured prominently as an Avenger, team-up aficionado, and solo hero in a number of other books, all of her adventures recently collected in Captain Marvel: Monica Rambeau. It's a little spendy for a TPB but, in my opinion (aka: reader, I sprang for it,) worth it to have all of Monica's featured stories in one place. I'm hoping that it's a precursor to her getting a new book of her own but with Marvel being Marvel these days, who knows and, even if it did happen, they'd probably cancel it after three issues anyway so…*shrug*
Regardless, Monica deserves to be celebrated as much as Carol does for forging Captain America's path into popular consciousness and popular culture.
Alas, our girl doesn't have nearly as much merch as Carol, which doesn't mean we can't put together a good look and hopefully, with the publicity the movie will bring for both her mother Maria, and Monica herself, the options will expand in the coming months and years.
There's hope, though, Corps aficionados, especially if you have an affinity for chibi. Check out this Spectrum bag CreativeWiz has up on Red Bubble (also available as a shirt, pillow, mug…)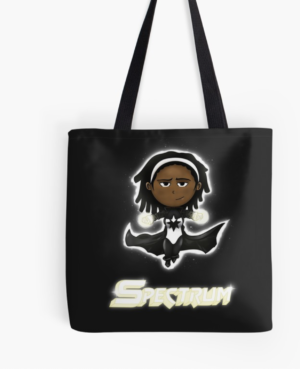 Hot Topic comes through again on the t-shirts, with this fabulous purple number featuring Maria Rambeau: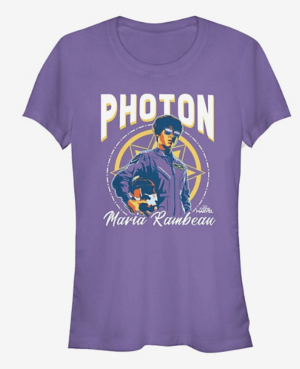 And Saly972 has the classic Spectrum Star available on Red Bubble:
Oh, and the makeup possibilities for this look? Hell, yes. Fenty Beauty has a Liquid Flyliner in black while Urban Decay has a Glide-On Pencil in Metallic White. For shadow options, we turn again to Colour Pop's gorgeous brights and stunning neutrals, for BAE, Routlette, Wittle, and Tassel. To really bring out the colors, try Benefit Bad Gal Bang! Volumizing Mascara. And for lipstick, Kaja has Color Change Mood Balm that couldn't be more perfect.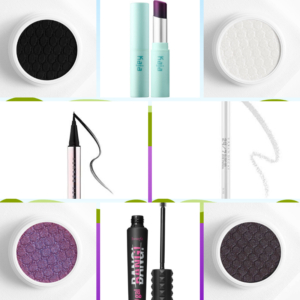 Higher, further, faster, more, Carol and Maria/Monica Corps. Fifteen days to launch.