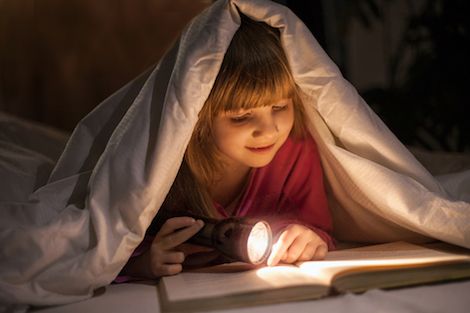 Children's
50 Must-Read Canadian Children's and YA Books
This content contains affiliate links. When you buy through these links, we may earn an affiliate commission.
It's TD Canadian Children's Book Week, a week devoted to celebrating all the wonderful children's books published by authors from what is currently known as Canada. Until Saturday, May 12, authors, illustrators, and storytellers will be touring Canada's libraries, bookstores, and other bookish places. You can find out more about Canadian Children's Book Week Events here. Even if you can't attend an event (or don't live in Canada), there are plenty of ways to participate. Might I suggest picking a book from this list of 50 must-read Canadian children's and YA books, and settling in for a good read?
These 50 books are organized roughly by age level (picture books first, followed by middle grade and YA) and are by authors and illustrators from all over Canada. Some classics, some recent publications—but all must-reads that will give you a little peek into the wealth of wonderful Canadian children's literature. All summaries are from Goodreads.
MUST-READ CANADIAN CHILDREN'S PICTURE BOOKS
THE PAPER BAG PRINCESS BY ROBERT MUNSCH, ILLUSTRATED BY MICHAEL MARTCHENKO
"The Princess Elizabeth is slated to marry Prince Ronald when a dragon attacks the castle and kidnaps Ronald. In resourceful and humorous fashion, Elizabeth finds the dragon, outsmarts him, and rescues Ronald—who is less than pleased at her un-princess-like appearance."
THE HOCKEY SWEATER BY ROCH CARRIER, ILLUSTRATED BY SHELDON COHEN, translated by sheila fischman
"In the days of Roch's childhood, winters in the village of Ste. Justine were long. Life centered around school, church, and the hockey rink, and every boy's hero was Montreal Canadiens hockey legend Maurice Richard. Everyone wore Richard's number 9. They laced their skates like Richard. They even wore their hair like Richard. When Roch outgrows his cherished Canadiens sweater, his mother writes away for a new one. Much to Roch's horror, he is sent the blue and white sweater of the rival Toronto Maple Leafs, dreaded and hated foes to his beloved team. How can Roch face the other kids at the rink?"
What's My Superpower? by aviaq johnston, illustrated by tim mack
"Nalvana feels like all of her friends have some type of superpower. She has friends with super speed (who always beat her in races), friends with super strength (who can dangle from the monkey bars for hours), and friends who are better than her at a million other things. Nalvana thinks she must be the only kid in town without a superpower. But then her mom shows Nalvana that she is unique and special—and that her superpower was right in front of her all along."
"Scaredy Squirrel never leaves his nut tree. It's way too dangerous out there. He could encounter tarantulas, green Martians or killer bees. But in his tree, every day is the same and if danger comes along, he's well-prepared. Scaredy Squirrel's emergency kit includes antibacterial soap, Band-Aids and a parachute. Day after day he watches and waits, and waits and watches, until one day his worst nightmare comes true! Scaredy suddenly finds himself out of his tree, where germs, poison ivy and sharks lurk. But as Scaredy Squirrel leaps into the unknown, he discovers something really uplifting…"
"In 1946, Viola Desmond bought a movie ticket at the Roseland Theatre in Nova Scotia. After she settled into a main floor seat, an usher came by and told her to move, because her ticket was only good for the balcony. She offered to pay the difference in price but was refused: "You people have to sit in the upstairs section." Viola refused to move. She was hauled off to jail, but her actions gave strength and inspiration to Canada's black community."
"Jillian Jiggs—who spends most of her time making up games and playing dress-up—is much too busy to clean her room!"
"When a tiny fish shoots into view wearing a round blue topper (which happens to fit him perfectly), trouble could be following close behind. So it's a good thing that enormous fish won't wake up. And even if he does, it's not like he'll ever know what happened…"
Alligator Pie by Dennis Lee, illustrated by Frank Newfeld
"Alligator Pie, which remains the classic Canadian bedtime book, is written as if Mother Goose had the Latin name Branta canadensis, from William Lyon Mackenzie King, who "loved his mother like anything," to Trois-Rivières, which, of course, rhymes with "eat you hair."
Red Is Best by Kathy Stinson, illustrated by Robin Baird Lewis
"Young Kelly's mom doesn't understand about red. Sure, the brown mittens are warmer, but the red mitts make better snowballs. And the red boots aren't just for rain; they take bigger steps in any weather. And, yes, a red cup does make a difference…juice just doesn't taste as good in a green one. No doubt about it, red is best."
Virginia Wolf by Kyo Maclear, illustrated by Isabelle Arsenault
"Vanessa's sister, Virginia, is in a "wolfish" mood—growling, howling and acting very strange. It's a funk so fierce, the whole household feels topsy-turvy. Vanessa tries everything she can think of to cheer her up, but nothing seems to work. Then Virginia tells Vanessa about an imaginary, perfect place called Bloomsberry. Armed with an idea, Vanessa begins to paint Bloomsberry on the bedroom walls, transforming them into a beautiful garden complete with a ladder and swing so that what was down could climb up. Before long, Virginia, too, has picked up a brush and undergoes a surprising transformation of her own."
ABC of Canada by Kim Bellefontaine, illustrated by Per-Henrik Gurth
"From Arctic to Zamboni, kids can follow the alphabet on a colorful tour across Canada. On their journey, they'll visit Canadian landmarks, including Jasper National Park and Peggy's Cove. They'll also meet friendly characters enjoying Canadian pastimes, such as riding in the Calgary Stampede, playing hockey and watching the Northern Lights. Vivid illustrations and simple language guarantee that even the youngest traveler will enjoy this trip!"
"An illustrated collection of Mother Goose nursery rhymes, including Georgie Porgie, Baa, Baa, Black Sheep, Little Boy Blue, and Old Mother Hubbard."
"Whether sharing the stories of Anne of Green Gables and Terry Fox, or revealing Canada's importance in growing grain that feeds the world, "M is for Maple" is a shining tribute to Canada. From British Columbia to Newfoundland, this Canadian alphabet book shares our nation's symbols, history, people and culture. In clever rhymes and informative text, author Mike Ulmer shares the unique details of Canada. Illustrator Melanie Rose has captured the beauty and splendor of Canada, from the Northern Lights to brave Mounties and the beautiful cities of Toronto, Victoria, and Quebec."
"The sun on your face. The smell of warm bannock baking in the oven. Holding the hand of someone you love. What fills your heart with happiness? This beautiful board book, with illustrations from celebrated artist Julie Flett, serves as a reminder for little ones and adults alike to reflect on and cherish the moments in life that bring us joy."
Town Is By the Sea by Joanne Schwartz, illustrated by Sydney Smith
"A young boy wakes up to the sound of the sea, visits his grandfather's grave after lunch and comes home to a simple family dinner with his family, but all the while his mind strays to his father digging for coal deep down under the sea. Stunning illustrations by Sydney Smith, the award-winning illustrator of Sidewalk Flowers, show the striking contrast between a sparkling seaside day and the darkness underground where the miners dig."
The Darkest Dark by Chris Hadfield, illustrated by the Fan Brothers
"Chris loves rockets and planets and pretending he's a brave astronaut, exploring the universe. Only one problem—at night, Chris doesn't feel so brave. He's afraid of the dark. But when he watches the groundbreaking moon landing on TV, he realizes that space is the darkest dark there is—and the dark is beautiful and exciting, especially when you have big dreams to keep you company."
When We Were Alone by David Alexander Robertson, illustrated by Julie Flett
"When a young girl helps tend to her grandmother's garden, she begins to notice things that make her curious. Why does her grandmother have long braided hair and beautifully colored clothing? Why does she speak another language and spend so much time with her family? As she asks her grandmother about these things, she is told about life in a residential school a long time ago, where all of these things were taken away. When We Were Alone is a story about a difficult time in history and, ultimately, one of empowerment and strength."
"Miss Petitfour enjoys having adventures that are 'just the right size—fitting into a single, magical day.' She is an expert at baking and eating fancy iced cakes, and her favorite mode of travel is par avion. On windy days, she takes her sixteen cats out for an airing: Minky, Misty, Taffy, Purrsia, Pirate, Mustard, Moutarde, Hemdela, Earring, Grigorovitch, Clasby, Captain Captain, Captain Catkin, Captain Cothespin, Your Shyness and Sizzles. With the aid of her favorite tea party tablecloth as a makeshift balloon, Miss Petitfour and her charges fly over her village, having many little adventures along the way. Join Miss Petitfour and her equally eccentric felines on five magical outings—a search for marmalade, to a spring jumble sale, on a quest for 'birthday cheddar', the retrieval of a lost rare stamp and as they compete in the village's annual Festooning Festival. A whimsical, beautifully illustrated collection of tales that celebrates language, storytelling and small pleasures, especially the edible kind!"
Oscar Lives Next Door by Bonnie Farmer, illustrated by Marie Lafrance
"Long before Oscar Peterson became a virtuoso jazz pianist, he was a boy who loved to play the trumpet. When a bout of childhood tuberculosis weakened his lungs, Oscar could no longer play his beloved instrument. He took up piano and the rest is history: Oscar went on to become an international jazz piano sensation. Oscar Lives Next Door is a fictional story inspired by these facts. The book imagines a next-door neighbor for Oscar named Millie, who gets into mischief with him but also appreciates his talents: Oscar hears music in everything, and Millie calls him a magician for the way he can coax melodies from his trumpet. Millie writes to Oscar during his long stay in the hospital for tuberculosis, and she encourages his earliest notes on the piano."
You Are Stardust by Elin Kelsey, illustrated by Soyeon Kim
"You Are Stardust begins by introducing the idea that every tiny atom in our bodies came from a star that exploded long before we were born. From its opening pages, the book suggests that we are intimately connected to the natural world; it compares the way we learn to speak to the way baby birds learn to sing, and the growth of human bodies to the growth of forests. Award-winning author Elin Kelsey—along with a number of concerned parents and educators around the world—believes children are losing touch with nature. This innovative picture book aims to reintroduce children to their innate relationship with the world around them by sharing many of the surprising ways that we are all connected to the natural world."
"When a teacher asks the children in her class to think about what makes their families special, the answers are all different in many ways—but the same in the one way that matters most of all. One child is worried that her family is just too different to explain, but listens as her classmates talk about what makes their families special. One is raised by a grandmother, and another has two dads. One is full of step-siblings, and another has a new baby. As one by one, her classmates describe who they live with and who loves them—family of every shape, size and every kind of relation—the child realizes that as long as her family is full of caring people, her family is special."
"This lavishly illustrated book brings Gordon Lightfoot's heart-stirring song to readers young and old. Commissioned by the CBC in 1967 to mark Canada's centennial year it eloquently describes the construction of the transcontinental railway—"an iron road runnin' from the sea to the sea"—a great feat of nation building that changed Canada forever. Award-winning illustrator Ian Wallace brings the song to visual life with his sweeping landscapes and evocative portrayals of the people who lived the building of the railroad. The book includes Gordon Lightfoot's music and lyrics, a brief history of the railroad and notes on the illustrations."
"Never having seen trees, the children in Repulse Bay decide that the funny things delivered to them one year for Christmas must actually be for making baseball bats."
Must-Read Canadian Middle-Grade Books
"Everyone's favorite redhead, the spunky Anne Shirley, begins her adventures at Green Gables, a farm outside Avonlea, Prince Edward Island. When the freckled girl realizes that the elderly Cuthberts wanted to adopt a boy instead, she begins to try to win them and, consequently, the reader, over."
"Poor Jacob Two-Two. Not only must he say everything twice just to be heard over his four brothers and sisters, but he finds himself the prisoner of the dreaded Hooded Fang. What had he done to deserve such a punishment? The worst crime of all—insulting a grown-up. Although he's small, Jacob is not helpless, especially when The Infamous Two come to his aid."
"Since the Taliban took over Afghanistan, 11-year-old Parvana has rarely been outdoors. Barred from attending school, shopping at the market, or even playing in the streets of Kabul, the heroine of Deborah Ellis's engrossing children's novel The Breadwinner is trapped inside her family's one-room home. That is, until the Taliban hauls away her father and Parvana realizes that it's up to her to become the 'breadwinner' and disguise herself as a boy to support her mother, two sisters, and baby brother."
"When Shizuye Takashima, 'Shichan' as she was called, was eleven years old, her entire world changed forever. As a Japanese-Canadian in 1941, she was among thousands of people forced from their homes and sent to live in internment camps in the Canadian Rockies. Although none had been convicted of any crime, they were considered the enemy because the country was at war with Japan. In this true story of sadness and joy, Shichan recalls her life in the days leading up to her family's forced movement to the camp, her fear, anger, and frustration as the war drags on, and the surprising joys in the camp: a Kabuki play, holiday celebrations, and the ever-present beauty of the stars."
"Theo and her young, irresponsible mother seem trapped in their miserable, poverty-stricken life. Theo dreams of belonging to a "real" family, and her dream seems to come true when she is mysteriously adopted by the large, warm Kaldor family. But as time passes, the magic of Theo's new life begins to fade, and soon she finds herself back with her mother. Were the Kaldors real or just a dream? And who is the shadowy figure who haunts Theo's thoughts?"
"Away at school, Sally Copeland has always dreamed of going home, but now that she's there, she feels frightened and unsure of herself.Will her brother and sister accept her? Will she be able to do things for herself? And what will it be like to go to a regular school and be the only one with cerebral palsy?"
"Booky didn't know much about the reasons for the Great Depression. All she knew was that she was hungry all the time, that her parents fought constantly, that the bailiff would soon return to evict her family from their home. Worst of all, she knew that Christmas would be a time of empty stockings instead of presents under the tree, a time of mashed potatoes and turnips instead of turkey and dressing. But Booky's spunky nature refused to be crushed, even by the Great Depression."
"It is 1777 and Phoebe Olcott is thrown headlong into the horrors of war when her beloved cousin Gideon is hanged for being a British spy. When she finds a message left by Gideon containing the names of Loyalist families to be protected by the King's army, Phoebe knows she must deliver the message to the general at Fort Ticonderoga. She sets out into the wilderness and soon meets up with Jem, a young Loyalist travelling to the safety of British Canada. As they travel across the country facing rebel guns, wild animals and worse, Phoebe and Jem discover they have a growing attraction for each other. But her own mission cannot be ignored and Phoebe once again finds herself alone, freezing and near death before she is reunited with Jem on the shores of Lake Ontario."
"Bruno and Boots are always in trouble. So the Headmaster, aka 'The Fish' decides it would be best to separate them. Bruno must now room with ghoulish Elmer Dimsdale, plus his plants, goldfish, and ants. And Boots is stuck with nerdy, preppy, paranoid George Wexford-Smyth III. Of course, this means war. Because Bruno and Boots are determined to get their old room back, no matter what it takes. And the skunk is only the beginning…"
"Shade is a young Silverwing bat, the runt of his colony. But he's determined to prove himself on the long, dangerous winter migration to Hibernaculum, millions of wingbeats to the south. During a fierce storm, he loses the others and soon faces the most incredible journey of his young life. Desperately searching for a way to rejoin his flock, Shade meets a remarkable cast of characters: Marina, a Brightwing bat with a strange metal band on her leg; Zephyr, a mystical albino bat with a strange gift; and Goth, a gigantic carnivorous vampire bat. But which ones are friends and which ones are enemies? In this epic story of adventure and suspense, Shade is going to need all the help he can find—if he hopes to ever see his family again."
Jane, the Fox, and Me by Fanny Britt, illustrated by Isabelle Arsenault, translated by Christelle Morelli and Susan Ouriou
"Hélène has been inexplicably ostracized by the girls who were once her friends. Her school life is full of whispers and lies, and her loving mother is too tired to be any help. Fortunately, Hélène has one consolation, Charlotte Bronte's Jane Eyre. But when Hélène is humiliated on a class trip in front of her entire grade, she needs more than a fictional character to allow her to see herself as a person deserving of laughter and friendship. Hélène encounters a fox, a beautiful creature with whom she shares a moment of connection. And when a new girl joins the outcasts' circle, Géraldine, who does not even appear to notice that she is in danger of becoming an outcast herself, Hélène realizes that the less time she spends worrying about what the other girls say is wrong with her, the more able she is to believe that there is nothing wrong at all."
Canada Year by Year by Elizabeth MacLeod, illustrated by Sydney Smith
"Award-winning author Elizabeth MacLeod's year-by-year tour of Canada's fascinating history highlights a single milestone for every year from the country's founding in 1867 up to its 150th anniversary in 2017. Divided into ten distinct eras, coverage ranges from politics, sports, business and arts and culture, and includes significant events both at home and in world affairs."
Coyote Tales by Thomas King, illustrated by Byron Eggenschwiler
"Two tales, set in a time 'when animals and human beings still talked to each other,' display Thomas King's cheeky humor and master storytelling skills. Freshly illustrated and reissued as an early chapter book, these stories are perfect for newly independent readers."
"Sumac Lottery is nine years old and the self-proclaimed 'good girl' of her (VERY) large, (EXTREMELY) unruly family. And what a family the Lotterys are: four parents, children both adopted and biological, and a menagerie of pets, all living and learning together in a sprawling house called Camelottery. Then one day, the news breaks that one of their grandfathers is suffering from dementia and will be coming to live with them. And not just any grandfather; the long dormant "Grumps," who fell out with his son so long ago that he hasn't been part of any of their lives. Suddenly, everything changes. Sumac has to give up her room to make the newcomer feel at home. She tries to be nice, but prickly Grumps clearly disapproves of how the Lotterys live: whole grains, strange vegetables, rescue pets, a multicultural household…He's worse than just tough to get along with—Grumps has got to go! But can Sumac help him find a home where he belongs?"
Must-Read Canadian YA Books
"It was her tenth birthday on Isis. By Earth years, she would be sixteen. But Olwen Pendennis had never been to Earth. She had been born on Isis. And since her parents' death, she had lived there alone, manning the Isis Light—a 'lighthouse' in space designed to aid ships, and to bring settlers from Earth. And now, on the day of her tenth year, the settlers are coming at last. Olwen is ready to welcome them, but are they ready for her? She was once human, like them. But the harsh climate of the alien planet has changed her, transformed her into something else—something the settlers could never be prepared for…"
Maud by Melanie J. Fishbane
"Fourteen-year-old Lucy Maud Montgomery—Maud to her friends—has a dream: to go to college and, just like her idol, Louisa May Alcott, become a writer. But living with her grandparents on Prince Edward Island, she worries that this dream will never come true. Her grandfather has strong opinions about a woman's place in the world, and they do not include spending good money on college. Luckily, she has a teacher to believe in her, and good friends to support her, including Nate, the Baptist minister's stepson and the smartest boy in the class. If only he weren't a Baptist; her Presbyterian grandparents would never approve. Then again, Maud isn't sure she wants to settle down with a boy—her dreams of being a writer are much more important. Life changes for Maud when she goes out West to live with her father and his new wife and daughter. Her new home offers her another chance at love, as well as attending school, but tensions increase as Maud discovers her stepmother's plans for her, which threaten Maud's future—and her happiness—forever."
"Sixteen-year-old Petula De Wilde is anything but wild. A family tragedy has made her shut herself off from the world. Once a crafting fiend with a happy life, Petula now sees danger in everything, from airplanes to ground beef. The worst part of her week is her comically lame mandatory art therapy class. She has nothing in common with this small band of teenage misfits, except that they all carry their own burden of guilt. When Jacob joins their ranks, he seems so normal and confident. Petula wants nothing to do with him, or his prosthetic arm. But when they're forced to collaborate on a unique school project, she slowly opens up, and he inspires her to face her fears. Until a hidden truth threatens to derail everything."
"How much can you tell about a person just by looking at them? Janna Yusuf knows a lot of people can't figure out what to make of her…an Arab Indian-American hijabi teenager who is a Flannery O'Connor obsessed book nerd, aspiring photographer, and sometime graphic novelist is not exactly easy to put into a box. And Janna suddenly finds herself caring what people think. Or at least what a certain boy named Jeremy thinks. Not that she would ever date him—Muslim girls don't date. Or they shouldn't date. Or won't? While her heart might be leading her in one direction, her mind is spinning in others. She is trying to decide what kind of person she wants to be, and what it means to be a saint, a misfit, or a monster. Except she knows a monster…one who happens to be parading around as a saint… Will she be the one to call him out on it? What will people in her tight-knit Muslim community think of her then?"
This One Summer by Mariko Takami, illustrated by Jillian Takami
"Every summer, Rose goes with her mom and dad to a lake house in Awago Beach. It's their getaway, their refuge. Rosie's friend Windy is always there, too, like the little sister she never had. But this summer is different. Rose's mom and dad won't stop fighting, and when Rose and Windy seek a distraction from the drama, they find themselves with a whole new set of problems. It's a summer of secrets and sorrow and growing up, and it's a good thing Rose and Windy have each other."
"Rescued from the gallows in 1850s London, young orphan (and thief) Mary Quinn is surprised to be offered a singular education, instruction in fine manners—and an unusual vocation. Miss Scrimshaw's Academy for Girls is a cover for an all-female investigative unit called The Agency, and at seventeen, Mary is about to put her training to the test. Assuming the guise of a lady's companion, she must infiltrate a rich merchant's home in hopes of tracing his missing cargo ships. But the household is full of dangerous deceptions, and there is no one to trust—or is there? Packed with action and suspense, banter and romance, and evoking the gritty backstreets of Victorian London, this breezy mystery debuts a daring young detective who lives by her wits while uncovering secrets—including those of her own past."
"The setting is Sri Lanka, 1980, and it is the season of monsoons. Fourteen-year-old Amrith is caught up in the life of the cheerful, well-to-do household in which he is being raised by his vibrant Auntie Bundle and kindly Uncle Lucky. He tries not to think of his life 'before,' when his doting mother was still alive. Amrith's holiday plans seem unpromising: he wants to appear in his school's production of Othello and he is learning to type at Uncle Lucky's tropical fish business. Then, like an unexpected monsoon, his cousin arrives from Canada and Amrith's ordered life is storm-tossed. He finds himself falling in love with the Canadian boy. Othello, with its powerful theme of disastrous jealousy, is the backdrop to the drama in which Amrith finds himself immersed."
"Ray Liu knows he should be happy. He lives in a big suburban house with all the latest electronic gadgets, and even finds plenty of time to indulge in his love of gaming. He needs the escape. It's tough getting grades that will please his army veteran father, when speaking English is still a struggle. And he can't quite connect with his peers at high school—Chinese immigrants like himself but who seem to have adjusted to North American life more easily. Then comes the fateful day when his father accesses Ray's internet account, and discovers Ray has been cruising gay websites. Before Ray knows what has hit him, his belongings have been thrown on the front lawn, and he has been kicked out. Angry, defiant, Ray heads to downtown Toronto. In short order he is robbed, beaten up and seduced, and he learns the hard realities of life on the street. Could he really sell himself for sex? Lots of people use their bodies to make money—athletes, actors, models, pop singers. If no one gets hurt, why should anyone care?"
Held by Edeet Ravel
"Seventeen-year-old Chloe's summer vacation in Greece comes to an abrupt end when she is suddenly bound, gagged and whisked away to an unidentified location. Waking up from a drug-induced sleep, she finds herself in a squalid warehouse. Chloe can only imagine the worst. After several days of total isolation and utter despair, Chloe faces a new threat when her kidnapper appears, but she also feels a sense of relief. His revelation that she is being held as ransom for a prisoner exchange, however, does little to allay her fears. The weeks pass and, haunted by terrifying dreams and with only her thoughts to keep her company, Chloe fights to remain calm in an impossible situation. At least her kidnapper, although cold and distant, visits frequently, often bringing gifts. Before long, Chloe begins to have feelings for him that take her by surprise. Though still fearing for her safety, she now fantasizes about a life together. And is it her imagination, or does her captor share those feelings? Even when she is finally released, Chloe vows to protect her captor at any cost."
"After years of home schooling, it's time for Alice MacLeod to act her age, meet new people, maybe even go to regular high school. Soon Alice is on the hunt for a look, a social life, a boyfriend and, most important, a half-decent haircut. But getting any of those things in Smithers, BC, isn't easy. Especially not with a family like Alice's. A hysterical account of high school that's even funnier when you're not in high school anymore, Alice, I Think is certain to leave you laughing."
"Larry is a Dogrib Indian growing up in the small northern town of Fort Simmer. His tongue, his hallucinations and his fantasies are hotter than the sun. At sixteen, he loves Iron Maiden, the North and Juliet Hope, the high school "tramp." When Johnny Beck, a Metis from Hay River, moves to town, Larry is ready for almost anything. In this powerful and often very funny first novel, Richard Van Camp gives us one of the most original teenage characters in fiction. Skinny as spaghetti, nervy and self-deprecating, Larry is an appealing mixture of bravado and vulnerability. His past holds many terrors: an abusive father, blackouts from sniffing gasoline, an accident that killed several of his cousins. But through his friendship with Johnny, he's ready now to face his memories—and his future."
"The American Revolutionary War is being waged, and the fate of slaves in the colonies is on the line. Sarah Redmond, a slave on a South Carolina plantation, watches with a heavy heart as her father steals away in the dead of the night to join the British army, enticed by promises of freedom, land and provisions for his whole family. But before her father can return, the war draws to a close and the Loyalist slaves are all freed—including Sarah and her grandmother, Lydia. Uncertain of their future, Sarah and Lydia join the thousands who are rounded up and sent to New York to prepare for their journey to a new home somewhere in the British colonies. After months of waiting, the Redmonds are assigned to a ship bound for the first all-black community in North America: Birchtown, Nova Scotia. With their Certificates of Freedom in hand, Lydia and Sarah wait anxiously, hoping beyond hope that their new life will bring acceptance and happiness. But once they reach Birchtown they find that their new home is barren, cold and isolated—and in a world slow to forget old fears and hate, their Certificates offer them freedom in name only."
"In a futuristic world ravaged by global warming, people have lost the ability to dream, and the dreamlessness has led to widespread madness. The only people still able to dream are North America's Indigenous people, and it is their marrow that holds the cure for the rest of the world. But getting the marrow, and dreams, means death for the unwilling donors. Driven to flight, a fifteen-year-old and his companions struggle for survival, attempt to reunite with loved ones and take refuge from the 'recruiters' who seek them out to bring them to the marrow-stealing 'factories.'"
Looking for more must-read Canadian books? Check out last year's Canadian Children's Book Week recommendations, and this list of 100 must-read Canadian books for all ages.