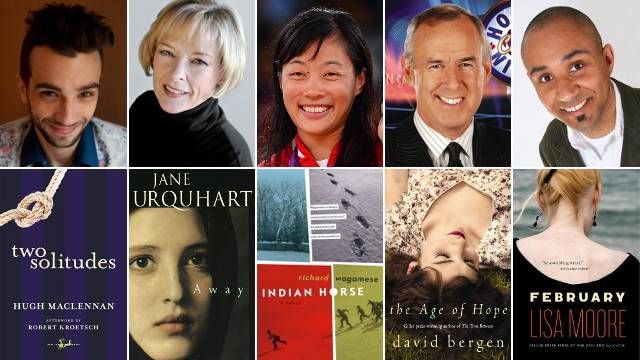 Fiction
Canada Reads: A Canadian Invasion, Book Riot Style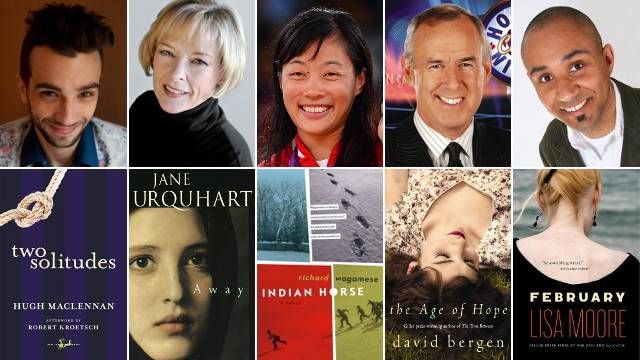 So Canada Reads (read about it here) is this big national book argument that we have in Canada, where we pit five books against each other to be the ONE BOOK ALL OF CANADA SHOULD READ. I told you a little about this year's version a few weeks back, but now the books have been decided and it's coming coming coming! We do it every year! It's a lot of fun, often really infuriating, and it gets all sorts of play here because we are not a very big country and we like to argue about identity lots. This is year 11 and it means major book sales for the finalists (and major major book sales for the winner).
And this year, it's a BookRiot mini-event, too! And I would love it if you'd play along with me.
We're gonna rock this reading schedule:
Week of Jan 7: INDIAN HORSE by Richard Wagamese
Saul Indian Horse has hit bottom. His last binge almost killed him, and now he's a reluctant resident in a treatment centre for alcoholics, surrounded by people he's sure will never understand him. But Saul wants peace, and he grudgingly comes to see that he'll find it only through telling his story. With him, readers embark on a journey back through the life he's led as a northern Ojibway, with all its joys and sorrows.

With compassion and insight, author Richard Wagamese traces through his fictional characters the decline of a culture and a cultural way. For Saul, taken forcibly from the land and his family when he's sent to residential school, salvation comes for a while through his incredible gifts as a hockey player. But in the harsh realities of 1960s Canada, he battles obdurate racism and the spirit-destroying effects of cultural alienation and displacement.

Indian Horse unfolds against the bleak loveliness of northern Ontario, all rock, marsh, bog and cedar. Wagamese writes with a spare beauty, penetrating the heart of a remarkable Ojibway man.
Week of Jan 14: AGE OF HOPE by David Bergen
Born in 1930 in a small town outside Winnipeg, beautiful Hope Koop appears destined to have a conventional life. Church, marriage to a steady young man, children – her fortunes are already laid out for her, as are the shiny modern appliances in her new home. All she has to do is stay with Roy, who loves her. But as the decades unfold, what seems to be a safe, predictable existence overwhelms Hope. Where – among the demands of her children, the expectations of her husband and the challenges of her best friend, Emily, who has just read The Feminine Mystique – is there room for her? And just who is she anyway? A wife, a mother, a woman whose life is somehow unrealized?

This beautifully crafted and perceptive work of fiction spans some fifty years of Hope Koop's life in the second half of the 20th century, from traditionalism to feminism and beyond. David Bergen has created an indelible portrait of a seemingly ordinary woman who struggles to accept herself as she is, and in so doing becomes unique.
Week of Jan 21: AWAY by Jane Urquhart (Penguin in the US, and on Kobo)
A stunning, evocative novel set in Ireland and Canada, Jane Urguhart's Away traces a family's complex and layered past. The narrative unfolds with shimmering clarity, and takes us from the harsh northern Irish coast in the 1840s to the quarantine stations at Grosse Isle and the barely hospitable land of the Canadian Shield; from the flourishing town of Port Hope to the flooded streets of Montreal; from Ottawa at the time of Confederation to a large-windowed house at the edge of a Great Lake during the present day. Graceful and moving, Away unites the personal and the political as it explores the most private, often darkest corners of our emotions where the things that root us to ourselves endure. Powerful, intricate, lyrical, Away is an unforgettable novel.
Week of Jan 28: TWO SOLITUDES by Hugh MacLennan
"Northwest of Montreal, through a valley always in sight of the low mountains of the Laurentian Shield, the Ottawa River flows out of Protestant Ontario into Catholic Quebec. It comes down broad and ale-coloured and joins the Saint Lawrence, the two streams embrace the pan of Montreal Island, the Ottawa merges and loses itself, and the main-stream moves northeastward a thousand miles to sea."

With these words Hugh MacLennan begins his powerful saga of Athanase Tallard, the son of an aristocratic French-Canadian tradition, of Kathleen, his beautiful Irish wife, and of their son Paul, who struggles to establish a balance in himself and in the country he calls home.

First published in 1945, and set mostly in the time of the First World War, Two Solitudes is a classic novel of individuals working out the latest stage in their embroiled history.
Week of Feb 4: FEBRUARY by Lisa Moore (Grove Press in the US, and on Kindle)
In 1982, the oil rig Ocean Ranger sank off the coast of Newfoundland during a Valentine's Day storm. All eighty-four men aboard died. February is the story of Helen O'Mara, one of those left behind when her husband, Cal, drowns on the rig. It begins in the present-day, more than twenty-five years later, but spirals back again and again to the "February" that persists in Helen's mind and heart.

Writing at the peak of her form, her steadfast refusal to sentimentalize coupled with an almost shocking ability to render the precise details of her characters' physical and emotional worlds, Lisa Moore gives us her strongest work yet. Here is a novel about complex love and cauterizing grief, about past and present and how memory knits them together, about a fiercely close community and its universal struggles, and finally about our need to imagine a future, no matter how fragile, before we truly come home. This is a profound, gorgeous, heart-stopping work from one of our best writers.
The CBC also sells the books as a package here and they will ship to the US.
Each week I'll post a backgrounder for the book and a hashtag to follow on the Monday, live-tweet my reading all week (hopefully with your participation!!), host a Twitter Chat on the Thursday evening, and post a Storify on the weekend of everyone's best bits.
From February 11-14, the CBC will be airing debates on the novels (voting one off every day), and I'll liveblog that with lots of snark and annoyance (usually). Then we'll do a wrap-up post the following week and hopefully you'll let me know if you agree or disagree with Canada's pick.
Join me for our Canada Reads party and get your CanLit on! If you've got any questions, come hit me up in the comments.