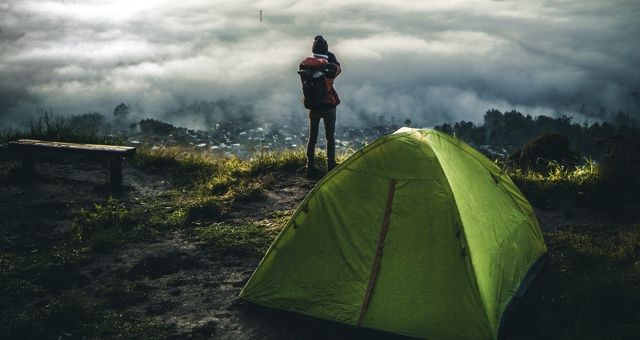 Lists
Roughing It in Science Fiction and Fantasy
This content contains affiliate links. When you buy through these links, we may earn an affiliate commission.
Given how much I read, it's probably inevitable that most real-life situations remind me of books. And since I did a lot of camping in the last year, I've been noticing camping in sci-fi and fantasy all over the place!
This is the first book I thought of, mainly because it takes place in the Pacific Northwest and there's a whole section about how to make acorns edible. Lauren and her traveling companions are fleeing the destruction of their community, searching for a safe place to start again—there's a lot of peril along the way, as well as a beautiful spiritual journey.
And this was the second book I thought of, likely because the Traveling Symphony bits of this book were my favorite. A caravan of people putting on theatrical productions for the survivors of a pandemic? Amazing. Jumping between the moment that a killer flu hits civilization and then 15 years in the future, when the world has changed dramatically, this mid- and post-apocalypse novel feels all too possible, and highly compelling.
Another cataclysmic novel; people start to develop magical powers but lose their memories in the process, and civilization begins to unravel. Includes hunting, gathering, and wilderness peril as well as dangerous cityscapes, and this was one of my favorites of last year.
There is a theme developing here, in that surviving an apocalypse often involves camping. Of course, it helps if you've been training your whole life for this to happen, and you have superpowers—with the awful caveat that those powers are why you're on the run in the wilderness. If you haven't picked up this book yet, what are you even waiting for! Trigger warning: harm to children.
Ammonite by Nicola Griffith
You might be tired of hearing me talk about this book, but there is a fantastic survivalist section in the middle that made me incredibly grateful for extreme cold–rated sleeping bags.
Camping may go with apocalypses (apocalypsi?) in sci-fi, but anyone can camp in fantasy…including a demigod. Hiding his true nature, Demane signs on with a caravan and then finds himself relying on his powers when a terrifying creature starts killing his brothers-in-arms.
Some folks choose the wilderness life, and some have it thrust upon them. Such is the plight of Mehr, the illegitimate but pampered daughter of an imperial governor and an exiled tribeswoman. When her family is threatened, she agrees to a marriage and pledges her fledgling magical powers to the service of the Emperor, and a harrowing trip across the desert is only the start of her troubles.
---
Honorable mentions are due, of course, to Harry Potter and the Deathly Hallows (I liked the camping bits!) and the Lord of the Rings, which maybe wins for Most Camping Of Any Epic. When will REI start carrying lembas, is my question.
Inspired to get out into nature? Good! Need a primer for reading while camping? We've got a post for that. And for the Get Booked take on perfect camping reads, listen here.