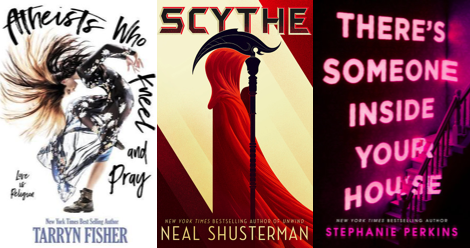 14 "Came for the Title, Stayed for the Plot" Books
Creating book titles—and movie titles and album names, etc.—is a risky business, because it's one of the first impressions your prospective viewer will judge you by. I'm not going to watch "Bad Teacher" or tune in for "Mom," but I will gladly buy an album named "Mellon Collie and the Infinite Sadness," and run to the theater for "The Beguiled." (Although, I will throw a bone to "Don't Trust the B in Apt. 23," because I miss that show something fierce.)
I will fully admit that I'm pretty judgy and make snap decisions when it comes to book titles…and life in general, but that's a convo for me and my therapist. These are 14 books I've read recently that I originally picked up or downloaded simply because I thought the title was awesome. And these all turned out to be actually quality books. I love when things work out.
This may be my favorite book title EVER. I've never hit the Purchase button on Amazon so fast.
My mind went to the deepest, darkest places, and I was not disappointed.
"What a horrible concept," she thought as she requested it on Edelweiss without hesitation.
I mean, spoiler alert…
"What a Beautiful Title," I repeat forever.
*cue Psycho violins*
Not saying that Prez Cleve wasn't a hottie, but what are the odds?
When I inevitably embrace my inner vigilante, this will be my superhero name.
I am a 27-year-old, unashamed One Direction superfan and this title made me want to cry.
I'm just picturing what if the Giving Tree started creeping around and I'm intrigued.
Scythe by Neal Shusterman
Sounds unnecessarily bloody, I already love it.
I don't watch Game of Thrones, but this sounds like an excellent reality show premise…
*prays this is an origin story for Pyro from the X-Men*
Allegedly by Tiffany D. Jackson
So many story possibilities, so little time.