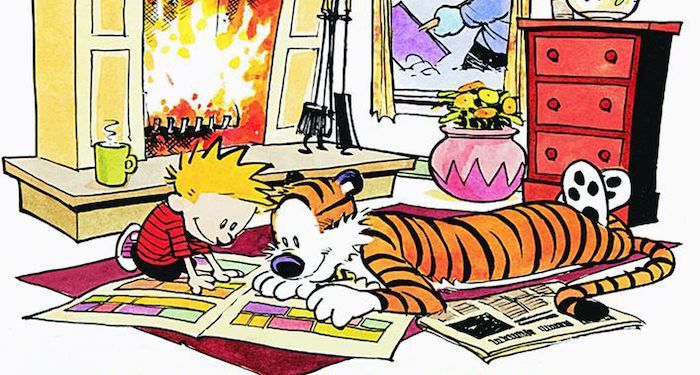 This content contains affiliate links. When you buy through these links, we may earn an affiliate commission.
Who is ready for a Calvin and Hobbes quiz? I'm going to be honest. I didn't have the best introduction to Calvin and Hobbes, the comic strip by Bill Watterson that ran between 1985 and 1995. The first time I heard about it was in the 3rd grade when a boy with a desk near me started killing flies to make bug butter. Later, I flipped through some of the collections my older cousins had, but I was too young to understand most of the jokes. I thought it was about an annoying, naughty boy with a stuffed tiger and not a lot else.
I was wrong, big time. There is incredibly depth in the concepts being explored in these short comic strips, from the purpose of art to the scientific method to the meaning of life. And the modeling of the characters after 16th century religious scholar John Calvin and 17th century philosopher Thomas Hobbes no longer goes completely over my head. I can see why these comics and their characters are beloved by so many readers. And if you are ready to find out if you are more of a Calvin or a Hobbes, than this is the quiz for you!
I hope you self actualized (or just had some fun) with this Calvin and Hobbes quiz. For a deeper dive into these characters, check out a definitive ranking of the Calvin and Hobbes Collections, 16 Calvin and Hobbes Quotes, and 7 Comics Like Calvin and Hobbes.