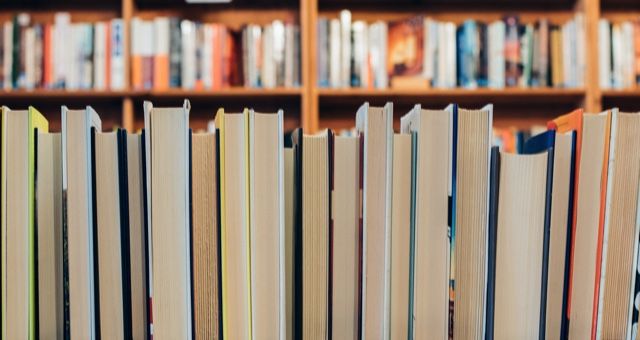 Lists
9 Buzzy 2019 Releases From BookCon and Book Expo
This content contains affiliate links. When you buy through these links, we may earn an affiliate commission.
Book Expo and BookCon are a book lover's dream, full of panels, book signings, and opportunities to get some of the hottest books being released in the next few months or year. Held in the Javits Center in New York City, these events are where avid readers can visit their favorite publisher's booth, learn about upcoming releases, and even attempt to get a few Advance Reader Copies to take home.
As I walked around the show floor, looking at the booths and the latest ARCs being dropped, I managed to snag a few through the massive crowds of book lovers.
Here are some books that captured my attention during Book Expo and BookCon:
Everyone and their mother was vying for Leigh Bardugo's upcoming release where she delves into the world of adult fiction. Ninth House was most probably the most sought after book at Book Expo and BookCon, and thanks to two friends who knew how much I needed this ARC, I was able to receive a copy for myself.
Bardugo's first step into the world of adult fantasy follows Alex Stern, who is offered the opportunity of a lifetime to study at Yale after being the only survivor of an unsolved murder. There, she finds herself falling into a secret society where "their occult activities are revealed to be more sinister and more extraordinary than any paranoid imagination might conceive."
Release date: Oct. 1, 2019
It's been a few years since Ruta Sepetys has released another one of her classic historical novels that delve deeper into a part of history that isn't as well known. But, this year The Fountains of Silence is taking the world by storm and made an appearance at Book Expo. Set during the late 1950s in Spain, this hefty novel follows a handful of characters as they navigate the harsh world of Spain being ruled by the fascist dictator, General Francisco Franco.
One protagonist is Daniel, an avid lover of photojournalism who vacations in Spain with his wealthy parents, while another perspective follows Ana, who works in the hotel where Daniel is staying. Together, they form a dangerously close bond with one another as Daniel begins to photograph the events unfolding around him only to realize that there is more corruption within the country than the world truly knows.
Release date: Oct. 22, 2019
Mooncakes by Wendy Xu and Suzanne Walker
Mooncakes is an adorable graphic novel following a teenage witch named Nova who works at her grandmother's bookstore as she investigates paranormal happenings. There, she finds her crush, Tam, a werewolf, fighting against a horse demon.
Together, both Nova and Tam must work together to save Tam's werewolf magic from being claimed by an evil force. This cute, colorful graphic novel mixes together magic, familial issues, and a journey towards self-discovery, and I am absolutely excited to pick this up during one summer day.
Release date: Oct. 15, 2019
Another highly anticipated ARC drop that occurred during Book Expo and BookCon was for Erin Morgenstern's highly anticipated release. The Starless Sea is an adult fantasy novel following Zachary, who discovers a mysterious book filled with wondrous prose and fascinating stories. He is completely enamored with the novel until he stumbles upon a story from his own life. Curious to figure out more details about the book, Zachary follows a set of clues which leads him to unlikely places with the help of some unique characters who help him uncover the secrets of his life that are lurking just beneath the surface.
Release date: Nov. 5, 2019
David Yoon's debut novel, Frankly in Love, is a contemporary young adult romance following Frank, whose Korean parents hope that he will end up marrying a kind Korean girl in the future. But Frank has a secret hidden under lock and key: he's actually dating a white girl whose personality and interests matches his own.
This #OwnVoices novel tackles familial issues, being the child of immigrant parents, and what it means to make a name for yourself despite having an ocean of expectations weighing down on your shoulders.
Release date: Sept. 10, 2019
Set during the 1800s, Ahdieh is bringing back vampires in her upcoming novel being released just in time for Halloween. According to the synopsis of the novel, this is "a sultry romance and a thrilling murder mystery" that is sure to leave readers in awe of Ahdieh's lyrical and vivid writing style.
I have been waiting for vampires to make a comeback into the young adult world for years, and I am ecstatic that Ahdieh is making that dive to give us a mysterious, paranormal novel set in the past. This is definitely one novel I cannot wait to dive into.
Release date: Oct. 8, 2019
This recent release was highlighted at BookCon, and I couldn't say no to the opportunity to grab myself a copy of Ask Again, Yes. This literary fiction tells the story of two closely knit households that are torn apart by a tragic event. Years later, the children of these two families meet again and begin to analyze the events that occurred in their childhood through the lens of adulthood to realize that not everything is as it seems.
Ask Again, Yes is "a profoundly moving novel about two neighboring families in a suburban town, the friendship between their children, a tragedy that reverberates over four decades, and the power of forgiveness."
As I was walking around the expo hall, I bumped into a fellow Cuban author whom I adore seeing. And, I was lucky enough to receive a copy of his upcoming release. The Book of Lost Saints tells the story of a boy named Ramon whose aunt vanished during the Cuban Revolution. Now, in New Jersey, Ramon is desperate to uncover the cause of her disappearance while also discovering his own identity as he learns more about the "lost saints" who helped his aunt during Batista's time ruling over Cuba before the revolution began.
Release date: Nov. 5, 2019
The queens of romance have yet another book being released! Twice in a Blue Moon is a star-studded romance between Sam and Tate, who were each others' first love and first heartbreak. When nearly a decade passes, Sam walks back into Tate's life, looking for forgiveness, but Tate has to decide whether or not she can trust him enough to let him back into her world full of Hollywood glamor and drama now that she's an up-and-coming actress. This second-chance romance is sure to steal the hearts of countless readers, and I cannot wait to read it during one weekend.