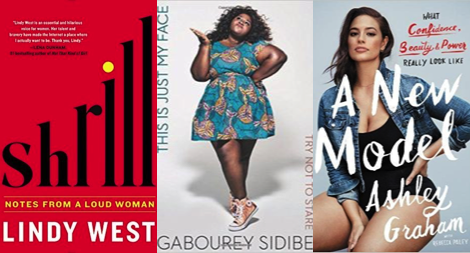 Buy, Borrow, Bypass: Body Positive Memoirs
The past few years have been an awakening for me. I've reclaimed the word fat as a personal descriptor, swore off dieting, and tried to surround myself with images and stories about fabulous fat people who are not trying to change themselves. Fat Acceptance and Body Positivity (different things, I assure you!) have become a huge part of my life, and something I actively seek out in the books I read.
There is some great fiction with fat female leads that has helped me celebrate my new outlook on life, but I'm also drawn to female written memoir, and particularly memoir that deals with body issues. Everyone's personal body issues are so…personal…that passing judgement on how people share can be tricky. I've taken into account how these stories can expand on the typical understanding of fat women and how hard they work to dismantle systems (sexism, diet culture, mainstream beauty standards) that people using the term 'body positivity' should be dismantling.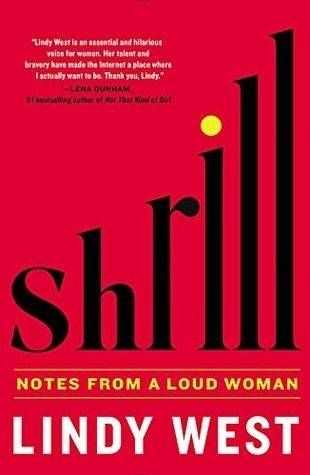 Shrill: Notes From A Loud Woman by Lindy West
Lindy West was the first person I ever heard call herself fat in a positive way. It was during an episode of This American Life where she confronts an internet troll who was particularly cruel to her. When they were speaking, the man who created a fake Twitter account pretending to be her dead father lamenting about his gross daughter from beyond the grave had a hard time saying the word 'fat' out loud. In a gentle, patient voice, she replied, "You can say fat, that's what I call myself." I had to pull over. It shattered everything I had learned in 29 years of residence on this earth. (A later episode featuring West is Tell Me I'm Fat, and should not be missed.)
A year or so later, I finally read Shrill. It's equal parts hilarious and heartbreaking, detailing growing up overweight (a chapter about Disney role models of the fat persuasion made me cry laugh), working as a comedian (sexism and body issues), dealing with hatred from strangers and real people (SO MUCH HATRED), and in general, being a fat feminist person (all the baggage that comes with that). Her discussion of conditioning herself to appreciate fat bodies by seeking pictures of them lead me to overhaul my Instagram feed and literally retrain my brain.
Verdict: Buy.
This Is Just My Face: Try Not To Stare by Gabourey Sidibe
Reading Gabourey Sidibe's life story is such a conversational experience that I know I'll have to give it a second go when it's finally released on audio. Even without being familiar with her work, I can hear her voice in my head as I read. This Is Just My Face is confessional and unapologetic, and I have fist pumped more than once as Sidibe refuses to backtrack on loving food, hating strangers, and simultaneously wanting to be invited and wanting to be left alone.
When I first heard about this book, I wasn't sure that it would be a body positive memoir, simply because there is so much more to Gabourey Sidibe than her gorgeous body. I checked it out of the library (I've been burned) and was relieved that after flipping it open, it was a literal struggle to close it again. I keep getting distracted trying to write this, because I  go back and reread my favorite parts- and end up reading the whole thing again. Sidibe talks about being fat and black. She talks about her refusal to be okay with even "well-intentioned" racism and fatphobia. She talks about mental health and being a phone sex worker and being famous and her childhood. Sidibe doesn't present the memoir in a childhood-to-now timeline, and this works in the book's favor, instead following a clear train of thought that draws you in and then answers the next question that pops into your mind. Empowering and enjoyable.
Verdict: Buy (and maybe spring for the audiobook!)
A New Model: What Confidence, Beauty, and Power Really Look Like by Ashley Graham
Hm. When I first heard about this book, written by slightly-plus-sized model Ashley Graham, I was nervous. When I saw that one of the chapters was called Put Down The Snickers, I was enraged. As it happens any time a marginalized group speaks up, there has been commercialization of the body positive movement, complete with thin women flooding the scene, encouraging everyone to "just love themselves!" while ignoring intersectionality and the political ramifications of being superfat. Ashley Graham has been accused of this, and honestly, is such a far cry from the fat activists who have helped me grow that I was wary of her idea of  "what confidence, beauty, and power really look like."
Another trip to the library helped me sort through my suspicious anger. The chapter called Put Down the Snickers detailed other people's comments about her weight and was not diet advice. There is another chapter about food and FOMO that splashes into diet-culture territory (nothing truly body positive will ever suggest you fast), mixing messages when one sentence encourages you to eat in a way that fuels you and the next moralizes food and lists all the "baddies" you can encounter as you travel the world. In another chapter she discusses being sort of stuck between people who think she's too large and people who don't think she's fat enough (interestingly, fat is not a positive descriptor used in this book), and this conversation made me think through what it means to be "fat enough." As far as being body positive goes, A New Model  is murky in the way that things can be when a person doesn't want to pick a side. I didn't leave the book thinking "she's completely ridiculous," but I still posit there are better places to get your body positivity.
Verdict: Bypass (maybe borrow, if you're curious, and if you've read the top two suggestions first)
(As a side note, as more people use 'body positivity' to meet their own ends, the term gets further and further from a revolutionary way to include fat people in mainstream culture. For further reading, I suggest digging into Jes Baker's work, including her handbook Things No One Tells Fat Girls and her recent article about Lisa Frank BoPo)