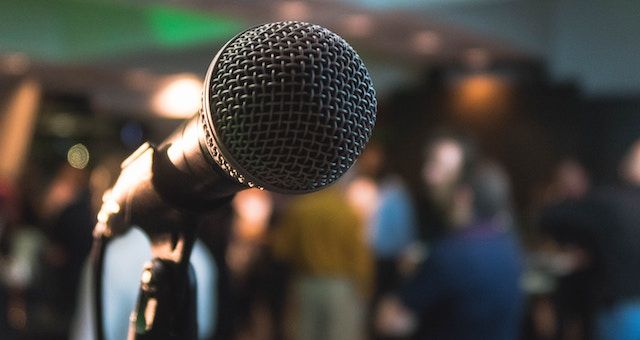 Audiobooks
Button Poetry Fans Are In Luck: Audiobooks Are Now Available
This content contains affiliate links. When you buy through these links, we may earn an affiliate commission.
Spoken word and slam poetry have become increasingly popular in the last few years. They have captured readers' attention for their rawness and beauty and for ascribing the dramatization of a play to poetry.
When performed by the author, it can feel almost cathartic to those watching: we carry our own feelings into the venue, and they are washed away and replaced by the feelings of those declaiming on stage. Our grief and love and life become suddenly more vivid, more worthy of attention. That's the beauty of poetry in itself: for a moment we become what we are reading, even if we have never felt those emotions before. And after all, what better way to read poetry than by listening to it?
Button Poetry has been a great propeller of slam poetry, especially because it gives voice to many authors of colour and LGBTQA+ authors, which also means that, more and more, poetry encapsulates broader experiences and life stories.
On YouTube, you can find several videos of Button Poetry authors live on stage, and those acts have been made available in audio form on Spotify and other audio providers for a while, but now they're also releasing complete poetry collections as audiobooks read by the author, recorded in a studio.
The titles available so far are:
From the same author of Fat Girl Finishing School, this book speaks of the relationship we build with our own bodies as we grow up, and includes subjects like feminism, queerness, and rape.
Wiley is a fat-positive activist, and her live performances are emotional; many of her poems start off as a recollection of all the things fat girls grew up hearing from others, and how much it has shaped the way they see themselves, and their bodies. It's also an unapologetic love letter to all the things we were told not to love about ourselves.
Helium by Rudy Francisco
This collection of poems is the author's debut, and the main themes are race, class, and gender.
Francisco performs many of his poems as if he is about to hit the punchline of a joke, but the subjects he speaks of are only funny because they're so true.
You can find many of his live performances on YouTube.
You probably know Benain through the video of her poem Explaining My Depression to My Mother. In it, she acts out a deeply troubled conversation, and the poem is a desperate cry from a daughter who struggles so much with understanding the causes of her depression as her mother does.
The book explores mental health, family relationships, and love.
This book is a compilation of poems, essays, and lyrics, and it touches various themes like justice, love, and personal reflection.
Guante's poetry is a spark which leads us to question the way we live as a community, and the daily tasks our society demands of us.
You can check his live performances on YouTube as well.
---
The audiobooks are available for purchase on Button Poetry's site, or you can get them via Audible and iTunes.
If you're looking for other poetry audiobooks, here are six more Book Riot has chosen for you.