Opinion
Reviewing Browsery, Barnes & Noble's New Book Recommendation App
This content contains affiliate links. When you buy through these links, we may earn an affiliate commission.
What is Browsery, the new Barnes & Noble App?
Barnes & Noble recently launched Browsery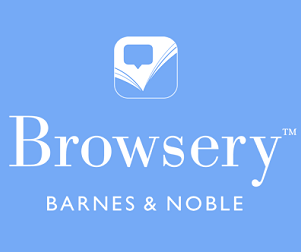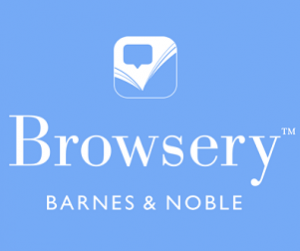 ™, a new app for finding book recommendations. The app, which works on iOS and Android, is a community-driven platform that allows users to ask for and give recommendations. This simple Q&A-style forum essentially crowd-sources personalized lists of book recs for readers who don't know what to pick up next and want real humans to give them suggestions.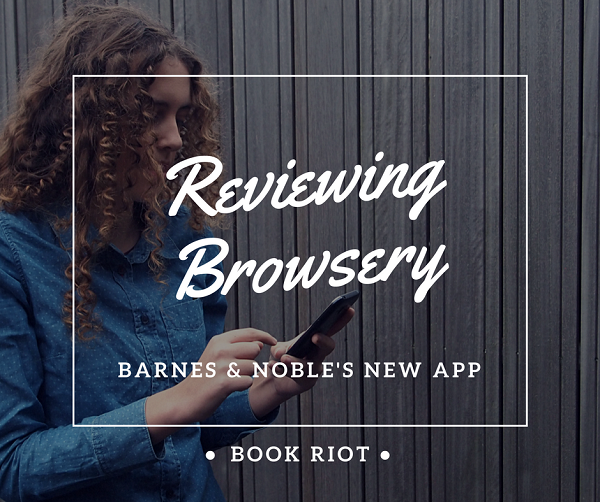 How does Browsery work?
First you create a profile using a Barnes & Noble account. Then you select the categories of books you like (fiction, fantasy, memoir, YA, poetry, etc—at least three) so the app can create a customized homepage for you.
Then come the questions.
Readers ask for a specific type of book recommendation in one of the given categories. App users respond by linking a specific book, commenting on why they picked it. Others can "agree" with their selection and add their own comments. The original asker can also respond, creating the potential for a more personalized discussion.
Some of these questions are quite general, like "What are you currently reading? How do you like it so far?" "What was the last book you finished?" and "Was there ever a book that was very popular, but you just couldn't get interested in no matter the effort?" (I "agreed" with the reader who answered Wuthering Heights). A lot of them, however, are quite specific, like "What's your favorite underrated YA series?" "Books that take place in Scotland that aren't Outlander?" and "What books will best help me understand the 2016 election?"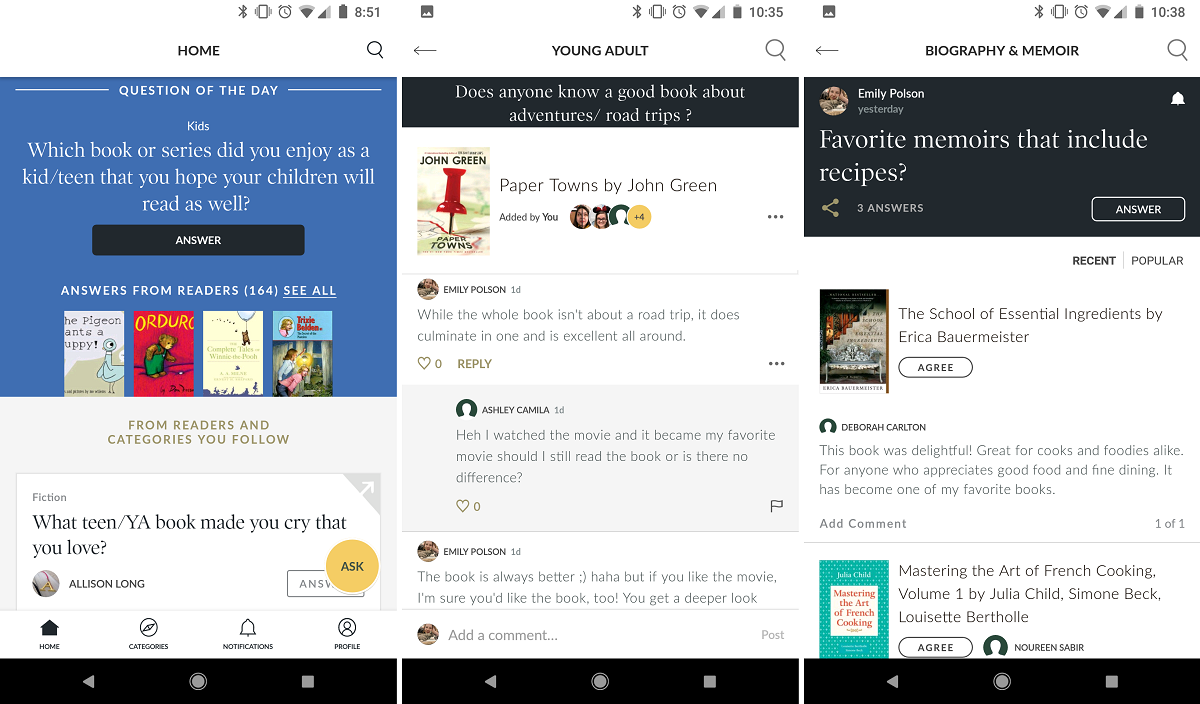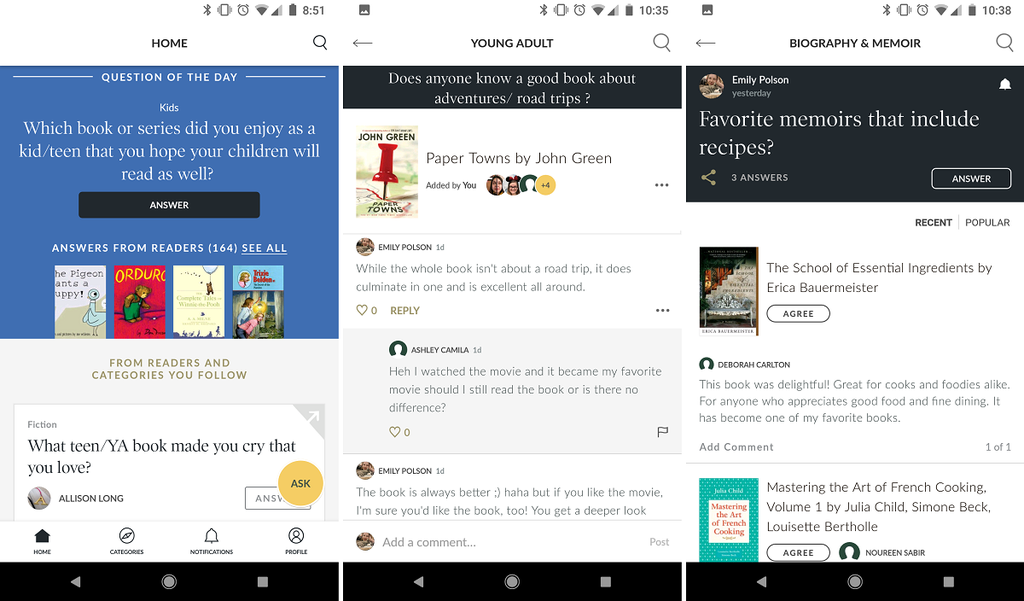 We give these kind of niche recommendations on Book Riot all the time. The difference with the new Barnes & Noble app Browsery is that these are crowd-sourced book recommendation lists, and not every user leaves comments with their book suggestion. Here are three Q&As I found that are topics we've recently covered on Book Riot:
In the few days I've had the app, I've enthusiastically answered dozens of questions. Favorite novel set in Paris? Giovanni's Room by James Baldwin. Favorite biographical graphic novel? Fun Home by Alison Bechdel. Book recommendation for kids who loved Harry Potter? Howl's Moving Castle by Diana Wynne Jones. Answering questions on Browsery really satisfies my bookish ego—I like the idea that because of me, someone might read a book they'd never have found on their own. It's also quite gratifying when other users "agree" with my response.
I've also asked my own questions. (The app does have a search function so you can check to see if someone has already had the same query, but I've seen plenty of duplicates already.)
Pro of Browsery: getting recommendations from total strangers means you're getting a wide berth of opinions and perspectives. When I asked for recommendations of nonfiction similar in style to Bill Bryson and David Sedaris, I got recommendations ranging from The Mother of Black Hollywood to Take the Cannoli to Is Everyone Hanging Out Without Me?
Con of Browsery: sometimes those strangers don't know what they're talking about. Someone recommended the historical fiction YA The Gentleman's Guide to Vice and Virtue as a great nonfiction read, and another user said that the pictureless Girl, Interrupted is a great biographical graphic novel.
If you find a book that sounds nice, you can save it to your profile. Browsery also conveniently links you to the Barnes & Noble buy page. Your profile also tracks all of your questions and answers, so you can easily go back and see what you've recommended/what's been recommended to you.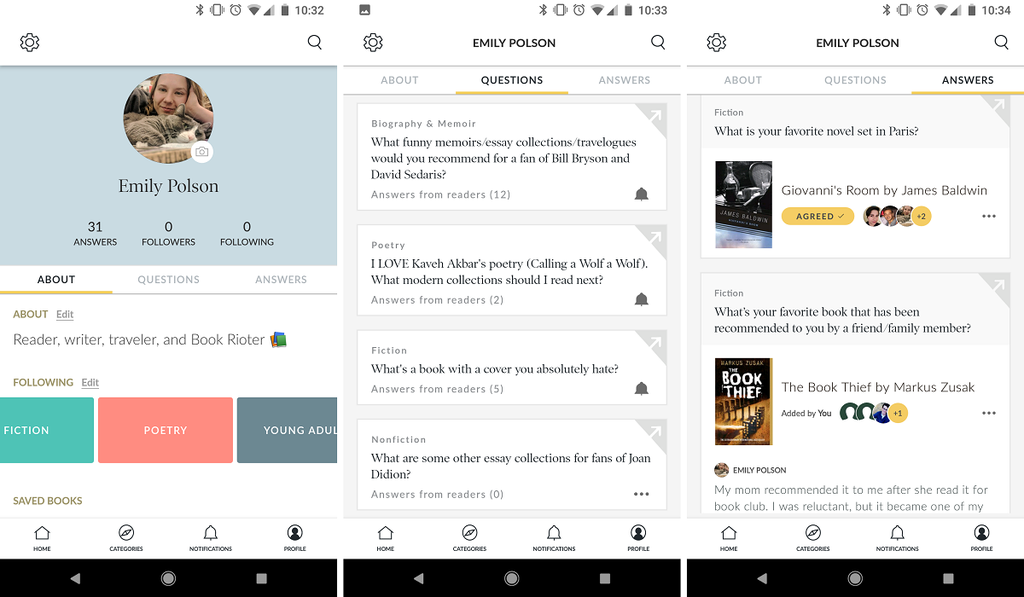 Browsery in summary
So far I've found the app quite addictive, mostly because I'm curious what books people will recommend and I'm always looking for more ways to promote the books I love. Because Browsery focuses solely on Q&A book recommendations, this new Barnes & Noble app fills a niche that other book sites like Goodreads and Litsy don't do as well.
Overall, I don't see myself using Browsery to actually find book recommendations (two days of browsing and I've only found one book I might want to read). I think this is because I already run in a very bookish community both online and in my real life. My TBR is overflowing with recommendations from close friends, family members, and fellow Rioters. If I'm looking for a specific kind of book, I usually ask my Book Riot peers.
However, for the same reason, I can see how this new Barnes & Noble app would be useful for readers who are looking to connect more with other readers online. If you don't know what to read next and don't have many people you can ask, Browsery gives you a good place to get recommendations from fellow bookish humans.
Of course, you don't always get responses to your questions. I'm still waiting on recommendations for essay collections reminiscent of Joan Didion, and I only received one response to my query for YA books in which the MC doesn't have a romantic subplot. It will be interesting to see how the app handles increased traffic over time. Will questions get lost in a flood of new ones? Will users ask the same questions over and over again? Will I ever get my romance-free YA recs?
I also have to mention that the release of this app comes just six weeks after Barnes & Noble suddenly fired many experienced, full-time staff to cut costs. Without experienced staff members in stores hand-selling books to browsers, it seems the massive chain bookstore wants their customer base to simply get recommendations from each other through Browsery. You can't replace the human aspect of book recommendations, but I guess they're trying out a cheap and easy way to outsource it. Smart business move? We'll see.