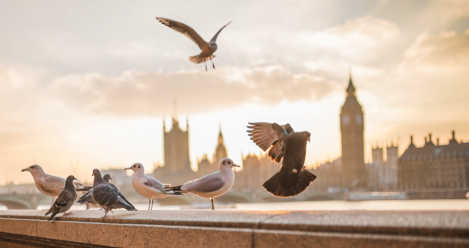 Lists
5 British Books To Look Out For in the U.S. in December
This content contains affiliate links. When you buy through these links, we may earn an affiliate commission.
December is a pretty quiet month in publishing, but this month there are some excellent British books making their way to the U.S. – some of which came out to critical or popular acclaim in the UK earlier in the year.
In our Mad and Furious City by Guy Gunaratne (MCD x FSG Originals, December 11, 2018)
This novel was my best read back in March and I'm so glad it's making its way across the pond, having been longlisted for the Man Booker Prize as well as shortlisted for some other prizes. The story of three young men growing up in a deprived area of London is both heartbreaking and lyrical, and makes poetry out of the everyday ugliness of life. I had the privilege of interviewing Guy Gunaratne on the Brit Lit Podcast, and I hope his novel gets the attention it deserves in the U.S. too.
Friends Like These by Sarah Alderson (Mulholland, December 13, 2018, ebook and audio only)
If you enjoyed Friend Request by Laura Marshall, this thriller might be one for you. "Lizzie hasn't thought much about Becca since the accident. She remembers the blood though. She can see how you wouldn't be the same again after something like that." And then Becca swipes right on Lizzie's ex on Tinder…
Trying by Emily Philips (Hodder & Stoughton, December 18, 2018)
All your friends are doing it, and it's time: you've moved to the suburbs; you monitor your sex life with military precision; you get ready for a baby. But what happens when you don't get pregnant? And what happens if you throw in a very attentive boss as you vie for promotion at work? Do you really want what you thought you did?
Watching You by Lisa Jewell (Atria Books, December 26, 2018, ebook and audiobook only)
Joey is newly married and back home in Bristol with her new husband. Then she meets the very attractive, much older man next door, and begins obsessively watching him. But someone is also watching her…
The Unexpected Joy of Being Single by Catherine Grey (Aster, December 27, 2018, ebook and audiobook; paperback December 31, 2018)
More and more of us are single: over a third of the population at the last count. Catherine Grey took a year off to detox from the social pressure there is to find a heart-shaped happily ever after and think through the "bizarre ways that culture single-shame". In this books, she shares her findings with us and helps us see that we don't need "another half" – we're already whole as we are.