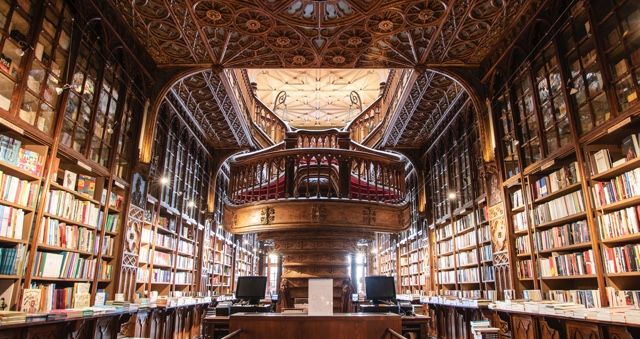 Critical Linking
Britain's Gorgeous Country House Libraries: Critical Linking, October 24, 2019
Critical Linking, a daily roundup of the most interesting bookish links from around the web is sponsored by There You Are by Mathea Morais, from Amberjack Publishing.

---
In many country houses the Library is the most spectacular room in the house. At Blickling in Norfolk the Long Gallery, 123 feet long and lined end-to-end with books, is unforgettable. At Alnwick Castle in Northumberland the double-height Library, shelved from floor to ceiling, is enormous, and at Calke in Derbyshire it is the second largest room in the house. Elsewhere interiors impress less for their size than for their opulence. At Traquair, south of Edinburgh, each bay of shelving has a classical author painted on the cornice above, just as in the seventeenth-century Library of the antiquarian Sir Robert Cotton (1570/1–1631) at Westminster, where the bust of a Roman emperor once sat atop each bookcase. At Abbotsford many of Sir Walter Scott's books remain on the shelves of the great room he created for them, while the library of another bestselling novelist survives at Hughenden, the Buckinghamshire retreat of Queen Victoria's favourite Prime Minister, Benjamin Disraeli.
Excuse me while I plan out the country library of my dreams.
---
The 504-page coffee-table book, which has been marketed as the Grammy winner's "first visual autobiography," includes more than 1,000 photographs, many of them being published for the first time. It also contains 11 special inserts, including a removable poster, and seven gatefolds.
Set aside $150 (ouch) and put Rihanna's visual autobiography on your holiday shopping list for that fan you know.
---
Joyce's relationship with his country was famously vexed. He left for good in his early 20s, driven out – "exiled", as he himself liked to put it – by its spiritual impoverishment, its relentless oppression of those who tried to live and think beyond its parochial norms. Ulysses was never officially banned in Ireland for the simple reason that no bookseller was reckless enough to attempt getting it through customs. And yet for all the world-encircling magnitude of his genius, the universality of his themes, it was Ireland, and specifically Dublin, that remained the inexhaustible subject of his work. When he was asked toward the end of his life whether he would ever consider returning to the place, he answered: "Have I ever left it?"
Weighing in on the "battle of the bones" to move James Joyce's remains to Dublin.