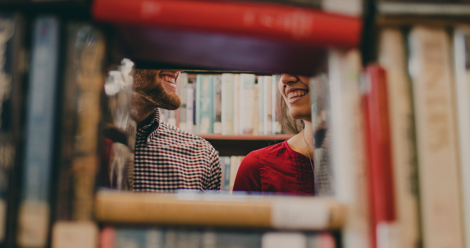 Back in December we posted 10 Ways to a Bookworm's Heart. Of course, we bookworms are complex and there are a variety of ways to woo us so here are 10 more in time for a certain cupid-centric, chocolate-laden holiday.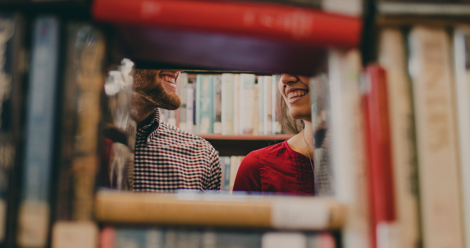 Plan a date night at local bookstore
It can be your bookworm's favorite bookstore or a bookstore that would be new to them. I won't speak for everyone, but I know for me, new bookstores are always exciting. Scope out the area beforehand and pick out a nearby bar, coffee shop, or restaurant. This could be a lovely daytime date as well!
Buy them a book-themed goodie
Such as a bookish candle or really, anything from our Book Fetish column.
Buy them a journal they would like and personalize it with quotes
Not just any quotes, of course, but write favorite quotes of yours, or theirs, or perhaps quotes that remind you of your relationship with the bookworm or the bookworm themself. Be careful with this one. Some bookworms would be saddened to receive a shiny new journal only to find that you had already written in it every few pages, no matter the subject.
Surprise them with tickets to their favorite author event
This takes plenty of planning. You'll need to know what authors they enjoy and if they are having an event in a place that you can get to. Aside from finding out if your bookworm's calendar is open that evening, one of the tricky things is buying tickets to the author event before they do.
Buy them fancy coffee
Or at least, coffee you know they like. Or both! Your bookworm may not splurge on luxury coffee because they're too busy buying more books.
Build them new bookshelves
Bookshelves can be super personal for many readers, so be sure you have a good idea of what they would like. If you aren't the crafty type, you can dust their bookshelves. Personally, I would swoon if someone dusted my bookshelves for me. You know who you are.
Bookshop hop around town
Think about a pub crawl, but with book shops instead. Map out the book shops you want to visit and also research nearby food and drink. Depending on where you are and if you plan on driving, it might help to research parking as well. Nothing kills the fun like driving around for parking for 20 minutes.
Surprise quotes
Slip tiny notes they can find later into their purse or jacket pocket that have a sweet, silly, or special quote on them. For a more eco-friendly version, use a dry erase marker on the bathroom mirror and leave a bookish quote for them to wake up to.
Make them hot chocolate spoons
These are also known as hot cocoa on a stick. The instructions at this link are holiday-themed, but once you have the basics the possibilities are endless. You can make them really decadent with dark chocolates and high-end ingredients. You can also find actual metal teaspoons at thrift shops, clean them up, and then use those to cut down on waste.
Give them a gift certificate to their favorite bookstore
You may think that a gift card is boring and thoughtless. I would argue it is perhaps one of the BEST things you can give a bookworm. You see, many of us struggle with buying books. Our To-Be-Read piles are oppressively tall and we feel guilty for buying more books when we already have ones to read. Not to mention the game we may play of deciding to spend money on books vs. literally anything else. A gift to a bookstore is an absolute dream. It's money we are forced to spend on books! Or, you know, bookmarks and pens and knick-knacks that one can get at some bookstores. Either way: WIN.