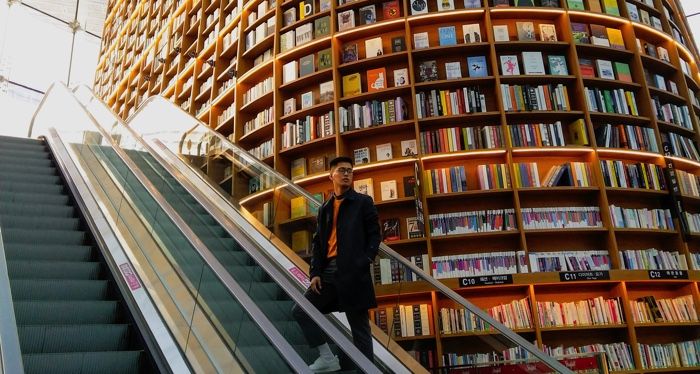 Essays
What Will the Bookstore of the Future Look Like?
The state of bookstores feels shaky: plenty of them have shuttered, failing to adapt to changing times. Aside from ebooks and audiobooks, physical bookstores face competition in other forms of media such as TV shows, films, and music among other things that vie for people's short attention spans.
Barnes & Noble, the largest bookstore chain in the United States, has had a long list of setbacks throughout the years. Among them are the closure of some of its stores, its Nook ereader flopping, its revolving door of CEOs — all which definitely resulted in dramatic sales plunges and smaller retail space for books. Amazon Books also entered the scene by trying to stand out. Instead of books' spines facing customers, covers were shown on the shelves. But even with the backing of the juggernaut that is Amazon, its series of bookstore chains was eventually padlocked. And when Amazon does something like this, it means that there's no money in the business.
Fortunately, there are many establishments that managed to adapt and stay afloat by keeping up with the times. Independent bookstores, though struggling to keep up, managed to get by, especially during the COVID-19 pandemic. Barnes & Noble has seen a resurgence by taking advantage of BookTook trends: When something blows up on BookTook, the bookstore chain stocks them in their stores and puts "As Seen on BookTok" tag on displays.
That's just one way to be sustainable, but with all the challenges that the book industry currently faces, how will the future bookstore look like? Hybrid? Digital? Something else? I asked some bookish folks what they think.
Future Bookstores Will Feel like a Shopping Center
Bookstores in the future will likely be attached to other businesses, such as cafés, museums, and restaurants, among other kinds of stores in order to increase foot traffic. This clever, but not novel, business strategy might work in malls or commercial centers. People will be able to browse shelves while waiting for their hot cup of coffee, their takeout to be prepared, or even after a museum visit. Books will also be paired with products in these establishments.
"One possible direction for the future of bookstores is to become more focused on experiential retail, offering customers a unique and immersive experience that can't be found online," says Anna Davis from RT Book Reviews. Davis cites an example of this kind of "experiential" bookstore, which is the concept store created by the Italian publisher RCS Libri in Milan. "The store is designed to be a kind of cultural hub, offering a wide range of books as well as a café, event space, and even a recording studio."
Future Bookstores Will Feel like a Community Center
Speaking of culture, bookstores will probably have public spaces for bookish events like book tours, book signing events, classes, etc. Classes and indoor events, most especially, can also be paired with bookstores so that customers can buy books immediately after sessions. With this strategy, future bookstores would feel like a community center. "Customers can browse the books, attend author events, and even participate in workshops and classes related to literature and culture. This kind of space is intended to foster a sense of community around books and reading, and to create a space where people can come together to share their love of literature," says Davis.
Book blogger Julianne Buonocore of The Literary Lifestyle shares the same sentiment. Buonocore says that future physical bookstores will rely even more on "programming" to draw customers in. "In my experience, this works especially well with all kinds of children's events, like storytime and themed parties, as well as popular author events for adults." Buonocore adds that more collaborative activities, like a cooking class combined with book shopping, are probably going to become more common. Additionally, more innovative sales strategies like subscriptions, subscription boxes, book club memberships, and lifestyle products are likely to become more prevalent.
"We may even see bookstores move to smaller locations and/or pop-up locations to save on the business expenses of a physical location that isn't utilized as much as it was in the past. Collaborative spaces are also working well right now. One of my favorite bookstores (the Oxford Exchange in Tampa) houses several spaces, including not just a bookstore, but also a restaurant, coffee shop, champagne bar, gift shop, workspace, event space, and more," she says. "It's always crowded!"
Future Bookstores Will Probably Go Niche
Bookstores, in the future, will probably cater to a specific demographic or focus on a particular genre. There will probably be bookstores exclusively for children and another for queer folks, for example. Maybe a subscription box for a specific genre would also be in store. In this way, specialized bookstores and services will easily stand out from the rest, making them a go-to destination for some people.
"They may need to focus on offering a more specialized selection of books, catering to specific interests or demographics. For example, a bookstore that specializes in feminist literature or LGBTQ+ literature might be more likely to attract customers who are passionate about those subjects, and who are willing to pay a premium for a curated selection of books that they can't find elsewhere," says Davis.
Future Bookstores Will Feel like a Stationery Store or Hybrid Store
A stationery store and a bookstore can be housed under one roof. A perfect example of this is Barnes & Noble, where, in addition to books, school and office supplies are sold. Another is B&N Café, in which a section is reserved for coffee and pastries. In this way, customers can relax after a tiring shopping spree, or they can sip a hot cup of beverage while reading away. This hybrid-store strategy offers a unique experience.
"I expect bookstores will become hybrids in more ways than one," says David Leonhardt of THGM Writers. "They will become a hybrid of books and all things book lovers associate with reading. Cozy mystery and romance fans like cozy, comfy things like cushions and shawls and anything with motivational quotes printed on them. So, watch for bookstores to sell more of those."
He adds that, for instance, board games and figurines are popular among fantasy fans, so bookstores will sell more of them. Additionally, since books and movies are closely related, he says to keep an eye on how those forms of media will evolve together. Finally, Leonhardt expects bookstores to become more gift and card shops for the gift-minded bookworms.
Future Bookstores Will Use Advanced Technology
As technology continues to improve, bookstores are bound to catch up — one way or another. Bookstore owners will think of clever ways to incorporate it to the shopping experience. Maybe they will find a way to integrate AI into the order management, making it seamless for the customer to buy and discover new books. Maybe their AI will be able to fine-tune recommendations. I won't bet on it, but who knows? This field is full of possibilities. In a nutshell, the bookstore trade needs to adapt to the changing times, lest it perish like other businesses.
"One trend that is likely to continue is the integration of technology into the bookstore experience. This might include interactive displays, augmented reality features, or even virtual reality experiences that allow customers to immerse themselves in fantasy worlds created by their favorite authors," says book blogger Sophie Andrea. Andrea adds that the use of data and personalization is another trend that is likely to emerge. Future bookstores may gather information on customer reading habits and preferences and use that data to offer personalized recommendations and suggestions.
Davis concurs: "Bookstores could use augmented reality to allow customers to 'preview' books before they buy them, or to create interactive displays that allow customers to learn more about the books they are interested in. Bookstores could also use technology to personalize the shopping experience, using data to recommend books based on a customer's previous purchases or reading history."
---
Technology rapidly evolves, and industries scramble to catch up. Though publishing is generally a slow-moving industry, bookstores need to up their ante to compete with other industries. At the end of the day, they need to keep the lights on. "Bookstores of the future will need to find new and innovative ways to stay relevant in a rapidly changing retail landscape, and to continue to offer customers an experience that they can't find online," continues Davis.
No matter what happens though, no matter how ebooks and audiobooks have largely become prevalent in our reading lives, bookstores are here to stay. "Traditional bookshops will still exist in the future," says Andrea. "There are still many old fashioned bookworms like myself out there that love to touch a paper product and can't get enough of that new book smell."
With that said, check out these 20 of the coolest bookstores in the world and the 35 of the best bookstores in the U.S.!