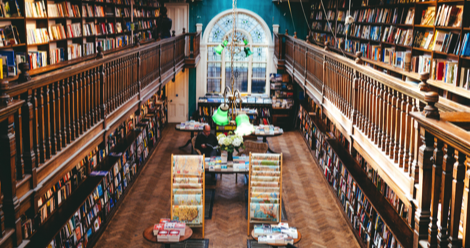 We're giving away $500 to spend at the bookstore of your choice! Click here, or on the image below to enter:
---
Growing up in Fort Lauderdale, Florida, bookstores were definitely not in abundance. For most of my young life, the only bookstore I frequented was the Waldenbooks in my local mall. It was small, fluorescent lit—not very soothing, I'll admit. But that didn't stop me from spending many a happy hour camped in front of the Babysitter's Club and Sweet Valley Twins books, while my mom went to the nearby Burdines department store.
By the time I reached high school, there was a brand new Border's Books and Music built, complete with a coffee shop and outdoor seating. It was the beginning of a new age for bookstores, and although there were many negative aspects of the rise of the big bookstore (the demise of smaller, independent shops), it was also the first time that many people had access to a bookstore. Big box bookstores popularized book browsing as a legit social activity. Friday night at Border's was a happening place in Fort Lauderdale. People spilled out of the cafe, sitting in small groups around the store, laughing and chatting. Besides my friend's front porch and the occasional movie, it was the only place we ever really hung out on the weekends.
A few years later, the first thing I did when I moved away to attend college was look for a bookstore where I could decompress and immerse myself in the smell of new books. I found the local Barnes & Noble in St. Augustine, Florida, and quickly made it one of my regular hangouts. As I soon learned, about 70 % of the town also used it as a local hangout. With tables scattered throughout the store and a cafe churning out Starbucks coffee drinks, it was always busy. I set myself up in the cafe with my laptop and my endless refills of coffee so strong, I had perpetually shaking hands. Back then I had not yet learned to control my caffeine intake and was much more interested in how cool I looked with a white porcelain coffee cup (it was the '90s).
One of my favorite things about the Barnes & Noble cafe, besides the excellent people-watching, was the mural of writers that surrounded the seating area. Long in love with Literature-with-a-capital-L, I loved gazing at the big blocky likenesses of my heroes all sitting together at cafe tables: Dorothy Parker next to F. Scott Fitzgerald and William Faulkner; Franz Kafka and Pablo Neruda thoughtfully enjoying a cup of coffee. I got into the habit of staring at that mural whenever I didn't feel like studying anymore. It became a welcome source of comfortable familiarity.
Then, in my senior year, I applied to work there. I don't know why it didn't occur to me sooner. I had spent a year slinging coffee and scooping ice cream at a super busy tourist-filled restaurant downtown. But after a friend tipped me off that they were hiring, I filled out my application, had an interview, in which I hilariously felt that my English major status made me a prime candidate, and voila, I was hired! I worked the cash register and occasionally shelved books. But most of all, I got my first taste of how awesome it is to get paid for working with books. It hardly felt like work. Walking people over to a section and putting a book into their hands (the Barnes & Noble policy for great customer service) made me truly happy and fulfilled.
As it turns out, working at Barnes & Noble had a major impact on my future. When I decided to move to Boston for graduate school, I was able to transfer to the Barnes & Noble store in the Prudential Center right downtown. This was a very important part of my dream to live in the city, as Barnes & Noble provided me with health insurance and a steady paycheck. Barnes & Noble at the downtown Prudential Center is a large and beautiful store (brand new at the time) that saw many a big name author stop in for a signing, and Boston sports superstars like Tom Brady and Manny Ramirez regularly dropped in to shop for books.
As a somewhat naive newcomer to the city, I didn't know many people and I barely knew how to get anywhere. In my first few weeks in Boston, I only took the bus from my apartment to work and back again, every day. Thankfully, working at the bookstore gave me an automatic social life. During the day we put books on the shelves, opened boxes, and shared our lives in snatches of conversations between customer's questions. Almost everyone had a bookish life story to divulge—he was writing a book, she was getting her PhD in Literature, he was a former punk singer who had worked in every bookstore in Boston before landing in this one. I loved my coworkers and had never before felt like I truly belonged working somewhere. We went out for drinks after work, and my more city-familiar coworkers taught me how to properly signal the bartender and order correctly at a crowded bar. Later, they taught me how to do things like hail a cab and navigate the city's unreliable transportation system. Almost everything I know about Boston city living, I learned from working at Barnes & Noble.
For a while, I was assigned to be a "head cashier," a position that involved running around making change for the various registers and dealing with customers trying to return items. It was busy and intense and the only thing good about it, besides getting to know all of the employees of the store, was Davis, my fellow head cashier. We spent many hours together in the tiny cash room, counting registers and putting money away. It was tedious and hot back there, but the conversation was swell. Slowly, but surely, Davis and I began to fall for each other. Eventually, I moved onto another department and Davis left to work somewhere else. But 15 years and 2 kids later, we are still together.
I worked at that Barnes & Noble for almost five years before leaving to work at a library. While I had originally moved to the city with dreams of becoming a professor, I switched paths to become a professional librarian—a job I probably wouldn't have thought of, if I hadn't realized how happy it made me to spend my days talking with strangers about books. I have my time at Barnes & Noble to thank for that.
Today, despite working at a library, I still return to bookstores, Barnes & Noble included, whenever I have an empty hour or two to fill. After years of being either a bookstore employee or a librarian, it's nice to be anonymous among the books. Thirty years after those happy afternoons at Waldenbooks, my rituals are the same: I find my section, I grab a book, I inhale the sweet smell of fresh books, and I sit, content.