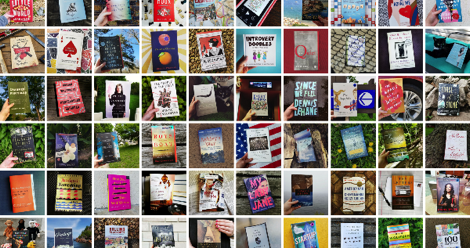 Lists
Bookstagrams for Shelfie Inspiration
For a book lover and a voracious reader, my shelfie (and book organization) skills are sorely lacking—to the point of being nearly nonexistent. It would be easy to blame this on motherhood and sleep deprivation, or the constraints of living in an apartment that is in no way my long-term home, but if I'm being honest, it's never been a strength of mine. While other Rioters discuss the merits of different ways of shelving (by genre, alphabetical, by color), I've always just stuck the book back on my shelf wherever I had room – although I did keep books in a series together and in order, and books by the same author always go next to each other. Right now, I have a small bookcase in my living room that holds my advance copies and TBRs, with small piles all around it with growing piles of ARCs and comics. Another small bookcase in my bedroom contains my books for doula training and childbirth education certification, along with all the parenting and pediatric books I have. A basket next to the bookcase holds my son's books that he isn't so into yet—the books he does love are in the living room, in a pile under the table and in the bin containing his toys-of-the-moment.
For all of this disorganization (I swear I used to be a very organized person, but then parenthood), I'm a sucker for a bookish rainbow shelfie (those Penguin drop caps tho) or an artfully designed bookcase with books, momentos, and Funkos. This is why I love Instagram. I can literally spend hours scrolling through the pictures and screenshotting pics for inspiration. The amount of time I spend on Instagram looking for bookstagram feeds is obscene. (But if you ask me why I have no time, I'll tell you I have no clue).
Here are some of my favorite bookstagrams accounts I've found for shelfie and bookish inspiration.
@sweetbookobsession has a great eye for color and design—it was a hard choice picking which photo of hers to put in this post.
@emilyjmead has constructed a feed that is calming to look at, and her pastel game is especially strong.
@theartfulelle's feed is clean and smart, and she often pairs her books with coffee, which I love—because what goes better with books than coffee? I mean…nothing, right?
@jennastrack is German, so I can't understand any of her captions, but I absolutely love the way she pairs Funkos and candles with her books and bookshelves. As someone who's also new to the Funko thing, I especially appreciate this. (Yes, I know—I don't know where I've been, besides the muck of new parenthood).
I think Penguin has some of the best design out there, book-wise, and this post by @booksugar perfectly captures that. Her feed is artfully curated, and she even has a feed for kids' books, @booksugarkids.
@giibooks posts super cute pics of books, Funkos, and delightfully nerdy things—as well as her adorable dog, Hermione. Seriously, I could study her pics forever.
@bookswrotemystory pairs books with candles, Funko, bookmarks, and really great color palettes. Her feed feels like a refreshing drink of water.
Where do you look for shelfie or bookish inspiration?