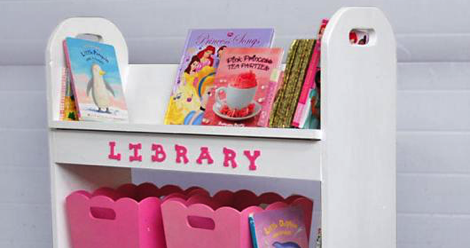 My kids have books. A lot of books. They have books that were mine when I was a kid (some literally and some gifts from family who remembered old favorites). They have books that friends and family gave them. They have books they chose themselves. They have a lot of books.
I know we're not the only ones who've struggled with how to shelve these books. A Google search for "children's bookshelves" turned up a lot of results. Like whoa. So here's some ideas from me, your friendly neighborhood Rioter mom, on good ways to keep your kids' books from becoming a second layer of carpet.
First you'll need some bookshelves. Obviously you can go to any furniture store, but maybe you want something a little more DIY?
SEMI DIY BOOKSHELves for kids OPTIONS
A long-time favorite among my friends (and in my apartment) is these IKEA spice racks, repurposed for holding children's books cover-out. IKEA must have caught onto this trend, because they now have their own version, FLISAT Wall storage, and a matching floor display.
Another awesome idea is using wooden crates for kid's bookshelves. These are great because picture books actually fit in them! I have used old milk crates my mom collected in the 1970s. You can still find great deals at flea markets, but they've become more popular and sometimes the price exceeds the quality by too much. Luckily, there are also lots of places to buy new crates, and you can always add paint or decoupage them to look the way you want. IKEA has the KNAGGLIG Box; Target's World of Wood Collection includes several milk crates; and an Amazon search returned 18 pages of results.
Like this, but full of kids' books.
Perhaps the simplest (and least expensive) of all would be to create "built-in" shelves using brackets and boards from your hardware store.
FULL DIY OPTIONS For KID'S BOOKSHELVES
You can build your own bookshelves for kids. Yes, you. No experience? No problem. I am here to tell you about Ana White's plans for building basically everything. (I am not getting anything to recommend them.) Here are my favorite bookshelves for kids:
This awesome library book cart would be great for a kid who needs their favorite books with them no matter where they're playing.
This super cool bookshelf is fairly standard, with a twist: it can hold more than just books.
My kids' room never had space for a cool book display like this, but maybe yours does.
TIPS FOR ORGANIZING KID'S BOOKSHELVES
I will be honest with you. I don't recommend organizing your kids' books. WHAT? I hear you say. Hear me out. You want your kids to put their own books away, so your logical organizational methods probably won't work. This is the time to organize by size or by color, or to give up organization and just let books live where they get put away. Sooner or later, your kids will have favorites, and those favorites will live where they can be found (in my son's case, three dozen of them in his bed). Be at peace with this.
FURTHER READING
Need more inspiration? Check out this awesome post on Kids' Reading Nooks.
Save