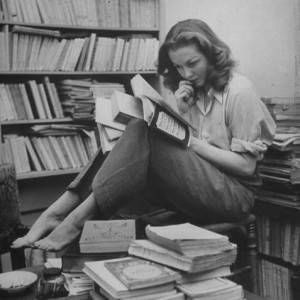 Lists
What Do Booksellers Read?
Who knows books better than a bookseller? Working in a bookstore keys you in to the pulse of what's new, what's exciting, and what people love to read. Here, booksellers from four fantastic bookshops around the country let us know what they're reading — and what you should try reading, too.
Zack Ruskin | Book Passage | San Francisco, CA
What I'm reading now: The Bone Clocks by David Mitchell and Carsick by John Waters (audiobook)
What's on my to-be-read list: The Sculptor by Scott McCloud, Bad Feminist by Roxanne Gay, Silver Screen Fiend by Patton Oswalt
How I choose my next book: I wish I knew! There are always four to five books I'm eager to read, often newer titles I've been hearing great things about, but everything will be thrown aside if an ARC of a title I've been waiting for lands on my desk or I happen to catch an NPR story on some book I'd yet to hear about that I'm suddenly compelled to dig in to.
Favorite book to recommend: Completely depends on what the customer or friend enjoys. Top titles include The Lost City of Z by David Grann, City of Thieves by David Benioff, The Name of the Wind by Patrick Rothfuss, and more recently, The Ocean at the End of the Lane by Neil Gaiman.
—
Annie Metcalf | Magers and Quinn Booksellers | Minneapolis, MN
What I'm reading now: Middlemarch (It's my first time!)
What's on my to-be-read list: A Map of Betrayal by Ha Jin and 10:04 by Ben Lerner
How I choose my next book: Haphazardly. There's a running list in my head that's usually forgotten by the time I'm ready for a new book, so I resort to whatever's made its way into my apartment.
Favorite book to recommend: This year? An Unnecessary Woman by Rabih Alameddine.
—
Bill Cusumano | Square Books | Oxford, MS
What I'm reading now: At the moment I am reading Narrow Road to the Deep North as Richard Flanagan will be at our store.
What's on my to-be-read list: Next on my list is Soil, by Jamie Kornegay, a debut novel coming out next March, which is particularly special for us as Jamie is a former employee of Square Books.
How I choose my next book: Choosing the next book is almost an intuitive process. We have access to so many advance reader copies that enable us to read in any possible genre. It is often just a matter of impulse or searching for something new and, sometimes, it is done by the recommendation of reps or editors.
Favorite book to recommend: I really have no favorite book I recommend to customers as I try to fit my suggestions to their reading habits. It just seems impossible that one book could fit all tastes so there is a wide range of books I will recommend depending upon the customer's stated tastes and desires.
—
Jess Pane | Greenlight Bookstore | Brooklyn, NY
What I'm reading now: How to Shake the Other Man by Derek Palacio, Blueprints for Building Better Girls by Elissa Schappell
What's on my to-be-read list: The Other Side by Lacy M. Johnson, Boys of My Youth by Jo Ann Beard
How I choose my next book: Recommendations from other booksellers. They know what's going on.
Favorite book to recommend: Right now, Tiphanie Yanique's Land of Love and Drowning and Boys in the Boat by Daniel James Brown.
____________________
Expand your literary horizons with New Books!, a weekly newsletter spotlighting 3-5 exciting new releases, hand-picked by our very own Liberty Hardy. Sign up now!