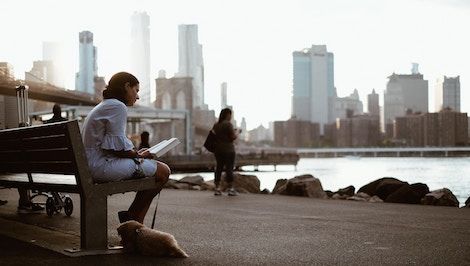 Lists
Outstanding Books Starring Latinx Characters
This content contains affiliate links. When you buy through these links, we may earn an affiliate commission.
As a Latina, I'm always on the hunt for some good Latinx representation in the stories I read. Years ago, I had hardly found any books with Latinx representation. But as the years have passed, I've discovered some novels that represent my heritage across all fictional genres. Here are some of my favorite Latinx books that I highly recommend to readers who are searching for diverse representation or those who are just looking for a good read!
Latinx Fantasy Book Recommendations
Labyrinth Lost by Zoraida Córdova

Labyrinth Lost is a young adult fantasy story about Ecuadorian–Puerto Rican bruja sisters living in Brooklyn as they learn to control the magic within them. Honestly, what more do you need? Zoraida Córdova has crafted a wonderful series full of sisterly bonds, brujeria, and fantastical plots that readers can lose themselves in.
Wild Beauty by Anna-Marie McLemore
Anna-Marie McLemore is the queen of magical realism, and my favorite novel of hers is Wild Beauty. This novel is centered around the Nomeolvides women who live in an enchanted garden. But they have one secret: if they fall in love with anyone, that person suddenly disappears without a trace.
This magical novel full of beautiful prose will capture anyone's heart and make them want to live alongside this wondrous group of Latinas as they navigate the changes in their world, once a mysterious boy with no recollection of his past appears in their garden.
Like Water for Chocolate by Laura Esquivel

For anyone looking for a classic Latinx magical realism novel, Like Water for Chocolate is the book for you. This is a classic Latinx novel set in Mexico that is full of unique characters, delicious foods, and a main character who falls hopelessly in love with her sister's fiancé. The writing in this novel is lyrical, inspiring, passionate, and instills magic into everyday events.
Romance Books with Latinx Characters
Stripped by Zoey Castille

Stripped is the perfect weekend romance read following an Ecuadorian woman who accidentally picks up the wrong dry-cleaned clothes, which belong to a local stripper. These two characters meet and form an unlikely bond with one another, and soon enough, romance ensues. Full of seduction, humor, and an opposites-attract type of romance, Stripped is a novel that I cannot recommend enough.
Delicious Satisfaction by Sabrina Sol
Delicious Satisfaction is an adorable story that readers will not want to pass up. It centers around a hot-shot Puerto Rican chef who gets into a bit of legal trouble and seeks the help of a cute Mexican lawyer. Soon enough they strike a deal to become more than friends, which attracts more feelings than they originally planned. Full of delicious descriptions of food and a lovely friends-to-lovers romance, this is one story readers will want to gobble up.
Take the Lead by Alexis Daria

For fans of Dancing with the Stars, Take the Lead is a romance novel centered around a dance competition! Gina is a Puerto Rican, professional dancer, hoping to make it big in L.A. Stone is a gruff and reality show celebrity who is only taking part in this dance competition in hopes of supporting his family.
This romance novel has my favorite trope, forbidden love, and a strong female lead who knows what she wants out of life. This is the perfect read for fans of dance competitions or reality television.
F*THS by G.L. Tomas
F*THS is a friends-with-benefits romance that I fell head-over-heels for during one weekend. The main character is an Afro-Cubana named Teddy who loves to read and has some big secrets to hide. One day she meets Asher, who tries to win over Teddy, who is strong, independent and doesn't have time for serious relationships. Mixing together quick-witted banter and serious subjects, F*THS is a new adult romance that I couldn't put down.
Latinx Historical Fiction Novels
Next Year in Havana by Chanel Cleeton

I cannot mention Latinx novels without raving about Next Year in Havana, my favorite novel centered around Cuban history. Following two different timelines, one during the 1950s and the other set during the present day, Cleeton showcases what it truly means to be Cuban, whether you are born on the island or not. This story has taken the world by storm and remains my favorite book of all time. For fans of diverse historical fiction novels, this is a book that you most definitely need to read.
The Seven Husbands of Evelyn Hugo by Taylor Jenkins Reid
Set during the Golden Age of Hollywood, The Seven Husbands of Evelyn Hugo follows a Cuban woman's rise to fame as she navigates the cut-throat world of the film industry and the many relationships she has along the way. This story also touches upon the fact that Evelyn's Cuban identity is erased in order to appeal to the masses of Hollywood which is still relevant in today's society.
Contemporary Novels with Latinx Characters
I am Not Your Perfect Mexican Daughter by Erika L. Sánchez

I am Not Your Perfect Mexican Daughter is a hilarious and striking contemporary novel following a young Mexican-American teen after her sister passes away. Julia deals with depression, anxiety, loss, change, and college applications in a realistic way that portrays the complexities of being a teen while dealing with the ever-changing world around you.
Pride by Ibi Zoboi
Pride is an Afro-Latinx retelling of Pride and Prejudice set in Brooklyn as it follows a Haitian-Dominican teen named Zuri who clashes with her new, very wealthy neighbors who move in across the street. Tackling the college application process, gentrifications of cities, and so much more, this story is full of rich descriptions and an inspiring main character who learns not to let her snap judgments rule her relationships with others.
The Poet X by Elizabeth Acevedo

This young adult novel told in verse follows an Afro-Dominican teen living in Harlem as she juggles high school, familial issues, and her budding love for poetry, which her mother doesn't approve of. What really makes this story come to life is the passionate narration by Elizabeth Acevedo, in this novel's audiobook. Her rhythmic voice adds another level of immersion to the story and will leave readers inspired by her stunning and emotional poems.