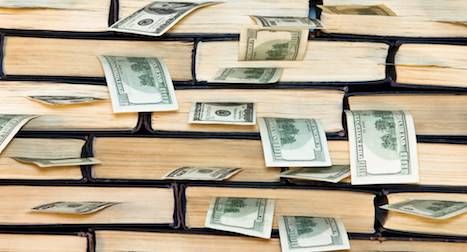 Lists
Books We'd Buy if We Won the Lottery
Rioters are a wide, often disparate group of people. We do have, however, one thing in common: we all love books. We love reading books, listening to books, owning books. These books in particular we would love to own. They are all out of our budgets, but this is what we'd buy if we won the lottery, came into an unexpected inheritance, or found a thumb in a Coke can.
I was never fussy about first editions—the story is the same, so what's up with spending a ridiculous amount of money on only one book?—but in this case…I don't know. Maybe it's because Anne is so much of an afterthought to many Brontë fans, or because most of her work and letters have been destroyed (thanks a lot, Elizabeth Gaskell), but it feels like owning this book would be akin to knowing the elusive Anne a little better. Alas, at $1,250, it's a liiiiiittle bit out of budget. —Carolina Ciucci
https://www.instagram.com/p/BcA4irCl6SD/
The first edition of Ulysses by James Joyce that was ALSO signed and illustrated by Matisse. Basically I need everything about it (and a spare $7,500). —Nikki Vanry
By all accounts, this is a classic of comics. It's even won an Eisner Award, and inspired cultural obsessions in parts of Northern Europe. I want to see what the fuss is, but holy hell, why is it so pricey? (Used copies start at $135 on Amazon.) —Christine Ro
Okay, so I'd need several translation tools and other materials to help me get through a 10th century book about Japanese aristocracy, but I've been fascinated with this collection of writings since I saw the movie in the middle of the night when I was a teenager (which in the end really had very little to do with the book but it has a special place in my heart). The last translation was done in 2006 so I know it must be around somewhere, unless it got damaged or destroyed. Hope not. —Jessica Pryde
I collect books that are special to me, and the Harry Potter series has meant so much to me. There are some lucky humans out there who have them because they took a chance on a fairly unknown fantasy author and bought her book and had it signed, and I wish I'd been or known one of those people. —Leah Rachel von Essen
I was recently watching an episode of Anthony Bourdain's Raw Craft and immediately fell under the sway of the romance of Arion Press. Located in San Francisco, Andrew Hoyem founded Arion Press in 1974 and has since produced many unimaginable works of art for book lovers across the globe. He boasts a small but talented team of publishers, editors, bookbinders, and typecasters who work on antique equipment and employ old-world techniques to beautifully print new editions of classics. Their books run anywhere from $300 to well into the thousands. If I won the lottery, I would commission Hoyem and his team for a gorgeous, hand-bound copy of Anne of Green Gables complete with original artwork. —Elizabeth Allen
What about you? What book would you buy if you had unlimited funds?