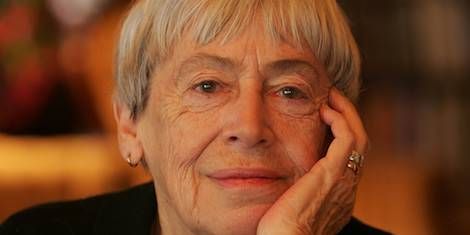 Lists
75+ Books Ursula K. Le Guin Recommended
This content contains affiliate links. When you buy through these links, we may earn an affiliate commission.
In Ursula K. Le Guin's passing, literature has lost a giant. In the cruelty that always occurs after an author's death, it has brought more attention to her work. And so it should! Le Guin was prolific, and there's a backlog of books to work through before you reach the end of her writing. Here's a good place to start, with books by Le Guin for every age of reader. Whether you've read all of her books or not, you can enjoy The Wise Words of Ursula K. Le Guin.
But what happens when you do get to the end of her works? What if you've already read all of her books? Where do you go from there? Well, one place to start is the long list of books she's recommended. (She always balked at naming her "favorite" books.) Here are more than 75 of them: books she mentioned in interviews, or wrote about on her blog, or gave to the Strand for her "authors bookshelf," or books she blurbed. I have included her blurbs or an excerpt of her review when applicable: all the others were simply listed without context. Here are the books Ursula K. Le Guin recommended at some point, roughly by genre:
Classics:
Fantasy:
Fiction:
Little Big Man by Thomas Berger

Like Mark Twain, Berger has a pitch-perfect ear for how Americans talk—and think. And like Mark Twain he can ruthlessly indict human stupidity and bigotry while never losing his temper, and being really, really funny. (Source)

The Complete Cosmicomics by Italo Calvino

Italo Calvino's brilliant, ludic stories show a writer far ahead of his time. (Review)

City Of Your Final Destination by Peter Cameron

A nice but hapless Iranian-Canadian graduate student in Kansas has to go to Uruguay to get permission to write a biography. Funny and touching and a fine love story.

The Yiddish Policemen's Union by Michael Chabon

Even better the second time. (EW)

Middlemarch by George Eliot
Molly Gloss: The Jump-Off Creek, The Hearts of Horses, Falling From Horses
Kim by Rudyard Kipling
The Day's Work by Rudyard Kipling
Crazy Weather by Charles L. McNichols
The Aubrey-Maturin series by Patrick O'Brian
Grace Paley

[Q: Is there a book you wish you had written?] Any of Grace Paley's books. But I don't wish I had written anybody else's books; I just wish I was more like Grace Paley. (EW)

Blindness and Seeing by José Saramago

Blindness scared me to death when I started it, but it rises wonderfully out of darkness into the light. Seeing goes the other way and is a very frightening book.

The Cave by José Saramago

A troubling parable of consumerism, a vision of the Ultimate Mall. The main characters are vivid, likable, ordinary people, which is rare in parables. The dog is great. All Saramago's dogs are great.

José Saramago: The Stone Raft, The Elephant's Journey, All the Names
The Receptionist and Other Tales by Lesley Wheeler

Lesley Wheeler's brief novel of misbehavior in academia, subtle and funny, rashly inventive and perfectly realistic, uses all the forgotten powers of metaphor and poetry to make the mundane luminous. (Blurb)

Islandia by Austin Tappan Wright
Graphic Novels:
Nonfiction:
The Worst Journey in the World by Apsley Cherry-Garrard
The Voyage of the Beagle by Charles Darwin
Changing Ones by Will Roscoe

An examination of how gender has been constructed in Native American societies. Responsibly researched, very well written, generous in spirit, never oversimplifying a complex subject, this is a wonderfully enlightening book. (Blog)

The Immortal Life of Henrietta Lacks by Rebecca Skloot

The Immortal Life of Henrietta Lacks brings together scientific and medical research (and hypocrisy), the biography of an almost invisibly elusive black woman, the exposure of an act of exploitation, racism and social injustice, and the writer's own deeply respectful involvement with the people from whom she won this absorbing, troubling, wonderfully told story. (Source)
Poetry:
Science Fiction:
These were sourced partly from an Entertainment Weekly interview, a New York Times interview, her authors bookshelf at The Strand, a guest post at The Week, her reviews in The Guardian, her blog post "Some Books I've Liked", and the best Googling I could muster. (If anyone has a good way to find the books an author has blurbed, though, I'd love to hear it!)
There are some surprises here. For one thing, there are a lot fewer SFF titles than I would have expected. Classics and poetry seem to be her go-to for recommendations. I also have to admit that I'm a little disappointed by how overwhelmingly white this list is. There is not quite a handful of authors of color listed.
This isn't a complete list! I wasn't able to find a good way to locate all of the books she's blurbed, and I didn't go into her Guardian reviews much, because they were often unclear about whether she would actively recommend the title. Let me know if there are others I should add to the list!
*Denotes books added after article's original publication