Lists
Books That Understand Bipolar Better Than "Homeland"
This content contains affiliate links. When you buy through these links, we may earn an affiliate commission.
Showtime's TV drama Homeland was one of the first shows that I ever really binge-watched. Aside from the thrilling pace and the outstanding performances, particularly from Claire Danes and Mandy Patinkin, I was intrigued by the bipolar storyline. Having a bipolar diagnosis myself, it felt refreshing to see a character on TV portray bipolar disorder with some degree of accuracy. I felt like I was Carrie Mathison if I was experiencing a rough patch: uncontrollable mood lability (fluctuation in mood), paralyzing depression after a period of inconsistency with meds, the delusions of mania, and even Danes' famous "ugly crying" all rang true to my own experience at one point or another.
But somewhere along the way Homeland lost me. Long about the second season and definitely well into the third season Homeland stopped portraying a character with a mental illness and started portraying a caricature of mental illness. Carrie's promiscuity, poor decision making, alcohol binges, and chronically irrational behavior were treated as a result of a diseased mind instead of an amalgam of extreme character traits concocted in a writer's room. Carrie's behavior was no longer bipolar; her behavior was instead symptomatic of sensationalistic, ratings-driven writing.
Fortunately, plenty of excellent writing about bipolar disorder exists, both fiction and nonfiction. Here are four of the best depictions of bipolar disorder in literature and memoir.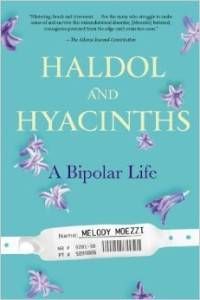 Haldol and Hyacinths: A Bipolar Life
by Melody Moezzi
Moezzi describes her journey as a bipolar woman within the context of her Iranian American Muslim culture. Many people with bipolar disorder can feel like the black sheep of the family. I know I have. Moezzi felt this isolation in a unique way. Within her culture, mental illness was not even acceptable. It was an embarrassment. Moezzi, a lawyer and activist, writes about this shame and secrecy in a way that strikes a chord with bipolar patients of many backgrounds. Moezzi's memoir is a new classic, and her accounts of her moods are so visceral that they convince you everything is normal. Writing about moods with that kind of detachment is a testament of Moezzi's skill at immersing you in the bipolar experience.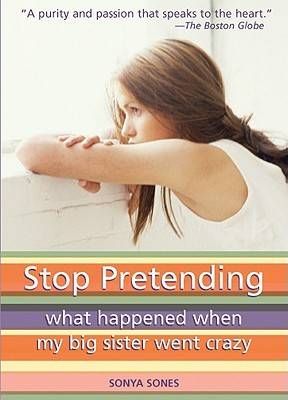 Stop Pretending: What Happened When My Big Sister Went Crazy
by Sonya Sones
Sones' free-verse novel is aimed at young adults but is a valued account of the family members' point of view. Based on Sones' own history with her bipolar older sister, Stop Pretending follows 13-year-old Cookie as she tries to understand her older sister, who has recently been hospitalized for a psychiatric illness later diagnosed as bipolar disorder. Cookie feels scared for her sister (and a bit scared of her sister) as well as confused and unsure of how to talk about her sister to others or even if she should at all. At less than 150 pages of free verse, Stop Pretending is a quick read and one that gives a voice to the family experience that is so often overlooked.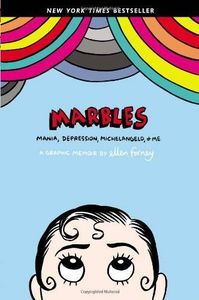 Marbles: Mania, Depression, Michelangelo, and Me
by Ellen Forney
Countless times I have pushed my copy of Marbles into other people's hands or written the title down on scrap paper for others in conversation about bipolar disorder. Forney's graphic novel memoir is a visually stunning and readily accessible look at the bipolar experience. One of the reasons why it is such a strong narrative is you get to see things through the lens of bipolar vision. Forney's prose descriptions are enhanced by lines that exaggerate and convey the chaotic, frantic energy of mania which are then followed by the minimalist, bleak lows of depression. She also explores the artistic temperament and bipolar disorder. A quick read, Marbles is an outstanding introduction to a complex illness.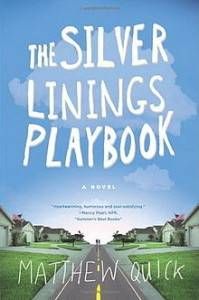 by Matthew Quick
It's true that I may be a little biased in putting this in here; I am a resident of the Philly suburbs and an active Eagles fan. But The Silver Linings Playbook, the novel upon which the Academy Award-winning movie was based, is also an excellent fictional account of bipolar disorder. Told in the voice of Pat Peoples, a man who has recently been released from a mental health facility where he was being treated for bipolar disorder, Silver Linings Playbook looks at reintegration into the world of the abled when you are disabled with a mental illness. Pat's sunny, almost delusional optimism is tested as he navigates tense family life, a separation from his wife, and another frustrating season of Eagles football. Pat meets his match in Tiffany, a woman who is as much a hot mess as he is. Although the novel takes an ultimately hopeful and optimistic tone, some of the events are bleak. Ultimately, Silver Linings Playbook does an excellent job at portraying the mixed bag that comes with having bipolar.