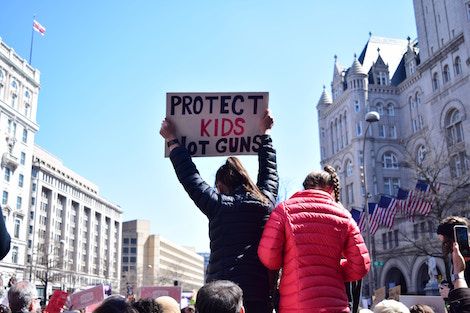 This content contains affiliate links. When you buy through these links, we may earn an affiliate commission.
While there is a large amount of nonfiction concerning the dismantling of gun rhetoric in the US, these five book reflect by the inclusivity of the #MarchForOurLives. Each of these works examine gun violence and how it affects a wide diaspora of communities, in unequal and discriminatory fashion, and how the #MarchForOurLives might bring change for the groups that desperately and immediately need it.

Another Day In The Deat
h
of America
by Gary Younge
This "journalism experiment" might be one the most electric reads in the upsettingly large canon of gun violence literature. Rather than focus on massacres, the British journalist takes a single twenty-four hour span and chronicles each of the ten child deaths that happened within that timeframe. We're lucky to have Gary Younge, a journalist of incredible empathy and ability, to tell this story about the non-newsworthy deaths that happen every day.
A poetry collection that is vast, wonderful, and achingly sad. Phillip B. Williams is an incredible chronicler of gun violence, racism, and oppression whose work is a confrontational testament to a world infested with all three. Start with his poem "Of Darker Ceremonies" and then go buy his work immediately.
Charles Cobb Jr., a very public historian often approached for a 20th century Black American perspective, published this history in 2016 to an uncomfortable, critical acclaim. It's a history of guns and their relationship to the long durée of black liberation. While many of these histories speak for themselves, Robert F. Williams Negroes With Guns and The Quotable Malcolm X come to mind, Charles Cobb Jr. crafted a narrative that culminated in the 1960s but then traces the tenets of self-defense against state violence to the modern day. His views invite debate, but the history of how guns ingrained themselves into America's narrative is necessary to understand how we got here.
This is the only memoir on the list, and while there are dozens of shooting victims testimonies to choose from, I chose recently published one by Sue Klebold, the mother of Dylan Klebold who carried out the massacre at Columbine high school. It is an unsettling testimony that goes to very private depths of Klebold's memory, and it like everything else on this list, is an uncomfortable read.
It's easy to be depressed or discouraged by Twitter reactionaries, or NOW THIS compilations of news outlets. What the March For Our Lives provided was a singular instance of hope, civic action, and political change, yet it was contained to a weekend on the news cycle. The marathon of gun reform is still ahead and it will be easy to fall into a lull of negative press. Rutger Bergman's optimistic speculative nonfiction is a handy accessory to keep hope alive. Utopia covers the ways a cure to social ills in brisk and informative, including a chapter on society's violent patterns. Though it's not without its flaws, it's still a re-assuring work in an exhausting time.