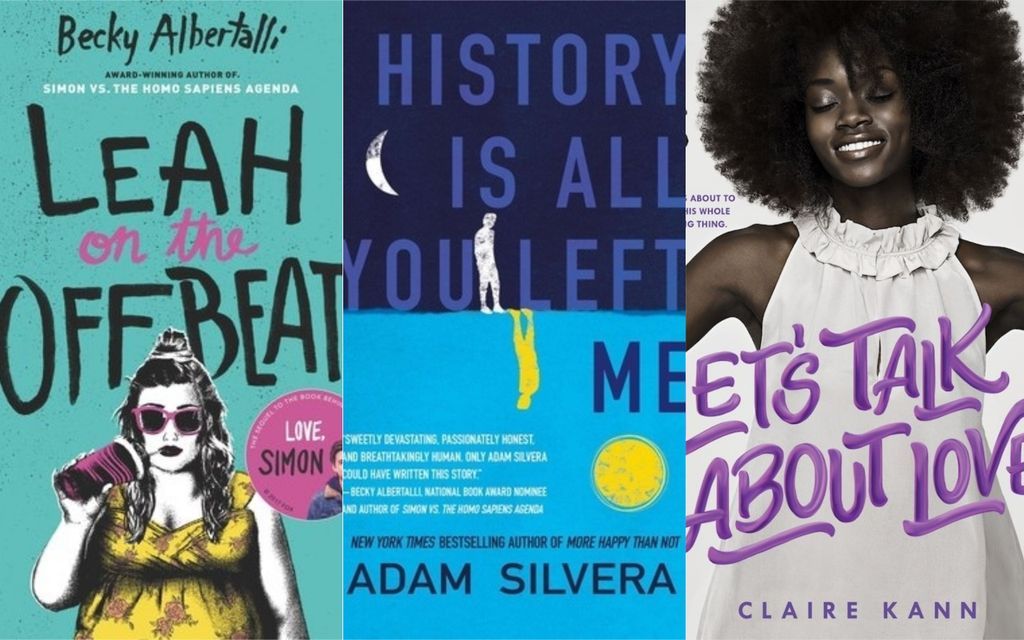 LGBTQ
10 Books to Read If You Loved 'Love, Simon'
This content contains affiliate links. When you buy through these links, we may earn an affiliate commission.
If you came out of the movie theater wishing for even more great stories like Love, Simon, I have great news for you—in fact, I have ten pieces of great news for you, all of which are YA books like Love, Simon about young LGBTQ characters navigating the trials and joys of life, love, and friendship. I'm assuming if you're reading this, you've already read Simon Vs. the Homo Sapiens Agenda (the outstanding novel by Becky Albertalli that the movie is based on), but if you haven't, what are you even doing? Stop and go read it now! Go on. I'll wait.
Read it? Good, okay. Here are ten more books to read if you loved Love, Simon.
What better place to start our list than the sort-of sequel to Simon following Simon's best friend, Leah. Like Simon, Leah is not-so-straight, and though she's out to her mom as bisexual, she's never really come out to her friends. But there are bigger things to worry about senior year, like the joy she feels in drumming or, more worryingly, the distance growing between their friend group. Most worryingly of all though, she maybe be having some more-than-just-friendly feelings for one of her friends.
Release date: April 24, 2018
Like Simon, this book is about a teenager struggling with being closeted and coming out—though ironically enough, in Joanna's case she's already been through all of this before. When her radio-preacher father gets remarried and they move from Atlanta to a small town in Georgia, he asks her to keep her sexuality on the down low—at least until she graduates from high school in a year. In return, he agrees to let her to start a new teen ministry on his show, talking about real issues like peer pressure and sexuality, and so it seems like a small price to pay. Except the longer she pretends to be the perfect straight girl, the less it feels like an easy trade and the more it feels like her father is ashamed of her for the first time. And when she meets Mary Carlson, the sister of one of her only friends at school, and possibly one of the cutest, sweetest girls she's ever known, it gets even harder to keep pretending.
Griffin loved Theo and now all he has left are memories. Because Theo died. And now Griffin doesn't know how to move on. It might be easier, in a way, if Theo hadn't already moved away and moved on to Jackson—but it's not easy to dislike Jackson either once Griffin starts to get to know him. Between the grief and his ever-worsening OCD, it seems like Griffin's life is in an unrecoverable downward spiral. Jackson and Griffin's best friend Wade could be there for him if he would only let them. But it's hard to let go when he's still holding on to all this history.
Look, you just need to read everything by Adam Silvera if you liked Simon, okay? His books are heartbreaking and beautiful, and if you aren't already following him and Becky Albertalli on all social media, you should be, because their friendship and support of each other will give you so many feels—much like their books! (Also #ownvoices gay + bisexual boy rep + #ownvoices OCD rep? Yes, yes, yes!)
Aristotle has anger issues and a brother in prison. Dante is a know-it-all who seems like his opposite in every way. But when the two of them meet at the pool one summer, a deep and unlikely friendship blossoms and eventually begins to turn into something more. It's not always easy to be true to yourself, though, especially for Ari, but Dante shows him that no matter how hard, there are few things in life more important than being who you are.
This gorgeous and heartbreaking debut features three teenagers trying to find their way forward after unimaginable losses. Autumn, Shay, and Logan have all lost someone they love. Music used to be the thing that kept them going, but as each of them struggle to find their way through various stages of grief, will music be enough to help them find their way back to themselves—and each other—again?
Another great read by Becky Albertalli, and though the main character (Molly) is straight and woefully bad at dealing with all her crushes, she has two mothers and a queer sister. It's a really cute book that balanced dealing with romantic relationships alongside dealing (and growing) with family relationships.
Abby is pretty sure she's the sidekick in the movie of her best friend's life—but this summer is going to change all that. She's going to get her dream internship at Lemonberry, get free, vintage plus-size dresses from her boss, and really get off the ground with her fashion blog. And the fact that she's probably the only queer girl at school? No biggie. But then she finds out she's having to share her internship with another intern, Jordi Perez. Only here's the thing: Jordi's cute, like, really cute—and maybe into Abby? Maybe it'll be her breakout summer after all.
Release date: April 3, 2018
Emi is obsessed with movies—which makes sense since she works on them—but when she gets caught up in a real life mystery almost good enough to be a blockbuster plot, it seems her dreams have finally come true. A mysterious letter from a late movie star leads Emi to Ava—the girl who may be the granddaughter of Hollywood royalty, even if she doesn't know it yet. Ava seems to have inherited her grandfather's talent. It seems like a real life fairy tale. But as she and Emi grow closer, will Emi's obsession with creating the perfect Hollywood story—and romance—get in the way of something real?
Bi-romantic ace representation with a gorgeous young black woman featured on the cover to boot? Yes, please!
Alice has big plans for this summer—marathon all her favorite shows, hang out with friends, and work at the library to pay the rent. One thing that definitely isn't in her plans is her ex-girlfriend who broke up with her after Alice confessed she's asexual, or, for that matter, dating in general. But then she meets Takumi—sweet, also working at the library, and gives her all the butterflies—and has to decide if it's worth risking their friendship for a type of love he may not really understand.
What If It's Us by Adam Silvera and Becky Albertalli
A team up between Silvera and Albertalli about two boys, an unlikely meet-cute, and a universe seemingly determined to push them together. Can't it just be out already?
Release date: October 9, 2018
Want more lgbtq YA books like Love, Simon? We've so got you covered! Check out these 100 must-read LGBTQIA YA reads, school stories with m/m relationships, recently released and upcoming bisexual YA, this intro to YA coming out stories, and some of our most anticipated lgbtq books of 2018.