Pop Culture
Books to Read If You Love the TV Show Playing House
This content contains affiliate links. When you buy through these links, we may earn an affiliate commission.
2017 is continuing its reign of terror: USA's Playing House, a hilarious show about female friendship and cheese, has been cancelled after three seasons. When pregnant Maggie (Lennon Parham) finds out her husband is cheating on her, her best friend Emma (Jessica St. Clair) moves back to their hometown full of weirdos to help raise the baby. Starring real-life besties Parham and St. Clair, the show also featured a seriously charming performance by Keegan-Michael Key. (Someone please cast this man in a romantic comedy!). We'll have to turn to books like Playing House to fill the Jammer longing in our hearts.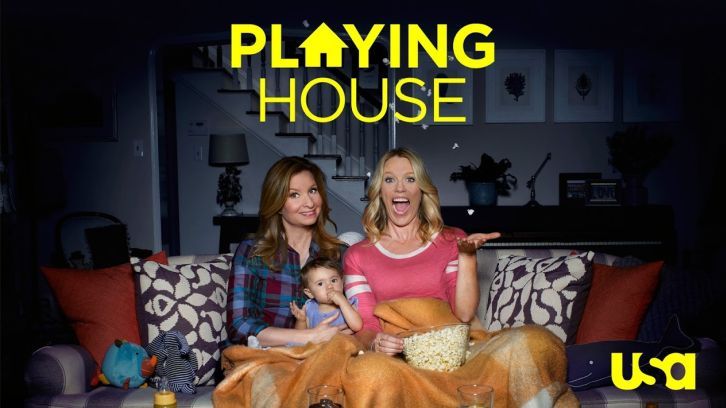 Playing House has a sweetly wacky vibe that generally eschews mean-spirited humour in favour of supportive kindness. Plus, Emma and Maggie get into all kinds of ridiculous shenanigans. The show was really too good for this world. But in the spirit of St. Clair's wise words, "If you think that they can keep a good bitch down, well I'm sorry, but they can't."
This essay collection contains hilarious musings on everything from porn to women's fashion. Klein writes about being a late bloomer baffled by many of the rituals of modern womanhood. The light-hearted questions she asks about things we take for granted about femininity feel like topics Maggie and Emma might discuss while digging into their cheese of the month club subscription.
When Rachel Flood returns to her small hometown to make amends after causing chaos years ago, her mother, Laverna, isn't so forgiving. Luckily, her teenage neighbour, Jake, and the local softball team are happy to have Rachel back. And as she spends more and more time in her hometown, she begins to realize that redemption may be closer than she thought. The Flood Girls shares something of Playing House's "cool women owning their choices and apologizing for their mistakes" vibe, but with more sardonic writing.
Issa Rae is incredibly funny in this book of essays, whether she's mining daily interactions for all their awkward humour or writing about learning to accept yourself. Emma and Maggie are pretty awkward, too—see the time they invite a friend's new love interest over for dinner and make it real weird, real fast, or every time they bust out their male alter egos, or really just every time one of their schemes goes wrong. (See also Rae's TV show Insecure, about the friendship between two black women.)
You may remember this one from the movie starring Natalie Portman as main character Novalee Nation. Where the Heart Is is about a pregnant teenager, abandoned by her boyfriend, who finds a home in a town full of eccentric but caring people who band together to help her raise the baby.
At times, Playing House feels a little bit like a Nora Ephron romantic comedy—one where breakups are tough but amicable and heroines can lean on a bunch of wacky friends for support. The rapid-fire banter between Emma and her love interest, Mark (Key), also has a romcom tinge. This work of nonfiction by Erin Carlson explores how Ephron's trio of classic romantic comedies (When Harry Met Sally, Sleepless in Seattle, and You've Got Mail) came to be. Based on interviews with Meg Ryan, Tom Hanks, and the other actors, production staffers, and producers who worked on the films, I'll Have What She's Having captures what it takes to make a great romcom.
(Anyone else wish Ephron were still alive so she could write a lead romantic role for Key?)
When August returns to where she grew up, an encounter with an old friend prompts her to relive adolescent memories of 1970s Brooklyn made alongside her best friends. As the girls come of age, believing fiercely in each other, another Brooklyn of dangerous men and unsettling experiences lurks below the surface. Woodson explores the bonds between women and how places shape us.
Some of Playing House's best episodes are about how motherhood changes your life. Hemmings explores this with honesty and humour in How to Party with an Infant. Mele Bart is a single mother in San Francisco who relies on her parent group to keep her sane. When her ex-husband wants their daughter to be the flower girl in his second wedding, Mele distracts herself by entering a cookbook-writing contest, using parenthood as her inspiration.
Similar to Playing House, Cabot's first grown-up Princess Diaries novel has a zany, playful tone and a plot that features characters getting caught up in various misadventures. In this installment, Mia is planning her wedding to Michael, but keeps getting distracted by political intrigue and potential scandals. This book is sweet and satisfying.
The classic novel about female friendship, this book also explores relationships between mothers and daughters. In 1949, four recent immigrants to San Francisco meet to play mah jong and share their joys and frustrations. Years later, their daughters are on their own paths to self-discovery, learning more about their mothers' pasts in order to understand their own.
Want more books about female friendship? Check out another Book Riot list here! And recommend your favourite books like Playing House in the comments.