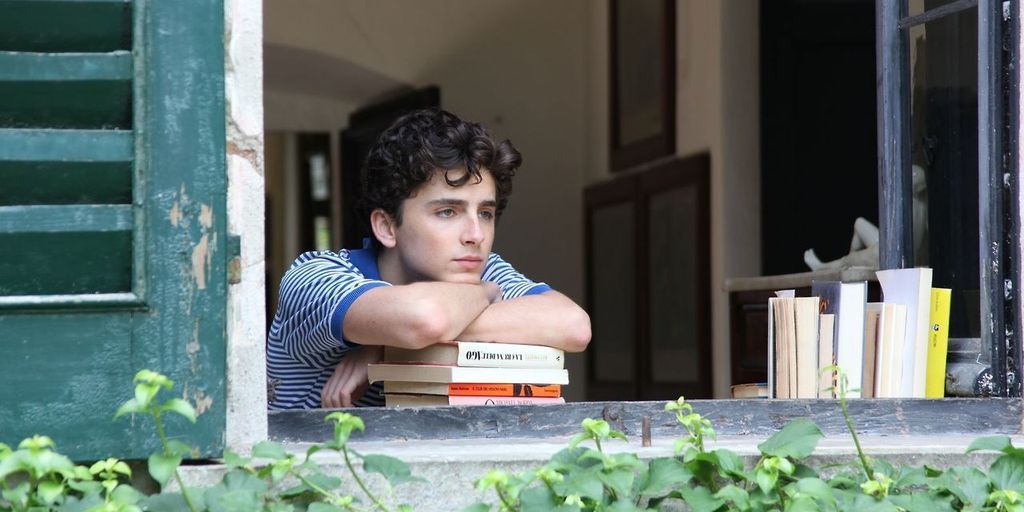 Pop Culture
Books to Read After You Watch 'Call Me By Your Name'
This content contains affiliate links. When you buy through these links, we may earn an affiliate commission.
I saw Call Me By Your Name twice. Once, after work in a near empty cinema with a bag of caramel popcorn and no knowledge of what I was about to see. I cycled home in the rain, buoyed by the heady images of an Italian summer: arts and classics and introspection and lust and swimming and peaches.
Flashes of yellow and red and green played on repeat in my mind—double exposures over the bleak English winter around me.
The second time I saw it, I was ready. In the darkness I leaned forward watching the focus shift and stir. I hung on the glorious long shots that mimic real life. It felt real; I felt apart of it.
I don't obsess over films like I do books, but I did with this one. It's impossible to forget. So, below you'll find a list of books that each serve as a remedy for my infatuation, not so much a cure, but a balm to distract me until I can watch the film again.
It seems obvious, but so many of those who love the film haven't read the book. I don't know which is better. I loved both. It's the same, but it's different. It goes beyond the film, beyond that one summer and into a life that's not bathed in the gold of the Italian sun.
I read the book between my two viewings of the film. Now I wish I could consume them like that—film book film book film book film—until both are seared into my consciousness.
I don't think the peach emoji has ever been used as much as the internet talking about Call Me By Your Name. And during the peach scene T.S. Eliot's voice warbles in my head—"do I dare eat the peach?"
But beyond the peach, like Elio in Call Me By Your Name, Prufrock muses on indecision, the passing of time, and that "overwhelming question."
(Also, in the book, he eats the peach. 🍑)
The Price of Salt (and its film adaptation Carol) and Call Me By Your Name are twins in a way—romantic tension coupled with sexual enlightenment. Both have beautifully brought Queer narratives to the public eye and enabled them to be something more than tales of tragedy.
Summer in Italy!
Albeit darker and twisted, The Talented Mr. Ripley chronicles how heady days spent in the sun with beautiful people can lead to obsession.
Like the film, South of The Border dwells on lost and found love. Actually, you could pick up any Murakami and recognise elements of Call Me By Your Name in the sparse prose—boredom, music, reading, desire, and location rendered in a way that makes it feel real.
Classics! Books! Clothes! Aesthetics!
Despite seeming (literarily speaking) worlds apart (The Secret History is all darkness, while Call Me By Your Name is the essence of light), the undercurrents of the two are the same—an obsession with beauty, slow and sultry observations of one's surroundings, and a heightened sense of place.
Elio's father is a classics professor, and Oliver is his student on a six week summer placement. Some of the most poignant moments of the film take place in the library discussing the curves of classical statues, or at a archaeological site as Elio and Oliver witness the discovery (or uncovering) of a classical artifact. While sharing their chosen subject, you'll find a completely different kind of classics scholar in The Secret History.
Like Elio and Oliver, the protagonists of The Lesser Bohemians conquer age difference in this novel of sexual exploration.
Ali Smith's How to be Both is a musing on gender and grief and art. It's lyrical, all consuming, and one of the most insightful teen narratives I've read.
It's a dual narrative that relies on chance as to which one you'll read first: there's the story of George, a precocious teenager struggling with the death of her mother, and simultaneously, the story of Francesco del Cossa, an Italian Renaissance artist. The narratives speak to one another and can be read in any order or on an infinite loop.
I like to think that Elio would like How to Be Both. He might see himself in both the characters of George (bicycling, loss, longing) and Francesco (art, identity, Italy), and delight in its pretentious structural complexity. I think he'd read it in the hazy heat of the Italian sun and then leave it by Oliver's bedside—dogeared and annotated—waiting for a response.