Lists
Books to Read by Indigenous Authors in Canada
This content contains affiliate links. When you buy through these links, we may earn an affiliate commission.
This July 1 is Canada's sesquicentennial, aka the 150th anniversary of Confederation or "when Canada became a country." For many Indigenous peoples who have lived here since long before 1867, though, Canada 150 is a celebration of genocide that erases thousands of years of Indigenous history pre-contact.
So in the spirit of reconciliation and #Resistance150, a movement created by Indigenous artists, writers, and creators across Canada, here are books by Canadian Indigenous writers to check out right now. There are many Indigenous writers working today, so I've linked to some other lists with great recommendations at the end of this post.
indigenous books FOR ADULTS
The Inconvenient Indian, Thomas King
Thomas King is of Cherokee, German, and Greek descent and has lived in both the United States and Canada. He's the author of several novels, but I love this nonfiction book of his best. The Inconvenient Indian is sort of a history, but more of a rumination, about what it means to be Indigenous in North America. With both humour and pain, King writes about treaties, historical figures, and stereotypes in pop culture and entertainment, all from his unique perspective as someone who is intimately familiar with both American and Canadian history and culture. This book is a must-read for everyone in North America.
Monkey Beach, Eden Robinson
I first read this novel when I was fourteen, and it has stayed with me ever since. Monkey Beach takes place in a remote Haisla community in British Columbia, where Lisamarie lives with her parents, brother, Elvis-obsessed Uncle Mick, and grandmother Ma-ma-oo. As the book begins, Lisamarie is out in a speedboat looking for her brother, Jimmy, who is missing. Searching the waves, Lisamarie recounts her life story so far: growing up as a tomboy in her small community; her parents' struggle to reconcile their Haisla heritage with settler culture; her fierce love for Uncle Mick and Ma-ma-oo, keeper of family traditions; and Lisamarie's own impulse to move toward danger. The novel is heartbreaking and darkly funny. (Robinson also had a new book out this year, Son of a Trickster.)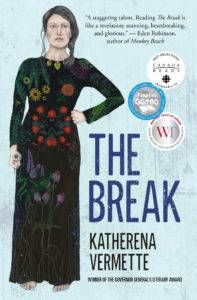 The Break, Katherena Vermette
This debut novel came out last fall and took Canada by storm, winning awards and competing in our national book battle, Canada Reads. And for good reason. Vermette is a poet, which shows in her skilled use of language and precise imagery. Told in shifting narratives, the book recounts what happens after a young Métis mother witnesses a crime from her kitchen window. As the perspective shifts between different people living in Winnipeg's North End, Vermette builds a powerful story of love, loss, and redemption.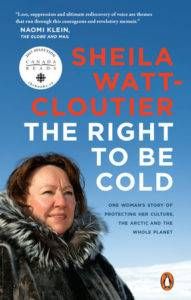 The Right to Be Cold, Sheila Watt-Cloutier
Watt-Cloutier is an Inuk woman and an environmentalist and activist from the Nunavik region of Québec. Part memoir and part call-to-arms, The Right to Be Cold is about Watt-Cloutier's own story, how Inuit have survived in the Arctic for thousands of years, and how that culture and way of life have been irreparably affected by climate change.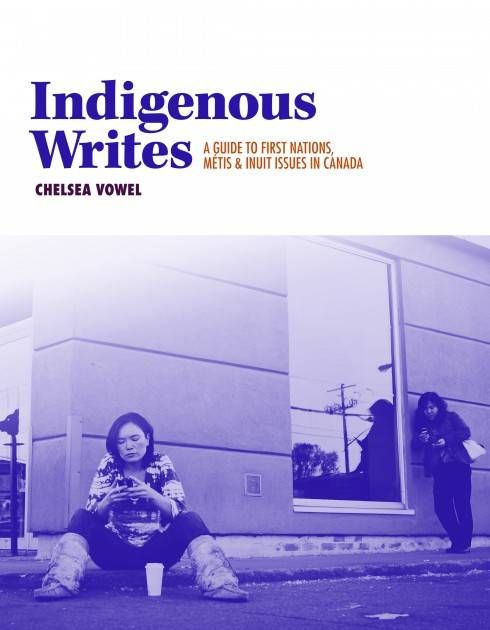 Indigenous Writes: A Guide to First Nations, Métis, and Inuit Issues in Canada, Chelsea Vowel
I haven't read this book yet—it came out last fall—but it's on my summer reading list. These connected essays trace the history of Indigenous peoples in Canada since contact with Europeans as well as some of the main issues that have erupted between settlers and Indigenous peoples since then. Vowel uses and explains terms that Indigenous people will know and that all non-Indigenous Canadians need to familiarize themselves with, like Sixties Scoop, blood quantum, Numbered Treaties, and more. She also provides references for further reading.
Other books on my TBR list:
Indian Horse, Richard Wagamese
Birdie, Tracey Lindberg
Islands of Decolonial Love, Leanne Betasamosake Simpson
Me Funny, ed. Drew Hayden Taylor
INDIGENOUS BOOKS FOR CHILDREN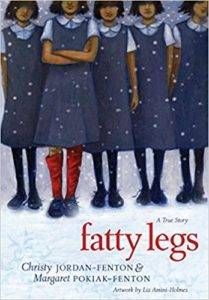 Fatty Legs, Christy Jordan-Fenton and Margaret Pokiak-Fenton
This middle-grade book is the story of Pokiak-Fenton's time at residential school, illustrated by Liz Amini-Holmes. Though eight-year-old Margaret is eager to learn how to read, she isn't prepared for the harsh realities of residential school. Her father agrees to let her leave her High Arctic community to go to school, where she faces cruelty from one of the nuns with a quiet determination.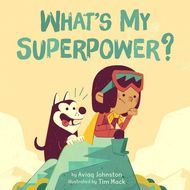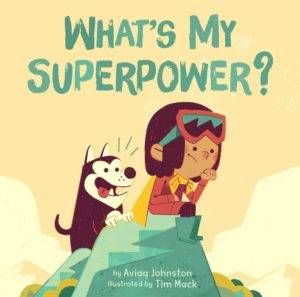 What's My Superpower?, Aviaq Johnston
This is a super fun picture book by a young Inuk author. Nalvana is determined to figure out what her superpower is. It seems like all of her friends can run super fast, hold their breath for a long time, or leap off the swings and practically fly, but Nalvana can't figure out what her superpower is—until a conversation with her anaana helps her realize her own special talent. This is a picture book set in Northern Canada with adorable illustrations by Tim Mack.
(Full disclosure: I work for the company that published this book, but I would be recommending it even if I didn't!)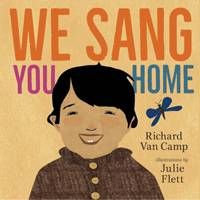 We Sang You Home, Richard Van Camp
This board book illustrated by Julie Flett is a very sweet look at new parents welcoming a baby. The lyrical story can also be sung, making it a good choice for a bedtime story.
Books on my TBR list:
Lightfinder, Aaron Paquette
The Lesser Blessed, Richard Van Camp
Owls See Clearly at Night, Julie Flett
Hiawatha and the Peacemaker, Robbie Robertson
When We Were Alone, David Alexander Robertson
More Lists
Want to read more Indigenous authors? Take a look at writer Alicia Elliott's list here, this crowd-sourced list put together by the CBC, this list by Buzzfeed, and these recommendations from Room Magazine.