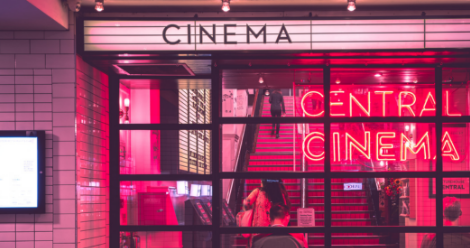 Lists
6 Books To Read Before They're Made Into Movies
This content contains affiliate links. When you buy through these links, we may earn an affiliate commission.
We've said it before, and we'll say it again: the books is always better. That doesn't mean we don't still love a good adaptation, though. I mean, who wouldn't be excited about all these great book to movie adaptations coming out in 2019? And trust me, these 6 books are definitely ones you're going to want to read before they're made into movies.
The movie, which will star Lupita Nyong'o as Patricia Noah, is based on Trevor Noah's memoir of his childhood in South Africa. Full of the sharp wit and insight he brings to both his comedy and The Daily Show, the book is definitely worth reading in its own right. But the fact that Nyong'o was the driving force behind the movie adaptation just makes it even better. If anybody can play Noah's fiercely independent mother, it's the woman who brought Nakia to life, am I right?
Helen Hoang's breakout hit (which was wildly popular with Rioters) is getting the big screen treatment from Lionsgate and Pilgrim Media Group. The book is all about Stella, a young Autistic woman who excels at statistics but struggles with romance. She hires Michael, a half-Vietnamese escort, to show her the ropes. It's a feel-good book full of much needed representation, and I can't wait to see it come to life! (And if you just can't wait for the movie, I recommend checking out The Bride Test, her newest book which comes out this May, in the meantime.)
This modern Pride and Prejudice retelling set in a Toronto Muslim community was optioned for film even before its release in the U.S. (June 4th for anyone wondering). I don't know about you, but anytime a book is getting that much attention before its publication, I take note. And Ayesha at Last definitely deserves the attention. This adorable romance is a refreshing take on a modern love story and definitely deserves its time in the spotlight. And I can't wait to see who they pick to play Ayesha and Khalid!
Michael B. Jordan (yes, he of the killer Killmonger abs) nabbed the rights for this much-anticipated African epic fantasy from the author of A Brief History of Seven Killings. Since it's been compared to Game of Thrones and according to Neil Gaiman is "a fantasy world as well-realized as anything Tolkien made," I think it's probably safe to say this one is going to be a mega hit.
I have a hard time believing many people haven't read the first book in Leigh Bardugo's kickass fantasy duology (set in the same universe as her Grishaverse books), but if you haven't, now is the time. The Six of Crows duology as well as the Shadow and Bone trilogy will be coming to a computer / TV screen near you with the upcoming adaptation being made for Netflix. Technically, it's going to be a series and not a movie, but honestly that just means more episodes, more time to develop the plot and characters, and even more Grishaverse goodness—so I'm in!
Another book where the film rights sold before publication! Gotham and Chariot are on board to adapt this terrifying take on a near-future United States with Muslim Americans imprisoned in internment camps. Ahmed's first novel, Love, Hate, and Other Filters, was a hit and this one is sure to be the same—especially with its important and timely message. And Chariot, in particular, was created to bring more realistic depictions of Muslims to life on screen, so I'm excited to see what they do with this story.
What book to movie adaptations are you most excited about?