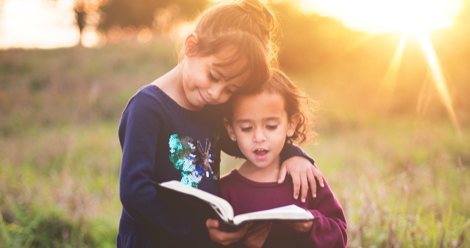 Children's
12 Books to Gift a Child on National Reading Day
This content contains affiliate links. When you buy through these links, we may earn an affiliate commission.
January 23rd is National Reading Day, an annual event that celebrates reading and encourages young children to read. Schools, parents, literary programs, and libraries across the United States are helping Pre-K to third grade students build the foundation needed to become lifelong readers. You too can join the festivities by sharing the book that sparked your love for reading with the special child in your life. If you're drawing a blank on a good book to share, Book Riot is here to offer a few suggestions.
Bring these books along when it's time to visit grandma and grandpa! They pull double duty of getting kids reading while strengthening the bond between grandparent and grandchild during story time.
The weekends are great for this little girl because she gets to experience both sides of her family's culture. On Saturdays she eats pancakes, plays with Grandma's owl collection, and listens to Grandpa's stories. On los Domingos, she eats huevos rancheros and learns about Abuelita's heritage and Abuelito's life on a Mexican ranch.
Grandmas and grandpas can do lots of things like play hide-and-seek, paint pictures, take walks, plan picnics, make hats, build sandcastles, and sing lullabies, but what they do best is give lots of love to their grandchildren.
For Jay Jay, Sunday dinner at Grannie's is as full as full can be with hugs, kisses, tasty dishes, happy faces, and lots and lots of love.
Dear Juno by Soyung Pak and Susan Kathleen Hartung (Illustrator)
Juno's grandmother writes in Korean and Juno writes in drawings, but that doesn't mean they can't exchange letters. From the photo his grandmother sends, Juno can tell she has a new cat. From the picture he draws, Juno's grandmother can tell he wants her to visit.
If you have a little explorer on your hands who prefers gazing at the stars, spending time with animals, or observing nature over diving nose-deep in a book, then meet them halfway with these books that will surely entice their curious minds.
Best friends King Shabazz and Tony Polito are on the hunt for "Spring around the corner." How far are they willing to go to find Spring? Will they know when they have found it?
The Good Luck Cat by Joy Harjo and Paul Lee (Illustrator)
Good things happen to the people who pet Woogie, but as Woogie gets into mishap after mishap, everyone starts to worry that Woogie has run out of luck.
Hedgie wants more than anything to be an astronaut and travel into space. He gets his chance when the Big Sparkler starts to sputter and fade, disappointing the alien tourists.
Ada Twist, Scientist by Andrea Beaty and David Roberts (Illustrator)
Ada has boundless imagination and curiosity. When her house fills with a horrific smell, Ada knows it is up to her to find the source. In the name of scientific discover, she goes on a fact-finding mission and conducts experiments, and learns that questions may do not always lead to answers, but to more questions.
These books are for the children who love spending their time in a fantasy world full of magic, fiery dragons, superheroes or wherever their creative minds take them. Help them take their imaginations to the next level.
Princess Smartypants does not want to get married. She would rather live with her pets, but she must find a husband, as ordered by her parents.
Raising Dragons by Jerdine Nolen and Elise Primavera (Illustrator)
When a dragon hatches on the farm, a young girl finds a best friend. At first her parents are wary, but it's not long before they are welcoming the baby dragon into their family. However, it turns out this dragon may not be cut out for farm life.
Room on the Broom by Julia Donaldson and Axel Scheffler (Illustrator)
While a witch and her cat fly through the sky on a broomstick, the wind blows away the witch's hat, bow, and even her wand. Luckily, three animals find and return the missing items. As a reward, they want a ride on the broom.
An instruction manual for aspiring superheroes that follows Captain Magma and his sidekick, Lava Boy, on their heroic adventures.
The ideas don't stop here! Check out:
5 Children's Books About Refugees
100 Must Read Children's Books Set in New York City
5 of the Best Children's Books About Disabilities
15 Children's Books to Celebrate Hispanic Heritage Month
10 Black Princess Books to Celebrate the Royal Engagement