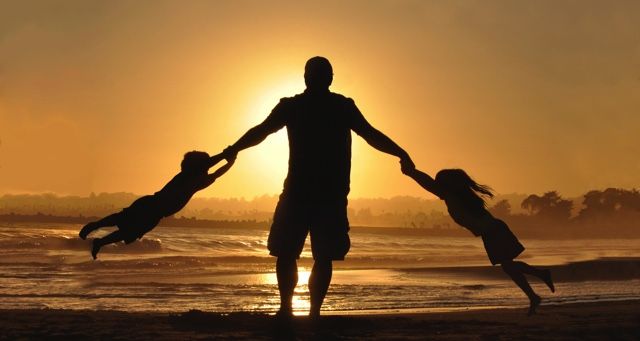 Lists
7 Great Books to Get Dad for Father's Day
This content contains affiliate links. When you buy through these links, we may earn an affiliate commission.
Father's Day is fast-approaching. Some of us may have memories of our dads or other cool father figures in our lives reading the newspaper daily or diving into an exciting novel on the weekends, helping to model the behavior of reading to us as kids. As a thanks, what better way to celebrate Father's Day and reading than picking out the perfect pick for the old man? Rioters have suggested seven books they would recommend to their dads, so whether you're looking for books to get dad or are just curious what kinds of reads Rioters suggest, this is the place to be.
Books to Get Dad for Father's Day
For any Parks and Rec fan or novice woodworker, this coffee table book makes a great gift. The project tutorials feature Offerman's real woodshop staff, offering sage advice and clearly defined instructions. The projects vary in difficulty from coasters to an entire bed frame. Each tutorial is accompanied by color photographs. Along the way, Offerman shares family recipes, embarrassing stories, and beard length charts. Instead of more whiskey stones, let your dad teach himself to craft the very chair he sits on with this book.
Side note, I had the pleasure of meeting Offerman on his book tour for Good Clean Fun and he reminded the audience to always be mindful in the shop because "Everything in the shop can either hurt your feelings or kill you."
My dad is a busy guy, so I know if I want him to read a new book it's going to have to be one that will really catch his attention. I can't think of anything better for that than Trevor Noah's hilarious, heartfelt, and insightful memoir about growing up as the son of a black mother and a white father in Apartheid South Africa. Not only is it incredibly entertaining, it also provides a really thought-provoking look into the history of South Africa and the life of one of the best late night hosts on TV today, how he grew up and how he became the person he is today. And as a bonus, the sequel, Place of Gold, which picks up in his early adulthood, comes out next year.
My dad prides himself on being the only guy in his college class on women and feminism (in which other students voted he could stay). His idols include Emma Goldman, among other strong-headed and revolutionary women (which probably explains a lot about me — thanks, Dad!). Irrepressible is the account of an American heiress who lived life on her own terms, coming to rub elbows with the Bloomsbury Group, and was something like the black sheep of her family. With the bulk of the biography exploring the early 20th century, it exposes the reader to the general history of the time as well — another thing I know my dad would appreciate. Because the book is written by a relative of Henrietta, the theme of family secrets runs strong in the biography, making it one of the great books to get Dad.
My dad passed away in 2001. I don't know what he read, but I know he was very religious, and also very compassionate. He did like gardening and using a video camera. My mom said he would get up at 5:00 AM to pray before heading to work as an oncologist. We also have a few books on the Bhagavad Gita or a discourse that occurs within the mythology epic the Mahabharata. I'd like to think that my dad would like this book since he turned to religion to understand the world.
I bought this book for my dad for Christmas one year, because he enjoys non-fiction, and especially loves reading about true crime. I thought that this might help him reimagine the criminal justice system and rethink the glorification of all these true crime books he enjoys. He also is very much into the idea of law and order and using prisons to "make America safer" and I was hoping that by reading this book he might be able to see and understand the other side of this system. I love the idea of using books to help people see things from a new perspective, and for my dad, someone who has always loved reading, I think that this is the perfect way to accomplish this.
This new epic fantasy is making big waves, and for good reason. Based in African history and mythology, Black Leopard, Red Wolf follows a famed tracker with a nose for finding lost people. On a job to find a mysterious missing boy, he encounters a strange and fantastical array of characters. My dad is a big fan of fantasy and world building, so this is the perfect pick. It's new, wonderfully written, and since Michael B. Jordan and Warner Bros. have already snatched up the movie rights, it gives him a chance to get on the bandwagon early.
All the men in my family love a good western, noir, or heist movie. Especially if one of the protagonists was a veteran. Put on The Godfather, Lonesome Dove, or Training Day and they won't even turn the channel during commercials, that's how rapt their attention is. None of the men in my family read too much fiction, though–for example, when I gave No Country for Old Men to my uncle for his 51st birthday, he unwrapped it, looked right at me, and said, "Another damn book." But, then, a week later, he told me he read it in one sitting on a flight when his TV was out, and he loved it so much he lent it to his son. He said it was like watching his favorite movie in his head. And he's right–this novel is so cinematic because McCarthy first drafted it as a screenplay. As a joke, on MY birthday, my uncle gave me a quarter from 1958, and when I looked up, he said, "It's your lucky coin. Don't put it in your pocket. It'll get mixed in with all the regular coins. Which it is."
Are there books to get dad that you'd recommend? Let us know in the comments!