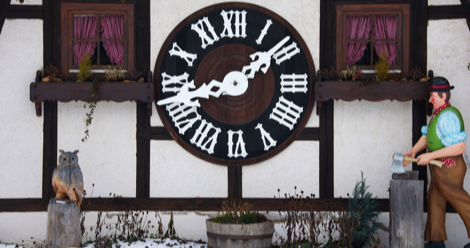 Lists
7 Of The Best Time Travel Books For When You Want An Alternate Timeline
This content contains affiliate links. When you buy through these links, we may earn an affiliate commission.
Sometimes, it seems inconceivable that we're not somehow living the darkest timeline out of a wide array of far more attractive timelines.
Rather than acknowledge that deeply entrenched cultural conditioning and poor decision making have led us inexorably to a point of deep shittiness, it's far nicer to imagine that some fool traveled back in time and accidentally stepped on the butterfly that was supposed to flap its wings and cause world peace. Leaving us stranded here.
After all, it's not as if we haven't read or watched similar narratives a billion times over.
I love these narratives, in that they allow me to play a delightful game of "what if?"
If you enjoy a similar form of temporary escapism, these time travel books will give you exactly what you need.
(Trigger Warning: Sexual Assault)
This time travel book about a bumbling, heartsick fool who goes back in time and screws up the future is so much fun. Even more compelling is the fact that the screwed-up future—far inferior to the life our protagonist had been leading—is…well, the life we're leading right now. That's right. This isn't the life we should be living. We could have totally had flying cars by now!
2. Stephen King's 11/22/63
This doorstop of a novel feels different from most of the Stephen King books I favor, but I dig it. About a high school English teacher who's tasked with going back in time to stop the assassination of JFK, it attempts to answer the question of what might happen when you try to deliberately change the past with only the best of intentions.
Originally published in 1976 and now considered a classic of time travel books, this book's protagonist is made aware of two possible timelines that await her… and comes to realize that which one she ends up in rests squarely on her shoulders.
My favorite sci-fi novels are those with a sense of humor, which is why I so love the first book on this list. Fry's book similarly tempers thought-provoking moments with truly funny bits in a narrative about two men who attempt to change history by eliminating, well, you know who. How many times have you heard the question: What if Hitler had never been born?
For younger readers—and for those who love a solid YA novel—Henry's book is about a young woman who starts getting the sense that things aren't quite as they should be. And then she receives a prophecy that places her in a position to change the future.
A time travel adventure that's allegedly headed for the big screen, Chu's book is heavy on the action as it follows the exploits of a career time traveler who ends up falling in love and saving the life of a woman who was fated to die.
Here we're introduced to another woman living a life that seems slightly off-kilter. But she's not sure why. We start to suspect the source of her disorientation, however, when we learn that her husband has dedicated his life to developing a "causality violation device." (::cough cough:: time machine ::cough cough::) In addition to its sci-fi undertones, this is also a book about grief and possibility and the ways in which we try and fail to help each other.
---
Find even more books about time travel here. And after you're done with these time travel books, you can return to the present and start to read the books that will help you change the timeline we are undeniably living in.
What do you think are the best time travel books about alternate timelines? Leave your recommendations in the comments!