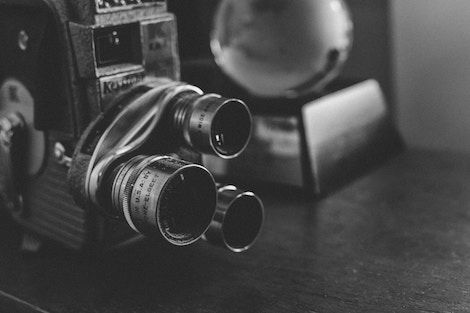 This content contains affiliate links. When you buy through these links, we may earn an affiliate commission.
There is nothing better than a great film adaptation of one of your favourite books. Seeing all the characters come to life on screen, directed by someone who shares your vision for the story, is pure magic. (Not looking at you, Kenneth Branagh and Murder on the Orient Express.) But not every book that should be a movie is one—yet. Here are 10 books that should be movies. Because I want to watch them. Do it for me, Hollywood!
Shirley
by Charlotte Bronte
This is Bronte's least-famous novel and the one I happened to research and write about during my MA, so it's near and dear to my heart. It's a strange book with a lot going on—rabies, factory workers protesting, parallel love stories, secret parentage being revealed, a lot of curates—but a good screenwriter could pull out the novel's North and South-like qualities and make it into a striking film. I believe! If we got a super stylish Cary Fukunaga adaptation of Jane Eyre and a beautiful Thomas Vinterberg version of Far From the Madding Crowd, it's only fair that we get a fresh, modern take on Shirley. As long as we're making wishes, a female director would be great.
(And if anyone at the BBC is reading, I would love to write this screenplay.)
Guillory's delightful romance novel about two people who meet-cute in an elevator was practically made to be a romantic comedy. First of all, people have been clamouring for more rom coms—and especially more diverse ones—for years. Whither this generation's Nora Ephron! It is time to bring this genre back to prominence. Second of all, this book, with its two charming leads, simple but effective plot, and picturesque California setting, is the perfect candidate. Teyonah Parris as Alexa?
OMG IT'S A UNICORN, I MEAN A HOLLYWOOD ROMCOM! I love them. I love this. Please everyone save the baby romcoms and go see it five times. https://t.co/CDZUwTHbc5

— Tessa Dare 🐐 (@TessaDare) May 17, 2018
Okay, so this is a book of advice for single women written in the 1930s, but let me finish. This book is utterly charming and full of both practical and whimsical advice, like buy yourself fresh flowers sometimes, BUT make sure you contribute to your savings account. Each chapter of the book ends with a little case study about a woman Hillis knew. (Or, more likely, made up to illustrate her point). I envision this as a quasi biopic of Hillis, who wrote for Vogue, crossed with Miss Pettigrew Lives for a Day with a dash of How to Be Single (except better), set in the 30s, of course. Our intrepid heroine, Marjorie, moves to New York to make it as a writer. As she climbs the ladder at Vogue and observes the women around her striking out on their own, getting jobs, breaking up, and making it big, she realizes that no one really knows what they're doing. Armed with these observations and experiences, she sets to work learning how women can live alone and truly like it.
(Paging Reese Witherspoon's production company!)
Servant Agnes Magnusdottir is sentenced to death for her role in the murder of two men, one her employer. No one knows exactly what happened between Agnes, her employer, and the two others involved in the incident. But when she is sent to live with a local family to await execution, and assigned a priest to hear her confession, the truth of her story is finally revealed. This moody novel set in Iceland seems like a perfect candidate for a film low on dialogue but high on arresting windswept scenery and meaningful glances between characters. Also known as my favourite kind of movie. The role of Agnes was made for Saoirse Ronan.
A movie version of this super charming YA/new adult book would make a great follow-up to Netflix's To All the Boys I've Loved Before. Penny can't wait to leave high school behind for college in Austin, where she's sure things will be better. Sam works at a cafe and wants to be a director, but feels stuck in his current life. When they cross paths, they agree to become each other's emergency contacts, staying in touch via constant texting. But everything might fall apart before it gets better… which means this novel is another perfect candidate for the new rom com renaissance.
Wolitzer's 2013 novel about a group of teens who meet at an arts camp and stay friends into adulthood was adapted into a TV pilot for Amazon, but the full series was never made. Which means it's time for a new adaptation by Shonda Rhimes. No one is better at portraying the dynamics of a group of high-achieving people who fall in and out of love with each other over years than Rhimes. It would be interesting to see her take on the New York City art scene after tackling surgeons and politicians.
I enjoyed the setting of this book about an elderly couple who set off to find their son in post-Arthurian Britain. There are giants, ogres, pixies, knights, dragons, and even a strange mist. Nobel laureate Ishiguro's emotionally precise, atmospheric writing translates very well on screen and this, his most recent novel, could easily become yet another striking movie that plays with time and unreliable narrators (see Remains of the Day and Never Let Me Go). No spoilers, but an aged, blustery version of Sir Gawain shows up in this book—a great role for Bill Nighy.
This novel is wild and delightful and nothing like Anne of Green Gables. In a small town in rural Ontario, Canada, in the years before World War One, Valancy Stirling (great character name or greatest character name?) is unmarried at twenty-nine and considered a failure by her entire family of nosy busybodies. Her only escapes are her daydreams about a beautiful blue castle on an island and the nature books of her favourite writer, John Foster. But one day Valancy learns that she has a heart condition, and she decides to spend the rest of her life actually living. She tells off her family and proposes marriage to a most unsuitable candidate—and then things really get interesting. Admittedly, some of the slightly absurd plot would have to be toned down to appeal to modern sensibilities, but this could be a fun historical movie with a surprisingly poignant message (say for a Sarah Polley type director?).
Lin's collection of comics about Frances, a confused twentysomething clerk in a big Toronto law firm, is full of humour, relatable feelings, and gentle insight into what it's like to be in your twenties, living in a major city, with no idea what you want from life. This could even be a TV series, something like Insecure or a less wacky Broad City, following the adventures of Frances as she deals with her best friend's sudden new life as a TV actress, handles drama and legal mishaps at work, and generally tries to figure out what on earth to do with her life. Let's get Greta Gerwig on this as a follow-up to Lady Bird.
I'm kind of surprised there haven't been any movies made of Ruth Ware's books yet, although apparently we're getting an adaptation of The Woman in Cabin 10. For this book about a desperate young woman who assumes a fake identity when she learns she's been left something in an old woman's will, I'd love to see the full Agatha Christie treatment — star-filled cast, creepy old mansion, and a growing sense of menace. The book is set in the modern day, but a set designer could go all out making Mrs. Westaway's house look all ruined and old-fashioned.
There are a few other books I was considering for this list, but adaptations of them have recently been announced. Pachinko, Americanah, and The Underground Railroad are three I can't wait to see. I think the fact that these movies were on my list but are already in production show that I'm on to something… so should any Hollywood execs be reading this, please consider these other ideas! Thanks in advance.
Tell me your picks for books that should be movies! You can also check out this post for 12 queer YA books we want to see as movies. And here are some books we don't want to see as movies.