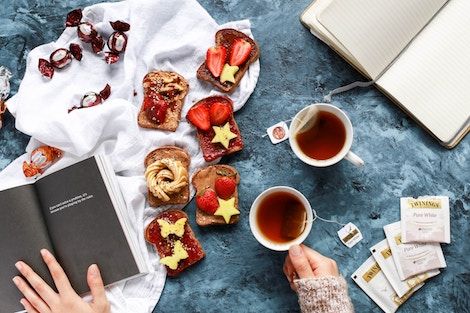 Lists
29 Books That Make You Happy Long After The Last Page
A lot of us are affected by the lack of sunshine in the northern hemisphere during winter. This is the time of year that we desperately need some happy reading. There's nothing more comforting than a good book after a hard day, with a fire in place, cuddled next to your dog or cat, or both. The fact that our lives feel more and more unstable, it's comforting to know that we can turn to literature to see how others have handled their stress and found peace. Isn't that why a lot of us turn to books in the first place? Here are 29 books that make you happy that I'm recommending for solace and cheer this winter.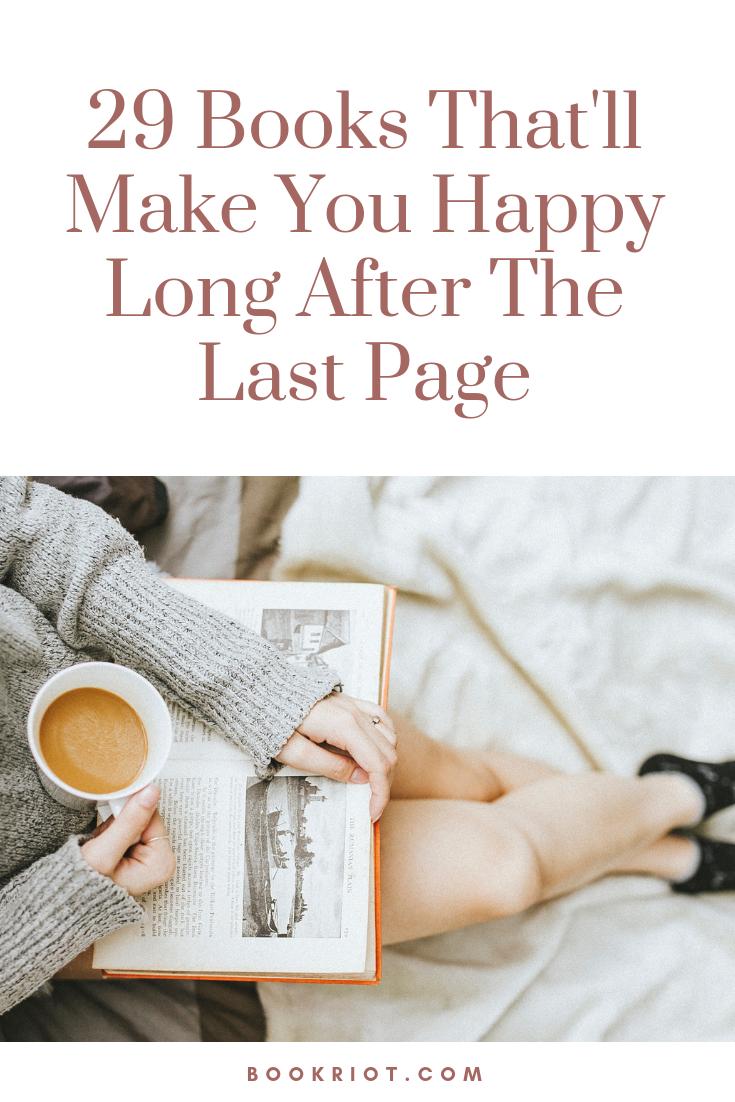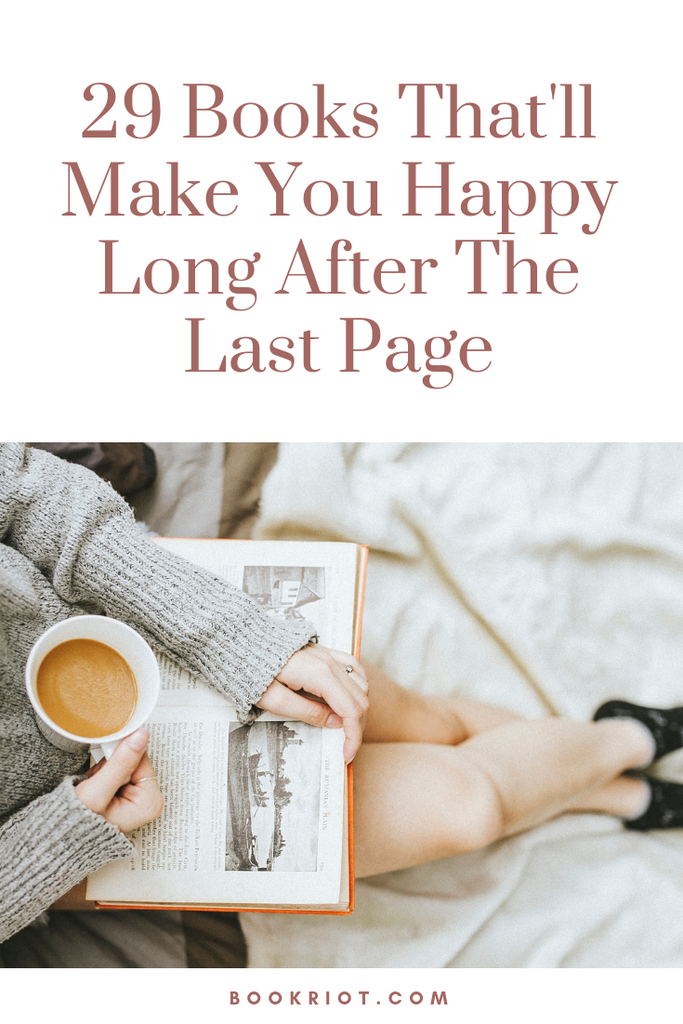 Eleanore is weird. That's just who she is. When she and her equally weird co-worker, Raymond, save an elderly man who had fallen on a sidewalk, she suddenly finds company. This is a beautiful story that has a quirky imperfect heroine. Sure to bring you a bit of light on a dark day.
2. Beartown by Fredrik Backman
A small town on the brink of non-existance. A Jr. League hockey league about to make the championships. "
Beartown
explores the hopes that bring a small community together, the secrets that tear it apart, and the courage it takes for an individual to go against the grain. In this story of a small forest town, Fredrik Backman has found the entire world."
"This stirring love story is a profoundly insightful look into the hearts and minds of three people who are at once bound and separated by forces beyond their control. An American Marriage is a masterpiece of storytelling, an intimate look deep into the souls of people who must reckon with the past while moving forward — with hope and pain — into the future."
An inspirational and emotional story of a family that has been defined by war, even if they don't know it. "Meredith and Nina Whitson are as different as sisters can be and they find themselves together again, standing alongside their cold, disapproving mother, Anya, who even now, offers no comfort to her daughters. As children, the only connection between them was the Russian fairy tale Anya sometimes told the girls at night. On his deathbed, their father extracts a promise from the women in his life: the fairy tale will be told one last time. Thus begins an unexpected journey into the truth of Anya's life in war-torn Leningrad, more than five decades ago. Alternating between the past and present, Meredith and Nina will finally hear the singular, harrowing story of their mother's life."
"Alaska, 1920: a brutal place to homestead, and especially tough for recent arrivals Jack and Mabel. Childless, they are drifting apart — he breaking under the weight of the work of the farm; she crumbling from loneliness and despair. In a moment of levity during the season's first snowfall, they build a child out of snow. The next morning the snow child is gone — but they glimpse a young, blonde-haired girl running through the trees."
Families keep us sane, and also insane, but there's always love. "In a suburb outside Cleveland, a community of Indian Americans has settled into lives that straddle the divide between Eastern and Western cultures. Harit, a lonely Indian immigrant in his mid forties, lives with his mother who can no longer function after the death of Harit's sister, Swati. In a misguided attempt to keep both himself and his mother sane, Harit has taken to dressing up in a sari every night to pass himself off as his sister. Meanwhile, Ranjana, also an Indian immigrant in her mid forties, has just seen her only child, Prashant, off to college. Worried that her husband has begun an affair, she seeks solace by writing paranormal romances in secret. When Harit and Ranjana's paths cross, they begin a strange yet necessary friendship that brings to light their own passions and fears." Funny and loving. What more can you ask for?
Charles Wang, a brash, lovable businessman who built a cosmetics empire and made a fortune, has just lost everything in the financial crisis. So he rounds up two of his children from schools that he can no longer afford and packs them into the only car that wasn't repossessed. Together with their wealth-addicted stepmother, Barbra, they head on a cross-country journey from their foreclosed Bel-Air home to the Upstate New York retreat of the eldest Wang daughter, Saina.
"On ne voit bien qu'avec le coeur. L'essentiel est invisible pour les yeux." One sees clearly with the heart. What is essential is invisible to the eye. This classic reminds us what is important in life. It's a children's book but its lessons are valid for adults too. We often need to be reminded what really matters. After all, all adults were once children.
"A charming, clever, and quietly moving debut novel of of endless possibilities and joyful discoveries that explores the promises we make and break, losing and finding ourselves, the objects that hold magic and meaning for our lives, and the surprising connections that bind us."
"Margaret Jacobsen is just about to step into the bright future she's worked for so hard and so long: a new dream job, a fiancé she adores, and the promise of a picture-perfect life just around the corner. Then, suddenly, on what should have been one of the happiest days of her life, everything she worked for is taken away in a brief, tumultuous moment. How to Walk Away is Katherine Center at her very best — a masterpiece of a novel that is both hopeful and hilarious; truthful and wise; tender and brave."
"In the rolling dales of Yorkshire, a simple, rural region of northern England, a young veterinarian from Sunderland joins a new practice. A stranger in a strange land, he must quickly learn the odd dialect and humorous ways of the locals, master outdated equipment, and do his best to mend, treat, and heal pets and livestock alike."
"If you ask him if he's happy, even though he's suffered the loss of his country, the Dalai Lama will give you an unconditional yes. What's more, he'll tell you that happiness is the purpose of life, and that the very motion of our life is toward happiness."
"Anna Karenina tells of the doomed love affair between the sensuous and rebellious Anna and the dashing officer, Count Vronsky. Tragedy unfolds as Anna rejects her passionless marriage and thereby exposes herself to the hypocrisies of society. Set against a vast and richly textured canvas of nineteenth-century Russia, the novel's seven major characters create a dynamic imbalance, playing out the contrasts of city and country life and all the variations on love and family happiness.
"An engrossing debut, Halsey Street shifts between the perspectives of these two captivating, troubled women. Mirella has one last chance to win back the heart of the daughter she'd lost long before leaving New York, and for Penelope, it's time to break free of the hold of the past and start navigating her own life. A modern-day story of family, loss, and renewal, Halsey Street captures the deeply human need to belong — not only to a place but to one another."
15. Heart Berries by Terese Marie Mailhot
"Having survived a profoundly dysfunctional upbringing only to find herself hospitalized and facing a dual diagnosis of post traumatic stress disorder and bipolar II disorder; Terese Marie Mailhot is given a notebook and begins to write her way out of trauma. The triumphant result is Heart Berries, a memorial for Mailhot's mother, a social worker and activist who had a thing for prisoners; a story of reconciliation with her father — an abusive drunk and a brilliant artist — who was murdered under mysterious circumstances; and an elegy on how difficult it is to love someone while dragging the long shadows of shame."
"The first time Isabel meets her father-in-law, Omar, he's already dead — an apparition appearing uninvited on her wedding day. Her husband, Martin, still unforgiving for having been abandoned by his father years ago, confesses that he never knew the old man had died. So Omar asks Isabel for the impossible: persuade Omar's family — especially his wife, Elda — to let him redeem himself." A story about family and forgiveness and hope.
"Mining the comedic potential of the 1.5-generation American experience, NOT A SELF-HELP BOOK is an insightful and witty portrait of a young woman scrambling to balance familial expectations and her own creative dreams." Creative heroine, family expectations this book has it all for a cozy weekend in.
"In these poems, the joys and struggles of the everyday are played against the grinding politics of being human. Beginning in a hotel room in the dark of a distant city, we travel through history and follow the memory of the Trail of Tears from the bend in the Tallapoosa River to a place near the Arkansas River. Stomp dance songs, blues, and jazz ballads echo throughout. Lost ancestors are recalled. Resilient songs are born, even as they grieve the loss of their country." It's probably a little strange that this can bring happiness, but allowing grief and truth to see the light, we can find peace and move forward. While in the darkness, there is happiness.
This memoir is a little "old" but having read through this, I have been moved and changed. I am placing this on the list because it gives us hope. Hope for the future if we embrace reciprocity with nature. Happiness in learning from nature. Kimmerer is an Indigenous writer and botanist who brings art to science.
"Written as a series of autobiographical essays, A Field Guide to Getting Lost draws on emblematic moments and relationships in Rebecca Solnit's life to explore issues of uncertainty, trust, loss, memory, desire, and place. Solnit is interested in the stories we use to navigate our way through the world, and the places we traverse, from wilderness to cities, in finding ourselves, or losing ourselves. While deeply personal, her own stories link up to larger stories, from captivity narratives of early Americans to the use of the color blue in Renaissance painting, not to mention encounters with tortoises, monks, punk rockers, mountains, deserts, and the movie Vertigo. The result is a distinctive, stimulating voyage of discovery."
"The Tao te Ching of Lao Tzu is among the wisest books ever written and one of the greatest gifts ever given to humankind. In the handful of pages that make up the Tao te Ching, there is an answer to each of life's questions, a solution to every predicament, a balm for any wound. It is less a book than a living, breathing angel."
"Throughout her celebrated career, Mary Oliver has touched countless readers with her brilliantly crafted verse, expounding on her love for the physical world and the powerful bonds between all living things.Carefully curated, these 200 plus poems feature Oliver's work from her very first book of poetry, No Voyage and Other Poems, published in 1963 at the age of 28, through her most recent collection, Felicity, published in 2015. "
A memoir about mothers. A memoir about women. For those who find themselves in grief, in hope, and in search for happiness. "In fifty-four chapters that unfold like a series of yoga poses, each with its own logic and beauty, Williams creates a lyrical and caring meditation of the mystery of her mother's journals. When Women Were Birds is a kaleidoscope that keeps turning around the question 'What does it mean to have a voice?'"
"Through his lyrical translations, Coleman Barks has been instrumental in bringing this exquisite literature to a remarkably wide range of readers, making the ecstatic, spiritual poetry of thirteenth-century Sufi Mystic Rumi more widely accepted than ever.
"Kahlil Gibran's aphorisms, stories, and poetry on a theme remain among some of those best known to Western readers. His views, however, extend to a wide realm of human emotions and relationships — passion, desire, idealized love, justice, friendship, and the challenges of dealing with strangers, neighbors, and enemies. This little book captures love and life in all of their complexities and nuance"
"Poet and filmmaker Gretel Ehrlich went to Wyoming in 1975 to make the first in a series of documentaries when her partner died. Ehrlich stayed on and found she couldn't leave. The Solace of Open Spaces is a chronicle of her first years on 'the planet of Wyoming,' a personal journey into a place, a feeling, and a way of life."
27. Wild by Cheryl Strayed
"With no experience or training, driven only by blind will, Cheryl Strayed would hike more than a thousand miles of the Pacific Crest Trail from the Mojave Desert through California and Oregon to Washington State — and she would do it alone after the death of her mother. Told with suspense and style, sparkling with warmth and humor, Wild powerfully captures the terrors and pleasures of one young woman forging ahead against all odds on a journey that maddened, strengthened, and ultimately healed her."
And for a little bit of Holiday Cheer:
As a book that has never been out of print, this story will uplift up and help you through this holiday season by helping you see the true meaning of life. Perhaps it will help you keep the spirit of Christmas "in your heart all year long" that spirit is one of charity, hope, and brotherly love.
29. Little Women by Louisa May Alcott
We're all familiar with the story of Meg, Jo, Beth and Amy. However, if you're not, this lovely coming of age book about the March sisters during their father's deployment as a Civil War Chaplain in the Union Army will certainly be what you need. Resilience, Grief, Happiness and Love. This book is perfect for winter reading.
---
What are your favorite books that make you happy?