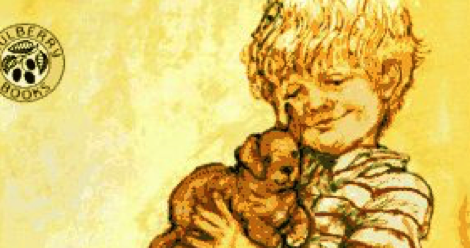 Children's
5 Wonderful Books By Children's Author Shirley Hughes
This content contains affiliate links. When you buy through these links, we may earn an affiliate commission.
Shirley Hughes is a writer and artist of children's books, and I admire her in that very particular way that you admire the people that you love. Her work is kind. She is a kind and generous author who understands the child's point of view and seeks to preserve that. Sometimes when I read her books or look at her artwork, I sort of want to cry at how lovely and perfect it is.
Here's five of my favourite books by Hughes. As she's written over fifty books, and illustrated over two hundred, this is just a fraction of her work. But it is a fraction that has made me remember just how wonderful and eloquent a book can be, and how remarkable Shirley Hughes is.
This book has possibly the smartest use of the gutter in all of picture books. If you're not sure about what the "gutter" is, it's the bit down the middle of the book and this post by the Eric Carle museum provides a really good look at how it can work. What Hughes does in Alfie Gets In First is use the gutter to signify the front door. And when Alfie gets in first, and accidentally locks the door, you can see him inside the house on one page, and his mum and sister Annie Rose on the other. It is the simplest of techniques and yet the mark of a genius at work.
It's impossible to discuss Shirley Hughes without talking about Dogger. This is a classic childhood story that will be familiar to everyone; a beloved toy has gone missing and nothing can quite replace it. All seems lost, or is it? Dogger has a timeless quality about it, even though the artwork is thick with lovingly specific detail. This is a book that endures.
I have a very soft spot for Hero On A Bicycle. It's Hughes's first novel, a fact which is rather outstanding when you consider her prodigious output, and is set in Florence in 1944. The city is under German occupation and there's only the Italian resistance left fighting. That is, until life takes a rather particular turn and Paolo and his family are drawn into the fight. One of Hughes's great strengths is writing about people, and Hero On A Bicycle is all about people. It's an honest, heartfelt novel that doesn't hold back from the darkness.
The subtitle for this is "A Jazz Age Cinderella," which should give you an idea as to what sort of book this is. And whilst the fairytale part of it is important, what makes this book sing is the fashion. This is the 1920s, and high fashion spills from every page. The dresses are Hughes's own designs, inspired by the great couture houses of the period, and provide a host of fodder for fashion students of the period. But this is a story about people and the moments that stitch lives together. This book doesn't let you go; there's not one inch of dead space in it, and it is remarkable.
A Brush With The Past covers a period of fifty years, 1900–1950. It is, I think, one of Hughes's most epochal works. There's often a lot of talk in the children's literature world about the idea of the classic, and I tend to think a lot of that is too often influenced by the idea of patriarchal values. Girls, women, and their experience are all too often sidelined from such a discussion. Here, Hughes makes a history of people. She recognises the detail of life, the good and the bad, and packs her work full of it. She is a powerful artist, able to capture light and shade, and able to make it honest and true. Like I said, she's kind of remarkable.