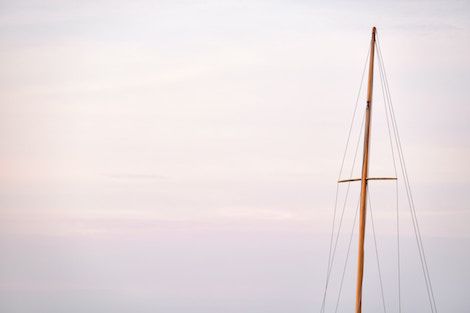 Fiction
Literary Grey Ladies: Two Books I Return To When I Miss Nantucket
This content contains affiliate links. When you buy through these links, we may earn an affiliate commission.
Nantucket is a literary island. It is as if words came up through the sand and ebbed themselves into some of its residents. One friend worked at Book Works, the bookstore in town, and now pours over things about foreign relations for her graduate studies. Another friend and I talked about feminism and landscape in The County of the Pointed Firs while gentle waves near the jetties lapped around our ankles. A farmer told me how, unlike me, he had actually finished Moby Dick. Lastly, Julia Lewis, a poet, and I huddled around our morning coffee, writing and revising, writing and revising, then distracting each other with book recommendations.
The night I knew I would forever love Nantucket, my friends were having a party in the starlight. Most of them had been raised there, and over drinks, they joyfully joined together in a rendition of the Jabberwocky, Jubjub birds and all.
Yes, there are interesting literate men on the little island, and in my seven years on and off it, I have read and met a few of them. It also has plenty of great literary sights and sounds chronicled beautifully by fellow Rioter Kate Scott. As for me, the magic of Nantucket is in its women and their powerful use of words.
This island girl-power is not a new thing. Since the time of the first whalers, women on this island, nicknamed the Grey Lady, have run everything from households to centers of trade with an efficiency that would make the likes of Jeff Bezos blush. They also wrote letters—mountains of letters—that crossed oceans, and now time gives us glimpses into their lives. So when I am missing salt and the fob and my friends, there are two books I reach for over and over. Both with strong women, both set on Nantucket.
This tells the story of Hannah Price, a young Quaker, who by day works as a librarian in the Nantucket Atheneum, and by night searches the starry sky for new scientific discovery. Set in the 1840s, the book is loosely based on the famous Nantucketer Maria Mitchell, who was the first American female astronomer.
The Movement of Stars also captures the strange dissonance of the island as a place that can be almost claustrophobically small and cut off, yet cosmopolitan. Hannah herself represents this. On the one hand, she can't deny her feelings for a man from a faraway place, but at the same time, she feels the pull of the island she loves.
Ahab's wife only appears for a brief moment in Moby Dick, but Sena Jeter Naslund takes those few moments and creates Una, a character that is spiritual, self-posed and full of adventure. As the famous first sentence notes, Ahab was not Una's first husband, and he was not her last. This complex, fun and thoughtful work of fiction is not just a love letter to Moby Dick but also pays homage to the island, women, and books.

At one point, Una runs away on a whaling ship; when she grows up, she mentions how much she loves reading the French essayist
Montaigne.
She also befriends Maria Mitchell and then lives in the far end of the Island known as Siasconset. It is a book that lives on my shelves as a reminder to look out onto the horizon and remember the island 30 miles out to sea.