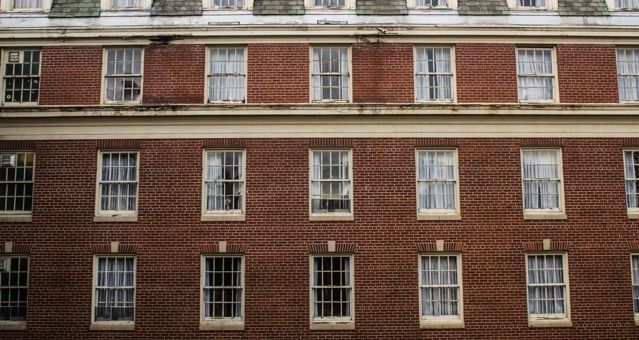 Lists
50 Must-Read Books Set in Boarding Schools
This content contains affiliate links. When you buy through these links, we may earn an affiliate commission.
A surefire way to get me to pick up books (as a kid and also now) is by setting them in boarding schools. Hogwarts was the ultimate dream, but it clearly wasn't happening for me, so I turned to any other boarding school book I could get my hands on. There's something about setting kids, teens, and even adults in a closed-off, hyper-intense location with only one another to rely on. The rules are different, everyone's on their own, the mood is always tense, and I love it.
Obviously Harry Potter makes this list, and even other well-known powerhouses like Looking for Alaska use this boarding school setting well, but I've tried to compile recent and lesser-known must-read books set in boarding schools. May we all dream of one day being accepted to the boarding school of our dreams.
Books are sorted into subcategories, though some may cross over into multiple of the following groups. Synopses come from Goodreads.
Modern-Day/Contemporary Boarding Schools
Set in the ambiguous and claustrophobic world of an exclusive New England prep school, the murder of Nica Baker rocks the status quo. The crime is solved quickly—a lonely classmate, unrequited love, a suicide note confession—but memory and instinct won't allow Nica's older sister, Grace, to accept the case as closed, and she becomes increasingly obsessed with identifying and punishing the real killer.
Tiny Pretty Things by Sona Charaipotra and Dhonielle Clayton
Gigi, Bette, and June, three top students at an exclusive Manhattan ballet school, have seen their fair share of drama. When every dancer is both friend and foe, the girls will sacrifice, manipulate, and backstab to be the best of the best. Don't miss the sequel, either: Shiny Broken Pieces.
Ellingham Academy is a famous private school in Vermont for the brightest thinkers, inventors, and artists. It was founded by Albert Ellingham, an early twentieth century tycoon, who wanted to make a wonderful place full of riddles, twisting pathways, and gardens. Shortly after the school opened, his wife and daughter were kidnapped. The only real clue was a mocking riddle listing methods of murder, signed with the frightening pseudonym, Truly Devious. True-crime aficionado Stevie Bell is set to begin her first year at Ellingham Academy, and she has an ambitious plan: she will solve this cold case. This is the first in a trilogy, followed by The Vanishing Stair and The Hand on the Wall (coming in January 2020). Also set in a boarding school is Johnson's Shades of London series, beginning with The Name of the Star.
Adele Joubert loves being one of the popular girls at Keziah Christian Academy. But Adele is forced to share a room with Lottie, the school pariah, who doesn't pray and defies teachers' orders. As they share a copy of Jane Eyre, Lottie's gruff exterior and honesty grow on Adele, and Lottie learns to be a little sweeter. Together, they take on bullies and protect each other from the vindictive and prejudiced teachers. Then a boy goes missing on campus and Adele and Lottie must rely on each other to solve the mystery and maybe learn the true meaning of friendship.
A year ago a boy was found murdered at a girls' boarding school, and the case was never solved. Detective Stephen Moran has been waiting for his chance to join Dublin's Murder Squad when sixteen-year-old Holly Mackey arrives in his office with a photo of the boy with the caption: "I KNOW WHO KILLED HIM." Stephen joins with Detective Antoinette Conway to reopen the case—beneath the watchful eye of Holly's father, fellow detective Frank Mackey. With the clues leading back to Holly's close-knit group of friends, to their rival clique, and to the tangle of relationships that bound them all to the murdered boy, the private underworld of teenage girls turns out to be more mysterious and more dangerous than the detectives imagined.
Hailsham seems like a pleasant English boarding school, far from the influences of the city. Its students are well tended and supported, trained in art and literature, and become just the sort of people the world wants them to be. But they are taught nothing of the outside world and are allowed little contact with it. At school, Kathy grows from schoolgirl to young woman, but it's only when she and her friends Ruth and Tommy leave the safe grounds of the school that they realize the full truth of what Hailsham is.
Best friends Marine Duval and Kate Sanders have trained at the Paris Opera Ballet School since childhood, where they've formed an inseparable bond. When the body of a student is found in the dorms just before the start of their final year, Marine and Kate begin to ask themselves what they would do to win the ultimate prize: to be the one girl selected to join the Opera's prestigious corps de ballet. As selection day draws near, the competition becomes fiercer, and Marine and Kate realize they have everything to lose, including each other.
Harper has tried to forget the past and fit in at expensive boarding school Duncraggan Academy. Her new group of friends are tight; the kind of girls who Harper knows have her back. But Harper can't escape the guilt of her twin sister's Jenna's death, and her own part in it. New girl Kirsty seems to get Harper in ways she never expected. She has lost a sister too. Harper finally feels secure. Then Kirsty's behavior becomes more erratic. Why is her life a perfect mirror of Harper's? And why is she so obsessed with Harper's lost sister?
Dr. Robert Thames, an infectious disease specialist, has just learned that his government job is about to be cut when three boxes are unexpectedly delivered to his home. Inside are files of a long-lost secret research study conducted at his prestigious prep school when he was a student there. Robert doesn't remember any of this study, realizing he's repressed his memories. He learns that the research intended to explore the relationship between body type and leadership qualities—and it shocks and infuriates him. He decides to track down his four closest friends from Danvers Academy, and together they uncover the terrible truth of what was buried.
Fence by C.S. Pacat and Johanna the Mad (illustrator)
Sixteen-year-old Nicholas Cox is an outsider to the competitive fencing world. Filled with raw talent but lacking proper training, he signs up for a competition that puts him head-to-head with a fencing prodigy and on the road to the elite all-boys school Kings Row. A chance at a real team and a place to belong awaits him—if he can make the cut.
Belzhar by Meg Wolitzer
If life were fair, Jam Gallahue would still be at home in New Jersey with her sweet British boyfriend, Reeve Maxfield. She'd be watching old comedy sketches with him. She'd be kissing him in the library stacks. She certainly wouldn't be at The Wooden Barn, a therapeutic boarding school in rural Vermont, living with a weird roommate, and signed up for an exclusive, mysterious class called Special Topics in English. But life isn't fair, and Reeve Maxfield is dead.
Beautiful, rich, selfish Beth Atkinson is the undisputed queen of her new school, and she won't give that up just to be someone's girlfriend. Her loyal friend Milo and the intense head boy Edward both try to change her mind, but it's only when she meets gorgeous, charming Zack that she finally understands what all the fuss is about. She's in so deep with Zack, she can't see until it's too late that her careless choices affect everyone around her, wrecking the lives of her friends and propelling them all toward tragedy.
Winger by Andrew Smith
Ryan Dean West is a fourteen-year-old junior at a boarding school for rich kids in the Pacific Northwest. He's living in Opportunity Hall, the dorm for troublemakers, and rooming with the biggest bully on the rugby team. With the help of his sense of humor, rugby buddies, and his penchant for doodling comics, Ryan Dean manages to survive life's complications and even find some happiness along the way. But when the unthinkable happens, he has to figure out how to hold on to what's important, even when it feels like everything has fallen apart. Don't miss the sequel, Stand-Off.
Taylor is leader of the boarders at the Jellicoe School. She has to keep the upper hand in the territory wars and deal with Jonah Griggs—the enigmatic leader of the cadets—someone she thought she would never see again. And now Hannah, the person Taylor had come to rely on, has disappeared. Taylor's only clue is a manuscript about five kids who lived there eighteen years ago. She needs to find out more, but this means confronting her own story, making sense of her strange, recurring dream, and finding her mother.
The Similars are all anyone can talk about at the elite Darkwood Academy. Who are these six clones? What are the odds that all of them would be Darkwood students? Who is the madman who broke the law to create them? Emma couldn't care less. Her best friend, Oliver, died over the summer, and all she can think about is how to get through her junior year without him. Then she comes face-to-face with Levi—Oliver's exact DNA replica and one of the Similars. Don't miss the sequel, The Pretenders.
(*Disclaimer: The writer of this post works for the publisher of this book.*)
Why does Skippy, a fourteen-year-old boy at Dublin's venerable Seabrook College, end up dead on the floor of the local doughnut shop? Why Skippy dies and what happens next is the subject of this uproarious novel, unraveling a mystery that links the boys of Seabrook College to their parents and teachers in ways nobody could have imagined. Packed with questions and answers on everything from Ritalin to M-theory to bungee jumping to the hidden meaning of the poetry of Robert Frost, Skippy Dies is a heartfelt, hilarious portrait of the pain, joy, and occasional beauty of adolescence, and a tragic depiction of a world always happy to sacrifice its weakest members.
When Suzette comes home to Los Angeles from her boarding school in New England, she isn't sure if she'll ever want to go back. L.A. is where her friends and family are (along with her crush, Emil). And her stepbrother, Lionel, who has been diagnosed with bipolar disorder, needs her emotional support. But as she settles into her old life, Suzette finds herself falling for someone new . . . the same girl her brother is in love with. When Lionel's disorder spirals out of control, Suzette is forced to confront her past mistakes and find a way to help her brother before he hurts himself—or worse.
Anna is looking forward to her senior year in Atlanta, where she has a great job, a loyal best friend, and a crush on the verge of becoming more. She is less than thrilled about, surprise, being shipped off to boarding school in Paris—until she meets Étienne St. Clair. Smart, charming, beautiful, Étienne has it all . . . including a serious girlfriend. But in the City of Light, wishes have a way of coming true. Will a year of romantic near-misses end with their long-awaited French kiss? This is the first in a connected trilogy (that don't necessarily need to be read in order), followed by Lola and the Boy Next Door and Isla and the Happily Ever After.
In the last day of summer, Grace Fairchild, the beautiful young wife of real estate mogul Allister Calloway, vanished from the family's lake house without a trace, leaving behind her seven-year old daughter, Charlie, and a slew of unanswered questions. Years later, seventeen-year-old Charlie still struggles with her family past. Determined to let go of her history, she throws herself into life at Knollwood, the prestigious New England school she attends. Soon she is tapped by the A's—the school's elite secret society well known for terrorizing the faculty, administration, and their enemies. To become a member, Charlie must play The Game, a semester-long, diabolical high-stakes scavenger hunt that will jeopardize her friendships, her reputation, and even her place at Knollwood. As the dark events of past and present converge, Charlie begins to fear that she may not survive the terrible truth about her family, her school, and her own life.
The last thing Jamie Watson wants is a rugby scholarship to Sherringford, a Connecticut prep school just an hour away from his estranged father. Sherringford is also home to Charlotte Holmes, the famous detective's great-great-great-granddaughter, who has inherited not only Sherlock's genius but also his volatile temperament. From the moment they meet, there's a tense energy between them, and they seem more destined to be rivals than anything else. But when a student dies under suspicious circumstances, Jamie can no longer afford to keep his distance. Jamie and Charlotte are being framed for murder, and only Charlotte can clear their names. But danger is mounting and nowhere is safe—and the only people they can trust are each other. This is the first in a series.
Hysteria by Megan Miranda
Mallory killed her boyfriend, Brian. She can't remember the details of that night, but everyone knows it was self-defense, so she isn't charged. But Mallory still feels Brian's presence in her life. Is it all in her head? Or is it something more? In desperate need of a fresh start, Mallory is sent to Monroe, a fancy prep school where no one knows her or anything about her past. Then, one of her new classmates turns up dead. As suspicion falls on Mallory, she must find a way to remember the details of both deadly nights so she can prove her innocence—to herself and others.
Nicole Morgan has been labeled many things—the geeky music girl, the shy sidekick to Miss Popularity, and the girl with the scar. Now only one name haunts her through the halls of Oyster Bay Prep: The Girl in the Picture. After high school heartthrob Chace Porter is found dead in the woods near the school, the police are in search of the girl whose picture with Chace is the only clue found among his personal belongings. Nicole is that girl, and now she's the primary suspect in his murder. But what really happened that night?
The Girls of Innovations Academy are beautiful and well-behaved—it says so on their report cards. Under the watchful gaze of their Guardians, the all-girls' boarding school offers an array of studies and activities, from Growing a Beautiful and Prosperous Garden to Art Appreciation and Interior Design. The girls learn to be the best society has to offer. Absent is the difficult math coursework, or the unnecessary sciences or current events. They are obedient young ladies, free from arrogance or defiance. Until Mena starts to realize that their carefully controlled existence may not be quite as it appears.
It's been almost ten years since Matthias graduated from the elite Blackburne School, where his roommate and best friend, Fritz, fled into the woods, never to be heard from again, in the middle of their senior year. Years later, after hitting the fast lane in New York as a successful novelist—then falling twice as hard—Matthias is stuck, a failure as a writer, a boyfriend, a person. When he is offered the opportunity to return to Blackburne as an English teacher, he sees it as a chance to put his life back together. But once on campus, Matthias gets swiftly drawn into the past, and is driven to find out what happened to Fritz. He partners with a curmudgeonly local retired cop and tries to solve the case, dealing with campus politics, the shocking death of a student, Fritz's complicated and powerful Washington, D.C., family, and his own place in the privileged world of Blackburne.
Ben is learning to keep secrets. No one must know about his mother and her addiction to sherry. No one must know about the bedwetting. And no one must ever know about the blue folder he stumbled across in Stuart England's car at the end of the previous term. Stuart England is the charismatic young master who makes life possible for Ben in the emotionally sterile environment of his prep school in Gloucestershire. This is the story of Ben's long struggle to be free of the demons that have chased him since childhood. Will he ever find the courage, like the house martins that fly high above the school, to accept life on life's terms? Still trying to finish up your Read Harder challenge? This book will fit the bill for a book with fewer than 100 reviews on Goodreads!
Frankie Landau-Banks at age 14: Debate Club. A mildly geeky girl attending a highly competitive boarding school. Frankie Landau-Banks at age 15: A knockout figure. A sharp tongue. A chip on her shoulder. And a gorgeous new senior boyfriend: the supremely goofy, word-obsessed Matthew Livingston. Frankie Landau-Banks, at age 16: No longer the kind of girl to take "no" for an answer and possibly a criminal mastermind. Especially when "no" means she's excluded from her boyfriend's all-male secret society. Not when her ex-boyfriend shows up in the strangest of places. Not when she knows she's smarter than any of them. When she knows people are lying to her.
Secret Talent, Specialized Skills, or Magic Boarding Schools
When Rin aced the Keju, the Empire-wide test to find the most talented youth to learn at the Academies, it was a shock to everyone. That she got into Sinegard, the most elite military school in Nikan, was even more surprising. Being a dark-skinned peasant girl from the south is not an easy thing at Sinegard. Targeted from the outset by rival classmates for her color, poverty, and gender, Rin discovers she possesses a lethal, unearthly power—an aptitude for the nearly-mythical art of shamanism. Exploring the depths of her gift with the help of a seemingly insane teacher and psychoactive substances, Rin learns that gods long thought dead are very much alive—and that mastering control over those powers could mean more than just surviving school. This is followed by a sequel, The Dragon Republic.
Jane McKeene was born two days before the dead began to walk the battlefields of Gettysburg and Chancellorsville—derailing the War Between the States and changing America forever. Jane is studying to become an Attendant, trained in both weaponry and etiquette to protect the wealthy. It's a chance for a better life for Negro girls like Jane. When families around Baltimore County begin to go missing, Jane is caught in the middle of a conspiracy, one that finds her in a desperate fight for her life against some powerful enemies. And the restless dead, it would seem, are the least of her problems.
Surrounded by enemies, the once-great nation of Ravka has been torn in two by the Shadow Fold, a swath of near impenetrable darkness crawling with monsters who feast on human flesh. Alina Starkov has never been good at anything. But when her regiment is attacked, Alina reveals a dormant power that saves her best friend's life—a power that could be the key to setting her war-ravaged country free. Wrenched from everything she knows, Alina is whisked away to the royal court to be trained as a member of the Grisha, the magical elite led by the mysterious Darkling. This is the first in a trilogy, followed by Siege and Storm and Ruin and Rising. The scheduled Netflix series doesn't have a release date yet, but you can add it to your queue!
For seventeen-year-old Opal Hopper, code is magic. She builds entire worlds from scratch: Mars craters, shimmering lakes, any virtual experience her heart desires. But she can't code her dad back into her life, who disappeared after her tenth birthday, leaving only a cryptic note. Unable to find him, Opal enrolled at a boarding school for technical prodigies and tried to forget. Now, WAVE, the world's biggest virtual reality platform, has announced a contest where the winner gets to meet its billionaire founder. The same billionaire who worked closely with Opal's dad. The one she always believed might know where he went. The one who maybe even murdered him.
Ivy Gamble never wanted to be magic. She is perfectly happy with her life—she has an almost-sustainable career as a private investigator, an empty apartment, and a slight drinking problem. She has never wished she were like her estranged sister, the magically gifted professor Tabitha. But when Ivy is hired to investigate the gruesome murder of a faculty member at Tabitha's private academy, the stalwart detective starts to lose herself in the case, the life she could have had, and the answer to the mystery that seems just out of her reach.
Gotham Academy by Becky Cloonan & Brenden Fletcher, with Karl Kerschl (artist & penciller) and Babs Tarr (artist)
Gotham Academy is the most prestigious school in Gotham City. Only the best and brightest students enter its halls, study in its classrooms, explore its secret passages, and summon its terrifying spirits. Gotham Academy isn't like other schools, but Olive Silverlock isn't like other students. After a mysterious incident over summer break, she's back at school with a bad case of amnesia, an even worse attitude . . . and an unexplained fear of bats. Olive is supposed to show new student Maps Mizoguchi around campus. Problem is, Maps is the little sister of Kyle, Olive's ex. Then there's the ghost haunting the campus . . . and the secret society conducting bizarre rituals. This is an ongoing comics series.
Born in New York, but living in Nigeria, twelve-year old Sunny is understandably a little lost. She is albino and thus, incredibly sensitive to the sun. All Sunny wants to do is be able to play football and get through another day of school without being bullied. But once she befriends Orlu and Chichi, Sunny is plunged into the world of the Leopard People, where your worst defect becomes your greatest asset. Together, Sunny, Orlu, Chichi and Sasha form the youngest-ever Oha Coven. Their mission is to track down Black Hat Otokoto, the man responsible for kidnapping and maiming children. Will Sunny be able to overcome the killer with powers stronger than her own, or will the future she saw in the flames become reality? The sequel to this book is Akata Warrior.
If fourteen-year-old Cassandra Reed makes it through her first day at Miss Castwell's Institute for the Magical Instruction of Young Ladies without anyone discovering her secret, maybe, just maybe, she'll let herself believe that she really does belong there. Except her real name is Sarah Smith, and up until now, she lived her whole life in the Warren serving a magical family as all non-magical "Snipes" are bound by magical Guardian law to do. That is, until one day, Sarah accidentally levitates Mrs. Winter's favorite vase in the parlor. But Snipes aren't supposed to have magical power, and the existence of a magical Snipe threatens the world order. If she wants to keep her family safe and protect her own skin, Sarah must figure out how to fit into posh Guardian society, master her newfound magical powers, and discover the truth about how an ordinary girl can become magical. Don't miss the sequel, Fledgling.
The SuperMutant Magic Academy is a prep school for mutants and witches, but their paranormal abilities take a back seat to everyday teen concerns. Science experiments go awry, bake sales are upstaged, and the new kid at school is a cat who will determine the course of human destiny. In one strip, lizard-headed Trixie frets about her nonexistent modeling career; in another, the immortal Everlasting Boy tries to escape this mortal coil to no avail. Throughout it all, closeted Marsha obsesses about her unrequited crush, the cat-eared Wendy.
The Beast Player by Nahoko Uehashi, translated by Cathy Hirano
Elin's family has an important responsibility: caring for the fearsome water serpents that form the core of their kingdom's army. So when some of the beasts mysteriously die, Elin's mother is sentenced to death as punishment. With her last breath she manages to send her daughter to safety. Alone at school, far from home, Elin soon discovers that she can talk to both the terrifying water serpents and the majestic flying beasts that guard her queen. This skill gives her great powers, but it also involves her in deadly plots that could cost her life. Can she save herself and prevent her beloved beasts from being used as tools of war, or is there no way of escaping the terrible battles to come?
Children have always disappeared under the right conditions; slipping through the shadows under a bed or at the back of a wardrobe, tumbling down rabbit holes and into old wells, and emerging somewhere . . . else. But magical lands have little need for used-up miracle children. Nancy tumbled once, but now she's back. The things she's experienced . . . they change a person. The children under Miss West's care understand all too well. And each of them is seeking a way back to their own fantasy world. But Nancy's arrival marks a change at the Home. There's a darkness just around each corner, and when tragedy strikes, it's up to Nancy and her new-found schoolmates to get to the heart of the matter. This is the first in the Wayward Children series, followed by Down Among the Sticks and Bones, Beneath the Sugar Sky, In an Absent Dream, and Come Tumbling Down.
When blacksmith apprentice Fletcher discovers that he has the ability to summon demons from another world, he travels to Adept Military Academy. There, the gifted are trained in the art of summoning. Fletcher is put through grueling training as a battlemage to fight in the Hominum Empire's war against orcs. Fletcher finds himself caught in the middle of powerful forces, with only his demon Ignatius for help. As the pieces on the board maneuver for supremacy, Fletcher must decide where his loyalties lie. The fate of an empire is in his hands. This is the first in a series, followed by The Inquisition, The Battlemage, and The Outcast.
Laia is a slave. Elias is a soldier. Neither is free. Under the Martial Empire, defiance is met with death. Laia lives in this brutal world with her grandparents and older brother. The family ekes out an existence in the Empire's impoverished backstreets. They do not challenge the Empire. They've seen what happens to those who do. But when Laia's brother is arrested for treason, Laia is forced to make a decision. In exchange for help from rebels who promise to rescue her brother, she will risk her life to spy for them from within the Empire's greatest military academy. There, Laia meets Elias, the school's finest soldier—and secretly, its most unwilling. Elias wants only to be free of the tyranny he's being trained to enforce. He and Laia will soon realize that their destinies are intertwined—and that their choices will change the fate of the Empire itself. This is the first in a series, followed by A Torch against the Night and A Reaper at the Gates.
Sixteen-year-old Dusty Everhart breaks into houses late at night, but not because she's a criminal. No, she's a Nightmare. Being the only Nightmare at Arkwell Academy, a boarding school for magickind, and living in the shadow of her mother's infamy, is hard enough. But when Dusty sneaks into Eli Booker's house, things get a whole lot more complicated. He's hot, which means sitting on his chest and invading his dreams couldn't get much more embarrassing. But it does. Eli is dreaming of a murder. Then Eli's dream comes true. Now Dusty has to follow the clues—both within Eli's dreams and out of them—to stop the killer before more people turn up dead. And before the killer learns what she's up to and marks her as the next target. This is the first in the Arkwell Academy series, followed by The Nightmare Dilemma and The Nightmare Charade.
Best friends Sophie and Agatha are about to discover where all the lost children go: the fabled School for Good and Evil, where ordinary boys and girls are trained to be fairy-tale heroes and villains. As the most beautiful girl in Gavaldon, Sophie has dreamed of being kidnapped into an enchanted world her whole life, and she knows she'll earn top marks at the School for Good. Meanwhile Agatha, with her shapeless black frocks, wicked pet cat, and dislike of nearly everyone, seems a natural fit for the School for Evil. But when the two girls are swept into the Endless Woods, they find their fortunes reversed—Sophie's dumped in the School for Evil to take Uglification, Death Curses, and Henchmen Training, while Agatha finds herself in the School For Good, thrust among handsome princes and fair maidens for classes in Princess Etiquette and Animal Communication. But what if the mistake is actually the first clue to discovering who Sophie and Agatha really are? This is first in an ongoing series.
Historical Fiction/Old-Timey Boarding Schools
Vermont, 1950: There's a place for the girls no one wants—the troublemakers, the illegitimate, the too smart for their own good. It's called Idlewild Hall. And in the small town where it's located, there are rumors that the boarding school is haunted. Four roommates bond over their whispered fears, until one of them mysteriously disappears . . . Vermont, 2014: Journalist Fiona Sheridan cannot stop revisiting the events surrounding her older sister's death. Twenty years ago, her body was found lying in the overgrown fields near the ruins of Idlewild Hall. And though her sister's boyfriend was tried and convicted of murder, Fiona can't shake the suspicion that something was never right about the case. When Fiona discovers that Idlewild Hall is being restored by an anonymous benefactor, she decides to write a story about it. But a shocking discovery during the renovations will link the loss of her sister to secrets that were meant to stay hidden in the past.
Smoke by Dan Vyleta
In an alternate Victorian England, those who are wicked are marked by the smoke that pours out of their bodies. The aristocracy are clean, proof of their virtue and right to rule, while the lower classes are drenched in sin and soot. Thomas Argyle is the only son of a wayward aristocrat. Charlie Cooper is his best friend. When Thomas finds himself under the boot heel of a sadistic headboy in the treacherous halls of their elite boarding school, he and Charlie begin to question the rules of their society. Then the boys meet Livia, the daughter of a wealthy and powerful family. She leads them to a secret laboratory where they learn that smoke may not be as it seems, and together they set out to uncover the truth about their world.
In 1974, three weeks before her twenty-first birthday, Charulata Apte arrives at Miss Timmins' School for Girls in Panchgani. Shy, sheltered, and running from a scandal that disgraced her Brahmin family, Charu finds herself teaching Shakespeare to rich Indian girls in a boarding school still run like an outpost of the British Empire. Then one monsoon night, a body is found at the bottom of a cliff, and the ordered worlds of school and town are thrown into chaos. When Charu is implicated in the murder—a case three intrepid schoolgirls take it upon themselves to solve—Charu's real education begins.
When Daisy Wells and Hazel Wong set up a secret detective agency at Deepdean School for Girls, they struggle to find a truly exciting mystery to investigate. But then Hazel discovers the body of the Science Mistress, Miss Bell—but when she and Daisy return five minutes later, the body has disappeared. Now the girls have to solve a murder and prove a murder has happened in the first place before the killer strikes again (and before the police can get there first, naturally). This is the first book in an 8-book series, so get reading!
To four girls who have nothing, their friendship is everything: they are one another's confidants, teachers, and family. The girls are all named Guinevere—Vere, Gwen, Ginny, and Win—and it is the surprise of finding another Guinevere in their midst that first brings them together. They come to The Sisters of the Supreme Adoration convent by different paths, delivered by their families, each with her own complicated, heartbreaking story that she safeguards. The nuns who raise them teach the girls that faith is about waiting, but the Guineveres grow tired of waiting. And so when four comatose soldiers from the War looming outside arrive at the convent, the girls realize that these men may hold their ticket out.
San Francisco, 1906: Fifteen-year-old Mercy Wong is determined to break from the poverty in Chinatown, and an education at St. Clare's School for Girls is her best hope. Although St. Clare's is off-limits to all but the wealthiest white girls, Mercy gains admittance through a mix of cunning and a little bribery, only to discover that getting in was the easiest part. On April 18, a historic earthquake rocks San Francisco, destroying Mercy's home and school. With martial law in effect, she is forced to wait with her classmates for their families in a temporary park encampment. Though fires might rage, and the city may be in shambles, Mercy can't sit by while they wait for the army to bring help.
Jason Prosper grew up in the elite world of Manhattan penthouses, Maine summer estates, old-boy prep schools, and exclusive sailing clubs. A smart, athletic teenager, Jason prefers to spend afternoons sailing with Cal, his best friend and roommate. When Cal dies by suicide during their junior year at Kensington Prep, Jason is devastated by the loss and transfers to Bellingham Academy. There, he meets Aidan, a fellow student with her own troubled past. They embark on a tender, awkward, deeply emotional relationship. When a major hurricane hits the New England coast, the destruction it causes brings with it another upheaval in Jason's life, forcing him to make sense of a terrible secret that has been buried by the boys he considers his friends.
At the Medio School for Girls, distinguished young women are trained for one of two roles in their polarized society, one day running a husband's household or raising his children. Both are lives of comfort and luxury, far from the frequent political uprisings of the lower class. Daniela Vargas is a top student, but her bright future depends upon no one discovering her darkest secret—that her pedigree is a lie. Her parents sacrificed everything to obtain forged identification papers so Dani could rise above her station. Now that her marriage to an important politico's son is fast approaching, she must keep the truth hidden or be sent back to the fringes of society, where famine and poverty rule supreme. But nothing prepares her for the difficult choices she must make, especially when she is asked to spy for a resistance group desperately fighting to bring equality to Medio. Will Dani cling to the privilege her parents fought to win for her, or to give up everything she's strived for in pursuit of a free Medio—and a chance at a forbidden love? We Unleash the Merciless Storm is the sequel.
It's 1895, and after the suicide of her mother, 16-year-old Gemma Doyle is shipped off from the life she knows in India to Spence, a proper boarding school in England. Lonely, guilt-ridden, and prone to visions of the future that have an uncomfortable habit of coming true, Gemma's reception there is a chilly one. To make things worse, she's been followed by a mysterious young Indian man, a man sent to watch her. But why? What is her destiny? And what will her entanglement with Spence's most powerful girls—and their foray into the spiritual world—lead to? This is the first in a trilogy, followed by Rebel Angels and The Sweet Far Thing.
---
What must-read boarding school books are on your list?