Lists
Books and Authors Recommended by Lorde
This content contains affiliate links. When you buy through these links, we may earn an affiliate commission.
With a poet for a mother and a pseudonym that echoes one of the great feminist authors, Ella Yelich-O'Connor is as lit as it gets. Lorde, as we more commonly know her, has often cited literature as formative not only in her childhood, but adulthood too. At just twenty-one, Lorde's reading tastes are varied and erudite—she's even referred to herself as a "library girl" in a Rolling Stone interview.
Since the beginning of her career I've made a note of her reading recommendations—from reddit, twitter, tumblr, and a plethora of interviews—and finally transcribed it from print to pixel so we can all become well-read witches like Lorde.
Books
Rookie Yearbook by Tavi Gevinson: Longtime reader of Rookie, Lorde is interviewed in Rookie Yearbook Three, where she shares not only some of her inspirations, but also insight into her songwriting process.
Feed by M.T. Anderson: in her Rookie interview, Lorde talks about how she loved Feed as soon as she read it and consequently convinced her high school English Teacher to include it in the curriculum.
Lincoln in the Bardo by George Saunders: Recently Lorde has tweeted about George Saunders's experimental novel Lincoln in the Bardo:
https://twitter.com/lorde/status/920402480688541697
A Lover's Discourse by Roland Barthes: Lorde's most recent album Melodrama comes in the wake of heartbreak, so it's no wonder she feels "personally attacked" by Barthes' most famous book.
Too Much and Not the Mood by Durga Chew-Bose: a fresh collection of essays from a young author, Too Much and Not the Mood muses on identity, race, and femininity with lyrical wisdom.
The Hunger Games Trilogy by Suzanne Collins: commissioned to curate the soundtrack for Mockingjay: Part 1, Lorde felt a kinship with Katniss and reread the entire series before creating the soundtrack.
Authors
Raymond Carver: one of the most influential American short story writers of the 21st century, Carver's stories show the power of minimalism in prose.
Roald Dahl: well known for his children's books, Roald Dahl's short stories show the darker side of the author.
Audre Lorde: I know Lorde's name refers to a feminine form of the regal "Lord," but I like to think that the serendipitous homage to self-described "black, lesbian, mother, warrior, poet" Audre Lorde is appreciated.
Tobias Wolff: a short story writer, memoirist, and novelist who's interested in class (especially in the literary world) and fiction as a means to tell the truth through lies.
Janet Frame: New Zealand author Janet Frame was a prolific writer whose career was overshadowed by public speculation on her mental health.
Wells Tower: a contemporary American writer known for his collection of short stories Everything Ravaged, Everything Burned. Lorde read this collection when she was 13 and described it as the best collection she has ever read.
Claire Vaye Watkins: writer for Granta, novelist, and short story writer Claire Vaye Watkins's writing toes the line between realism and surrealism.
Junot Díaz: Pulitzer Prize winner Junot Díaz writes about adolescence, love, and betrayal with a poignancy I've not found anywhere else.
Kurt Vonnegut: an author that needs no introduction, Lorde speaks of Vonnegut when praising short fiction: "Short fiction appeals to me because of the necessity of conciseness—that's what writing songs is about, but times 20. I like people who can build something great and huge with a very limited amount of time or space. It's difficult to do. Kurt Vonnegut is a good place to start if you haven't read a lot of short fiction, because he's fun and his humor is really black."
J.D. Salinger: the king of misunderstood teens, Salinger's Holden Caulfield has ideas about life and pretense that are echoed in Lorde's debut album Pure Heroine.
James Baldwin: writer and social activist who wrote about race, class, and sexuality well ahead of his time.
Eleanor Catton: Fellow New Zealander Eleanor Catton won the Man Booker Prize just two weeks after Lorde's debut album came out, and I don't think there's anything better on the internet than this photo of Lorde and Eleanor reading in bed.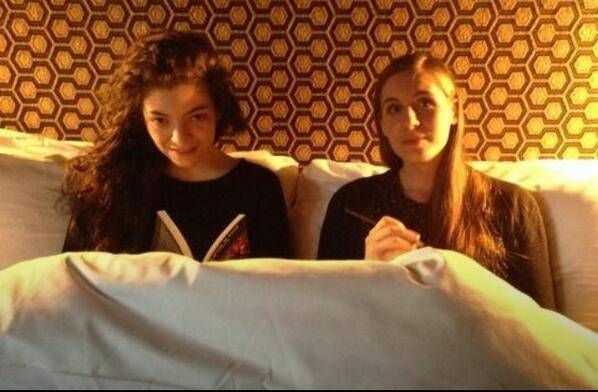 Poets
In an early interview with Black Magazine, Lorde cites poetry as an influence on her writing style: "T.S. Eliot and Walt Whitman taught me the importance of using beautiful words occasionally, and Sylvia Plath taught me not to shy away from discomfort."
Derek Walcott: Lyrics and poetry have so much in common, and Lorde's melancholic ballad "Liability" shares a tone with "Love After Love" by Derek Walcott.
https://twitter.com/lorde/status/842848658018070528
Keep the recommendations coming, Lorde, and if you ever want to start a book club—I'm your girl.