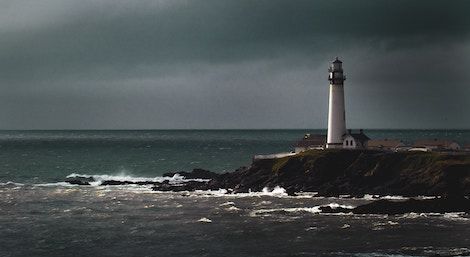 Lists
3 Recent Books on Lighthouses and the Daughters Inside Them
This content contains affiliate links. When you buy through these links, we may earn an affiliate commission.
Three countries, four lighthouses, nine women and a strange set of recurring themes made up three of the books I read last month. All three took place on island lighthouses; all three had big storms, daughters with mysterious identities, complicated pregnancies, and fantastic women as gritty as the waves that rolled around them. I read them partly because of an obsession with lighthouses embedded by my mother and grandfather. I read them partly because all three books kept flitting in and out of my bookish consciousness. The real reason is that I have been recently captivated by the women of lighthouses. Women who were often keepers and rescuers themselves.
However, I must also note, that there isn't much written about lighthouses by people of color. It makes sense because as beautiful as lighthouses are, they still in many ways are symbols of colonialism, trade, and European power.
This doesn't mean, however, that people of color didn't save lives or keep the light burning. In fact, the earliest recorded black light keeper was in England in 1667, and many southern American light keepers kept slaves to do the actual labor up to the lamp room. Native Americans have also been recorded to be Lifesavers and Lightkeepers, the most notable example being Gayhead Lighthead in Martha's Vineyard. Yes, lighthouses are magical isolated places, but we must also note the realities of racial injustice, domestic violence that often happened underneath their towers. The novels below even cover some of these realities.
Out in Paperback as of July of this year, The Light Keeper's Daughters turned out to be a haunting, lyrical homage to Lake Superior. As I read, it was easy to imagine the crisp blue fierceness of the Great Lakes.
Most of the book tells the story of Elizabeth Livingstone, the daughter of a lightkeeper and his mixed-race wife on Poherhy Island on the Canadian side of the lake during World War II. However, some of the stories are told from the perspective of Morgan, an orphaned teenager who meets an elderly Elizabeth in a nursing home in her old age. Together the two women, staring down opposite ends of their lives, unravel the mystery that surrounds Elizabeth and her twin sister Emily.
This book captures the essence of the Great Lakes. It also honestly addresses the damages of war, the reality of isolation, the wonder of the natural world and terror of an era where a woman's safety and autonomy end when she leaves the lighthouse.
Also recently out in paperback, The Night Mark is a time travel novel in which a mysterious island sends Faye Barlow Back in time to 1921. There she meets a handsome lightkeeper who looks mysteriously like her dead husband, who was a modern-day baseball player. This book has a lovely bit of southern charm and features bootleggers, intrigue, and mistaken identity. It's fun to watch the main character, who wears white jeans in one scene, get transported to a time where calluses and hard work restore her soul just as must as her budding romance does.
It also reminded me that Alligators could be as much a part of Lighthouse life, as ice or wind or rain and that isolation can be a thing that sets us free. It is a truly wonderful piece of escapism.
Yes, this has a similar title as Jean E. Pendziwol's novel, but it takes place in two different areas with a set of different women. In The Lighthouse Keeper's Daughter, a locket connects Grace Darling to Matilda Emerson across an ocean and a century.
Grace Darling, however, was a real woman, and she became legendary after she and her father rescued nine people during a shipwreck in 1838. As the daughter of a lightkeeper on the rocky and desolate lighthouse on the English coast, Grace finds all of the fame suffocating. However, she falls in love with George Emerson, a painter from the mainland.
The second story is that of Matilda, the daughter of an Irish politician who finds herself unmarried and pregnant as Europe begins to heave and buckle with the coming storm of World War II. Her parents ship her off to Newport Rhodes Island, where she will live with a distant cousin who works as a lighthouse keeper. As she grows accustomed to the rhythm of the lighthouse, she discovers it is more of a home than any other than she has ever known.
This book came out in early October and the many complicated women in it add a few more members to the women lighthouse keepers who perhaps, in their own small ways, lit the way for the women of today.