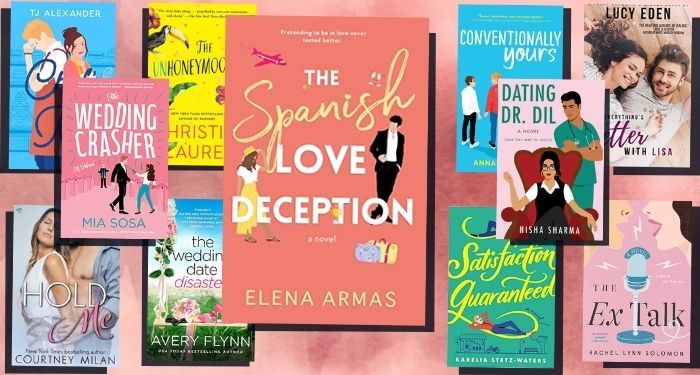 Lists
11 Trope-tastic Books like The Spanish Love Deception
This content contains affiliate links. When you buy through these links, we may earn an affiliate commission.
Books like The Spanish Love Deception are making an enormous splash in the romance world. Turns out, people love an enemies-to-lovers slow burn. And they love a fake dating story. Romances that revolve around other people's weddings, especially in a lovingly described destination? Catnip for so many of us. Add in a dash of workplace romance and the relationship dynamics get even more complex. If that weren't enough tropetasticness, you have to throw in only one bed. You just gotta. Because with all these extravagant ingredients, you end up with the ultra supreme deluxe pizza of romance books.
In The Spanish Love Deception, Catalina Martín tells her family she'll be bringing her American boyfriend to her sister's wedding in Spain. That boyfriend is purely imaginary until Aaron Blackford, Catalina's office nemesis, inexplicably offers to step in. Then they bicker until the bickering turns to kissing. Readers seeking The Spanish Love Deception read-alikes are, broadly speaking, asking for contemporary romances that embrace tropes. One might say all romances rely on tropes to some extent, but there are certainly particular books that layer multiple tropes into something especially delicious. I've done my best to capture the facets of The Spanish Love Deception that create the appeal. So whether you love weddings, fake dating, enemies-to-lovers, or workplace romances, I've got something for you.
---
I feel mighty confident that there are books like The Spanish Love Deception on this list you're sure to love. Nonetheless, there may be a feature of that book that you love and I overlooked. If that's the case, one of the dedicated bibliologists at Tailored Book Recommendations can help you find books that fulfill your most specific wishes. When it comes to all the ingredients you want on your personal romance pizza, they can help you find the pie you're dreaming of.