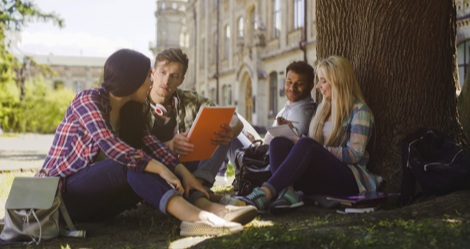 Lists
8 Books to Read If You Loved THE SECRET HISTORY By Donna Tartt
This content contains affiliate links. When you buy through these links, we may earn an affiliate commission.
This list of books like The Secret History is sponsored by Flatiron Books and M.L. Rio's If We Were Villains.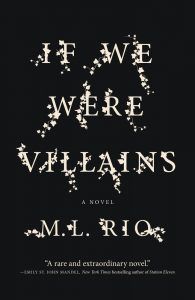 When a group of elite college thespians perform Shakespeare's "Julius Caesar," life starts to imitate art when the lead actor ends up dead.
If We Were Villains was named one of Bustle's Best Thriller Novels of the Year, and Mystery Scene says, "A well-written and gripping ode to the stage…A fascinating, unorthodox take on rivalry, friendship, and truth."
---
Up until very recently, I rarely reread books. My thinking was that there are so many books I haven't read, how can I use up precious time reading the same book over instead??? (2018 has turned into My Year of Rereading, but that's a topic for another time.) But of the few books I had read more than once, one book stands out: The Secret History. I have read it every single year since it came out in 1992. (That's 26 times now, for those of you playing along at home.)
I was 16 when I first read The Secret History and it mesmerized me. Here was this lush, sinister novel filled with drugs and sex and murder and love, all being perpetrated by six humans not much older than me who had recently achieved their freedom from their homes. And Donna Tartt made being a conflicted new-adult seem so sexy and interesting. I couldn't wait until I had conflicted new-adult problems! (Note: My new-adult problems were never this sexy or interesting.)
As someone who recommends books for a living, I would say the read-alike I am most frequently asked for is a book like The Secret History. I will read anything that is compared to it, and while I have never found a book that I would say is just like it, there are a few books that do entertain in the same way. (And you would not be wrong to think that a couple books are aiming to be exactly like it.)
Here are 8 books like The Secret History, filled with dark secrets, elite schools, loyal friends, and murder.
Black Chalk by Christopher Yates
Six students in their first year at Oxford University quickly become best friends and begin to play a game of dare or consequences, which starts off as harmless fun but escalates until one of them is dead. Years later, the remaining friends, now broken adults haunted by what happened, will meet again to play the final round.
Long Black Veil by Jennifer Finney Boylan
On a dark night in 1980, six college students sneak into an abandoned prison for a kick, but as the evening progresses, not only do they get locked in, but it becomes apparent that the building may not be entirely abandoned. And then: tragedy. Fast-forward decades later: new evidence of what occurred that evening surfaces and one of the students, now a celebrity chef, is arrested. One of the other people there that fateful evening has the knowledge that can clear his name, but she is guarding secrets of her own.
Confessions by Kanae Minato, Translated by Stephen Snyder
This one is a bit of a flip in the "oops, someone died because of what we did" story: the students have caused a death, but this time, the victim's mother is out to get even. Yuko's life was destroyed when her four-year-old daughter died at the hands of the students where Yuko taught middle school. Now she's going to teach her students one last lesson…
The Lake of Dead Languages by Carol Goodman
As a young girl, Jane Hudson had fled to the Heart Lake School for Girls, running from a tragedy in her town, but the peace she was seeking was shattered that year by the death of three students. Two decades later, she returns to the school as a Latin teacher, hoping to make a fresh start for her young daughter, but somehow the lake knows that Jane is back, and it wants to share its secrets with her.
The Go-Between by L.P. Hartley
If you liked the angsty love and terrible secrets of The Secret History, pick up this classic about a boarding school student at the turn of the 20th century who carries letters for two forbidden lovers. Leo feels important in his role as postman for Marion and Theo, but the gravity of his situation and the guilt of helping their taboo romance, will lead to devastation. This is a bit like if Atonement and The Secret History had a baby.
Special Topics in Calamity Physics by Marisha Pesshl
Blue van Meer is an eccentric, rich teenager who can't seem to make friends or remain in college. That changes when switches to a school in North Carolina, where she befriends a secretive group of students known as the Bluebloods. The group is looked over by the film studies professor, but when she takes her own life, ugly truths will make themselves known. This one, in my estimation, is as close to The Secret History as it gets.
Perfect Days by Raphael Montes
Okay, this one is definitely NOT for everyone, but if you like the dark, Talented Mr. Ripley-ish vibe of The Secret History (and are not very squeamish), then check out this seriously twisted tale of a brilliant Brazilian medical student who kidnaps a beautiful woman he imagines he is meant to be the love of his life.
The Bellwether Revivals by Benjamin Wood
Oscar Lowe is a student at Kings College in Cambridge, where he meets the alluring med student Iris Bellwether and her twin brother Eden. Oscar's delight at their friendship, which comes with special privileges, soon turns to fear when he discovers that they are part of a group at the school conducting a series of disturbing experiments.