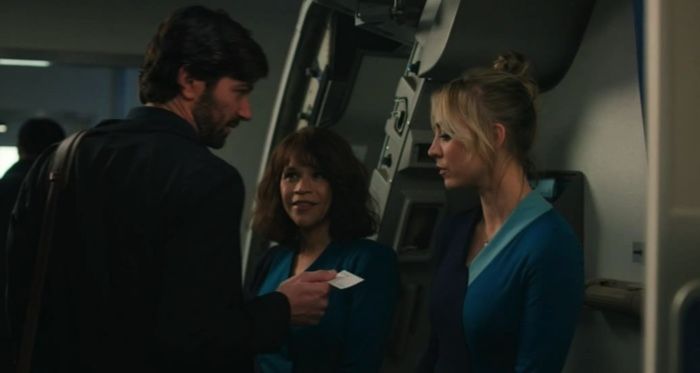 Lists
10 Fascinating Books Like THE FLIGHT ATTENDANT
This content contains affiliate links. When you buy through these links, we may earn an affiliate commission.
HBO Max's TV adaptation of The Flight Attendant by Chris Bohjalian has got everyone in the mood for a good psychological thriller. The story follows flight attendant Cassandra Bowen who wakes up hungover one morning, only to find that the man she spent the night with is dead, with no memory of how he was killed. A character-driven story that plays with memory and keeps you guessing, it's no wonder that the book had me hooked. If you're looking for another mystery to have to you turning pages, these are the best books like The Flight Attendant to put on your TBR.
The heroine of this novel suffers from memory loss. Christine wakes up every morning without any idea of who she is. With the help of her husband, Ben, she pieces together bits of her life, remembering an accident that changed her life. However, as Christine slowly puts the truth together, she realizes that not everything is as it seems.
As in The Flight Attendant, this book also features a mystery where memory loss plays a role, and it's interesting to watch the story unfold in layers.
Hawkins's novel centers around three women — Rachel, a recent divorcee who drowns her sorrows in alcohol, Anna, the new wife of Rachel's ex-husband, and Megan, a young married woman who works as a nanny for Anna's child. Then Megan goes missing, and the thread connecting these three lives pulls taut, bringing everyone together and unraveling secrets.
A woman-centered novel that deals with themes of alcoholism, this a good mystery to complement The Flight Attendant.
Complementary to The Girl on the Train, Ware's book follows travel writer Lo on a luxury cruise. Dosed on anxiety medication and alcohol, Lo sees a woman being thrown overboard. The mystery arises when Lo tries to report what she saw, only to be told that all passengers are aboard and accounted for.
In this futuristic sci-fi mystery, a drug called Lullaby is used to treat soldiers for post-traumatic stress disorder. The pill erases traumatic memories, freeing the user from the painful burden. When two women are murdered in quick succession and one of the witnesses has taken the pill, it becomes more difficult for Detective Hannah McCabe to catch what looks more and more to be a serial killer.
As a child, Detective Rob Ryan was one of three children who went missing, and the only one who had been found. His memories from that time are missing — he doesn't remember what happened to him or the other children, his blood-filled sneakers the only chilling clue. When he comes upon a case where a 12-year-old girl is murdered, it looked eerily like what happened to him years earlier, and Ryan must dig through his fragmented memories to solve the mystery.
When Kate receives a distressing call about her daughter, she rushes to Amelia's private school, Grace Hall, only to find the scene flooded by authorities. She's told that under pressure after caught cheating on a test, overachiever Amelia jumped to her death. It is the story that Kate believes as well, until a mysterious text tells her that Amelia didn't jump. Kate then goes on to seek out what happened to her daughter, reconstructing a secret past.
Saikia's novel features private detective Arjun Arora, who takes on a missing person case only to unearth a dead body. Set in urban India, Arora follows clues that all point to larger powers at play. Of course, his job would be much easier if he wasn't bogged down by a bad marriage and questionable drinking habits…
Debut writer Eliza Fontaine barely escapes death when she finds herself at the bottom of a hotel pool. Her family is convinced it was another suicide attempt, but Eliza knows she's been pushed. As Eliza tries to find her attacker, she finds that the events in her life and her novel are not as separate as she might have hoped.
At first glance, When We Were Orphans seems a far cry from The Flight Attendant. More a mystery than a thriller, Ishiguro's novel tells the story of detective Christopher Banks, whose parents vanish under strange circumstances. The story jumps back and forth in time as Banks remembers his early days as an English boy growing up in Japan and his present investigation into his parents' disappearance. Like The Flight Attendant, this book examines memory, and has an intriguing exploration of the human psyche, and the stories we tell ourselves.
The Woman in the Window by A. J. Finn
Anna Fox is a recluse. She spends her time drinking wine and spying on her neighbors. Then the Russells, a seemingly perfect family, move in next door and Anna witnesses something shocking while spying on them. Anna is thrown for a loop as she tries to uncover how much of what she watched was real, and how much imagined.
While this book played less with twists and turns, it was nonetheless a gripping page-turner.
---
All of these books like The Flight Attendant are in some way or another connected to themes in the book, be it through missing or questionable memory, possible conspiracies at play, or a gripping storyline. Find more psychological thrillers here!
And if you want more made-for-you recommendations, sign up for Tailored Book Recommendations for more books that hit the mark!