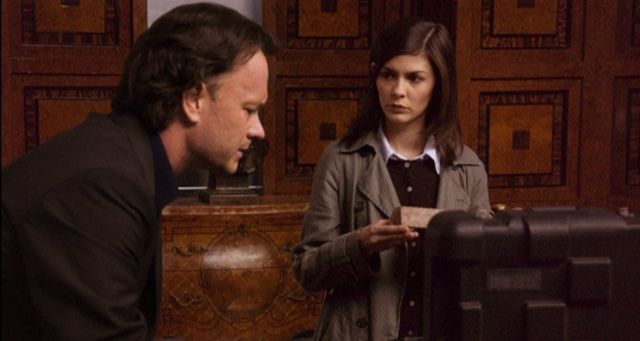 Lists
10 Captivating Books Like THE DA VINCI CODE
There's a reason that Dan Brown's The Da Vinci Code is not only one of the bestselling books of the 21st century but a cornerstone of the historical thriller genre. He knows how to use both historical facts and myths to make a compelling mystery. It's a great example of a page turner that makes readers feel like they're in on a fascinating conspiracy. But if you've finished The Da Vinci Code and don't know what to read yet, it might be time to branch out beyond Dan Brown's work. These 10 books like The Da Vinci Code are sure to captivate you as you race alongside the narrator to uncover historical mysteries.
10 Thriller Books Like The Da Vinci Code
The Flanders Panel by Arturo Pérez-Reverte, translated by Margaret Jull Costa
Julia is a young art scholar who's hired to restore a 15th century painting. She discovers that this painting, which depicts a chess game between the Duke of Flanders and his knight, has a small inscription in its corner: "Who killed the knight?" Although Julia never expected her career to delve into Renaissance mysteries, she finds herself searching for the murderer who killed the knight 500 years ago. But as she does, she accidentally unravels a conspiracy as complex to solve as a real-life game of chess.
This historical thriller ties together the stories of three people—two living in the present day and one in the 13th century. Archaeologist Tess Chaykin and FBI agent Sean Reilly are called in to investigate four men dressed as Templar knights who attacked the Metropolitan Museum of Art. What they discover may lead them to the history of the last order of Templar knights and the secrets they were entrusted to keep.
In 19th century Boston, three prominent writers—Henry Wadsworth Longfellow, Wendell Holmes, and James Russell Lowell—start The Dante Club as they translate the first American edition of The Divine Comedy. But when a series of murders strike the city, these scholars realize that each death resembles one of Hell's punishments from Dante's Inferno. They may be the only people who know enough about Dante to solve the murders before another victim dies.
Séverin Montagnet-Alarie, a 19th century treasure hunter, is called on by the secretive Order of Babel to uncover an ancient artifact. What's in it for him? A treasure worth more than its price value: his inheritance. But Séverin won't have to retrieve the artifact alone. A historian, a mathematician, a dancer, a botanist, and an aristocrat will all have their parts to play in this heist. If they succeed, they'll have discovered an item with the power to transform history as they know it. And if they fail? Certain death.
Carys Jones works better with Medieval manuscripts than she does people. Although she'd prefer a quiet and scholarly life, an old client offers her his entire library of illuminated manuscripts if she agrees to track down a 6th century monk's journal that will lead her to a legendary tomb. But some people would prefer for the tomb to stay hidden, and Carys realizes that so much more might be at stake than a library of manuscripts.
Jonathan Argyll is a renowned English art historian searching for what he believes to be a lost Raphael painting. But a history of crime—theft, murder, and vandalism among them—surround this painting. And just as Jonathan discovers it, he and National Art Theft Squad assistant Flavia di Stefano are thrown into a conspiracy that may cost them their lives if they cannot get to its roots in time.
Zelda Richardson never thought her internship at the Amsterdam Art Museum would lead her to a mystery dating back to the 1940s. But when she's assigned to work on an exhibition of art stolen by the Nazis in World War II, two women claim the same painting belongs to their family. To determine which one is right, Zelda looks into the painting's history and learns secrets that make her the target of an art heist much bigger than her exhibition. If she wants to survive, she'll have to track down the suspect before they silence her forever.
The Eight By Katherine Neville
Cat Vellis's career as a computer expert takes her all over the world. But a new job in Algeria might just change her life forever. An antique dealer approaches her and asks her to track down a chess set from the late 1700s. The game that can be played with this set, however, is deadly enough that two convent girls hid the pieces all over the world to protect others from their power. If Cat is able to retrieve the pieces, she may not escape this venture with her life.
When Judge Oliver Garland dies under mysterious circumstances, law professor Talcott Garland is determined to discover what happened to his father. By following a set of clues his father left while alive, Talcott is able to connect his death to the murders of several others. Talcott will have to dive deep into his father's past and risk everything to find and stop the killer before more people die.
Dr. Genevieve Lenard is an insurance investigator and leading expert in non-verbal communication who is hired to look into the murder of an artist as a favor to a friend. As someone with autism and obsessive-compulsive tendencies, she prefers a predictable environment with limited social interaction. Trying to solve a murder, however, throws her usual routine into chaos. If she wants to return to her old life, she'll have to dive deep into the world of art forgeries and use her strong analytical skills to find the culprit.
---
If you're looking for more personalized book suggestions, check out TBR (Tailored Book Recommendations)! You'll be matched with a professional Bibliologist who will recommend and send books perfectly fitted to your interests.