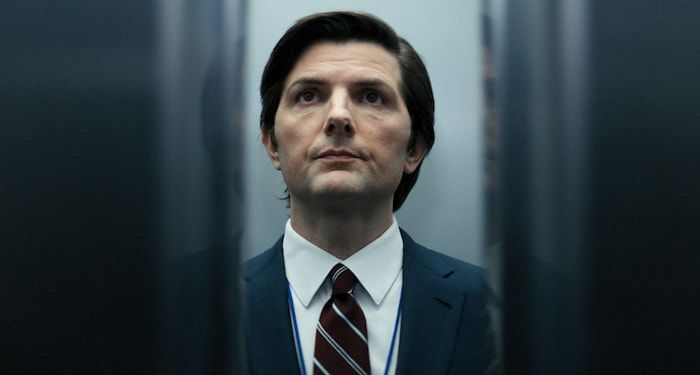 Lists
10 Books Like SEVERANCE To Make You Want To Avoid the Office Forever
This content contains affiliate links. When you buy through these links, we may earn an affiliate commission.
Who knew that a series about corporate office culture and worker treatment would resonate so strongly with everyone?
Ben Stiller's new series on Apple TV+, Severance, has been a fly-under-the-radar sleeper hit that just released its season finale. If you haven't watched it, Severance initially poses a simple question: would you agree to a procedure that would "sever" your work life from your personal life? Because that's exactly what Mark Scout did after the loss of his wife. There's something appealing, after all, about surrendering the hours you spend at work to another version of yourself that has no memory of whatever grief or unhappiness you're trying to escape.
Except that's not quite how it works. Mark doesn't realize this at first, because his regular self and his work self (his "outie" and his "innie") have little knowledge of each other. Mark knows he works at Lumon, but he doesn't know what he does at Lumon. He knows he has coworkers, but he doesn't know who they are. He goes into the elevator, the severance protocol is activated, and he "awakens" back in the elevator when the work day is finished.
The Mark inside Lumon only knows…work. He doesn't sleep: his outie sleeps. He is activated and deactivated in the elevator, and knows nothing of his outie self or his personal life. It is forbidden to take any messages outside of the basement floor they work on. If they make mistakes, they are sent to the "break room" for remediation. The only reading material they're allowed is the employee handbook, which reads like a cult worship scripture devoted to Lumon's founder. The workers are infantilized and given silly little prizes for making quota doing work that none of them understand.
Severance slowly unravels the mystery of why the severance procedure was established in the first place, how far a reach Lumon really has, and what secrets Mark and his coworkers will uncover about the company and about themselves. It is a fascinating, darkly funny, and deeply unsettling look at corporate office culture and values, as well as how workers are treated and viewed by the companies that consider them "family."
The tone and exploration of this show aligns perfectly with a number of books that fall in the corporate horror, thriller, sci-fi, and dark comedy categories. These books also question the use of company loyalty tactics, the sheer monotony of doing repetitive work that appears to have very little meaning, and the unease that grows when one realizes just how pervasive a company's hold has on you, your life, and even your own values.
Here are ten books like Severance to keep you satiated until season two.
10 Books Like Severance
---
For more books like Severance, you might like these 5 Books About Surreal Offices. For an SFF spin, try 12 of the Best Workplace Fantasy Novels. And if you'd rather feel a little more optimistic about the office, pick up these Office Romance Books.