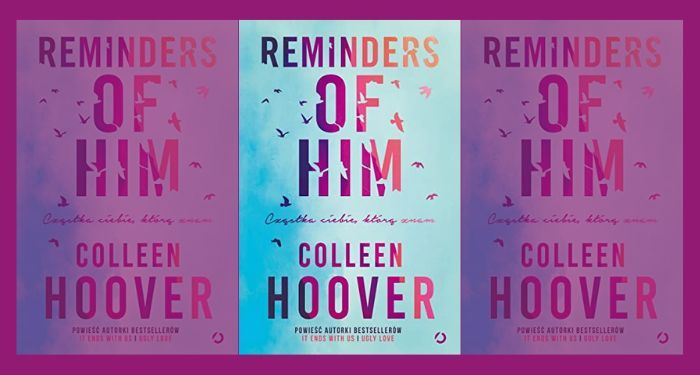 Lists
8 Books Like REMINDERS OF HIM by Colleen Hoover
This content contains affiliate links. When you buy through these links, we may earn an affiliate commission.
Colleen Hoover's romance novel Reminders of Him has been out for a little over a year now, and CoHo fans are loving it. Did you devour Reminders of Him and looking for more? Read on to find more books like Reminders of Him, Colleen Hoover's bestselling novel.
Colleen Hoover has written over 20 books and has been publishing and self-publishing her works since 2012. But with the rise of BookTok, Hoover has enjoyed quite a large surge of popularity in the past few years. So when Hoover's 2022 novel Reminders of Him was released, of course everyone you know was reading it.
Reminders of Him follows Kenna Rowan, a young woman who has recently been released from prison after five years. Kenna was incarcerated for causing the death of her boyfriend Scotty in a drunk driving accident. Now, Kenna returns to town in the hopes of gaining custody of her daughter, whom Scotty's parents have been raising. This novel is a love story, but it's also a heartbreaking story of grief, forgiveness, and redemption.
Some of the books like Reminders of Him on this list are less emotional than Hoover's novel while still exploring similar themes. Some books on this list will make you cry just as hard as you did the first time you read Reminders of Him (if not harder). So whatever devastation level you prefer, so long as you love CoHo, there's a book on this list for you.
Craving more Colleen Hoover content? Here's where to start with Colleen Hoover books if you're just now getting into the author. And after you read your way through Colleen Hoover's catalogue, here are more unputdownable authors like Colleen Hoover.
Or, if you want made-for-you recommendations from a professional book recommender, check out TBR! Find the next book you'll love with our book recommendation service. Happy reading, friends!