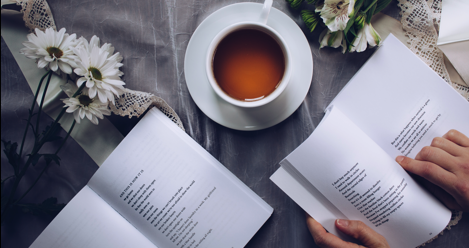 Poetry
18 Powerful Poetry Books Like MILK AND HONEY by Rupi Kaur
This content contains affiliate links. When you buy through these links, we may earn an affiliate commission.
The poetry coming out right now is a different breed of poetry. Often when we hear the word, we picture the literary greats—Cummings, Dickinson, Plath, Sexton, Whitman, Wordworth, Yeats—but there's a barrier. Their work is complex and nuanced and, sometimes, labyrinthine. We need something more accessible. Something shorter, punchier. Something that maybe has tiny illustrations along with the words. And so we have more books like milk and honey by Rupi Kaur.
Rupi Kaur didn't necessarily start a trend and revival of poetry, but it sure feels that way. Perhaps she's just the first one to take off and sell gazillions of books. Either way, I'm not complaining. We get the fruit of her labor, and the fruit of the labor she (maybe?) inspired.
This is by no means an exhaustive list, and while compiling this, I found more and more to add to my to-read list. The beauty of many books like milk and honey is how slim the volumes are. And beautiful, of course.
bone by Yrsa Daley-Ward
This one may hurt a little bit. Yrsa Daley-Ward tackles religion, desire, and existing as a woman in the world. She writes about love and how vulnerable it makes us. She writes about the human experience. These poems are beautiful.
Divided into sections—Inception, Longing, Chaos, Epiphany—The Chaos of Longing packs a punch. K.Y. Robinson explores life, love, and trauma and expresses it all with raw honesty. Also, look at that cover.
If you find yourself needing a friend on a lonely day, Depression & Other Magic Tricks is a good pick. Sabrina Benaim describes the varying degrees of depression perfectly.
A beautiful collection about life, love, and the internet. And Greek mythology. Leigh Stein does it all—poetry, fiction, memoir—with such grace.
A poetry collection about skin and race in today's world? Yes, please.
Akif Kichloo has created a wonderfully original collection here, touching the nuances of the beauty and horror of life.
This right here is a collection strong poems about an abusive relationship and overcoming the trauma of love. R.H. Sin has a ton of collections out right now, and he doesn't seem to be stopping anytime soon.
IRL by Tommy Pico
IRL is a poem, but it's also one big text message about love and life and history and how the Internet fucks with it all. Tommy Pico has a wonderful voice and I will read everything he writes, forever and ever.
Austin Kleon didn't write these poems. He took a black marker and a newspaper and made them out of existing words. I love this idea so much. It may not exactly fit in with other books like milk and honey, but it's fun.
Sarah Kay's debut poetry collection is breathtaking. She writes to her brother, to the woman Ted Hughes had an affair with, to the world. Easily my favorite of the bunch.
Odes to Common Things by Pablo Neruda, Ken Krabbenhoft (translator), Ferris Cook (Illustrator)
Maybe you need a break from these overly personal, autobiographical books like milk and honey. Let me introduce you to Odes to Common Things, a lovely collection of poems about everyday objects like tables and oranges and soap.
The Princess Saves Herself in This One is the most reminiscent of milk and honey. Short and potent. Amanda Lovelace is a poet to watch.
Rapture by Sjohnna McCray
Rapture put me in a sort of trance and I had to put the book down after every few poems because they're so powerful. Sjohnna McCray writes about family and fatherhood and home, and, man, did this collection leave me breathless.
Salt. by Nayyirah Waheed
Whew. salt. is sparse but full of power about race, beauty, and culture.
Alicia Cook put together a little mixtape of poetry about the human condition and life and love and loss. The first part (Side A) is the poems, while the second part (Side B) is blackout versions of those poems. Fun!
Cook is also an activist who speaks and writes often about addiction and its effects on families. She's donated 100 percent of royalties from this collection to the Willow Tree Center, an addiction counseling center in New Jersey.
What's more like milk and honey than Rupi Kaur's second collection, the sun and her flowers? Just in case you missed its release in late 2017.
I think I prefer this one to milk and honey, but, of course, I love everything Rupi Kaur writes.
Talk about powerful. I cannot describe this collection. Read it for yourself.
Whereas by Layli Long Soldier
Layli Long Soldier writes about her experience as a woman, mother, Lakota. She plays with form and uses it to her advantage. Whereas confronts the U.S. government in its language used toward Native American people and tribes. A must-read.
---
Need even more books like milk and honey in your life? We've got you covered with 5 Poets to Read If You Like Rupi Kaur, 35 Stunning Rupi Kaur Quotes, Our Favorite Instagram Poets, and A Beginner's Guide to Confessional Poetry.